Fox's Dollhouse may not play very well
02/13/09 09:45 AM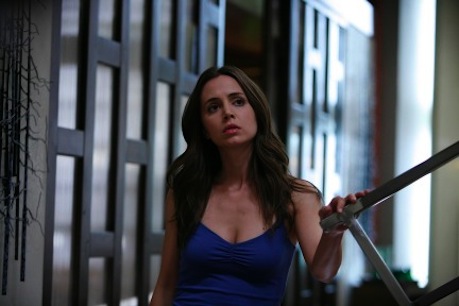 Eliza Dushku is Echo in Fox's new Dollhouse. Fox photo
Premiering:
Friday, Feb. 13th at 8 p.m. (central) on Fox
Starring:
Eliza Dushku, Tahmoh Penikett, Olivia Williams, Harry Lennix, Fran Kranz, Dichen Lachman, Enver Gjokaj, Reed Diamond, Amy Acker, Miracle Laurie
Created by:
Joss Whedon
By ED BARK
Internet chat rooms will be bursting at the seams as the "mythology" of Fox's
Dollhouse
multiplies and divides its disciples.
That's because its creator, Joss Whedon, long ago was immersed in the holy oils of
Buffy, the Vampire Slayer
and, to a lesser extent,
Firefly
, which got a second wind as the feature film
Serenity
.
There's also the matter of
Dr. Horrible's Sing-Along Blog
, which Whedon created on a shoestring for the Internet.
Starring Neil Patrick Harris in the title role, it's emblematic of Whedon's self-stated course correction from hired hand to hands-on
auteur
. He's already renounced conventional television as an impediment to his creative powers. So
Dollhouse
, which found Whedon at odds with Fox, will mark the last time he wages such battles. Or so he's proclaimed.
Dollhouse
in effect has been sent to Fox's outhouse -- Friday nights. Nothing has worked there since
The X-Files
. And with a lead-in from Fox's faltering
Terminator: The Sarah Connor Chronicles
, the long-term prospects for
Dollhouse
look sub-iffy, if that.
Fox has sent the first two episodes, and the March 6th hour for review. They're intriguing and complex, but at times laughable, too. And of course it almost goes without saying that "Nothing is what it appears to be," which mastermind Adelle DeWitt (Olivia Williams) tells minion Echo (Eliza Dushku) in the opening seconds of Friday's premiere (
8 p.m. central
).
Echo is one of the programmed "Actives" of the Dollhouse, an illegal, underground operation dedicated to performing dangerous tasks for the "wealthy, powerful and connected."
It costs a pretty penny to hire the beauteous Echo or any of her fellow Dollhouse denizens. And after tasks are completed, a semi-creepy programmer named Topher Brink (Fran Kranz) wipes their memories clean until they're next called upon. It's basically a mesh of
Mission: Impossible
and
The Prisoner
, with some
Wonder Woman
cheesecake thrown in. In other words, Echo spends her down time in a Danskin or a bright orange towel after showering communally.
Oddly enough, the Dollhouse seems to be very easily accessible to clients while at the same time being laughed off as a figment of FBI agent Paul Ballard's (Tahmoh Penikett) over-active imagination. He can't even convince them of the Dollhouse's existence, but of course is determined to sniff it out.
Meanwhile, Echo tries to piece together who she really is while a vicious Dollhouse escapee known as Alpha begins running amuck in next Friday's Episode 2. We don't get to see his face, but he's left behind a number of bloody corpses and some battered survivors as well, including the facially scarred Dr. Claire Saunders (Amy Acker).
It's a lot to swallow, let alone keep straight. But amid all these extracurricular activities, Echo has a somewhat self-contained assignment of the week, whether it's acting as a go-between in a kidnapping or serving as human prey next week for a maniacal bow hunter.
Trying to keep a close watch on Echo is her "handler," Boyd Langston (Harry Lennix), who also questions some of the means to the Dollhouse's ends. A little humor occasionally creeps in, as when Langston asks Echo if she knows how to use a pistol.
"Four brothers. None of 'em Democrats," she replies.
Dushku, who played the recurring character of Faith Lehane in
Buffy
, is called on to be dreamily vacuous within the Dollhouse, but pro-active when on assignment. She's OK in these various guises, but probably not to the point of wowing anyone.
In the end -- which might not be that long in coming --
Dollhouse
seems doomed to be a fairly intriguing ratings failure. At which point Whedon can blame the network if he likes while a cult following remains in play. That would provide a fertile climate for a cathartic
Dollhouse
movie. All in good time.
GRADE:
B-minus