New Idol judges are no surprise, but a botched live webcast provides a rude awakening
09/22/10 12:39 PM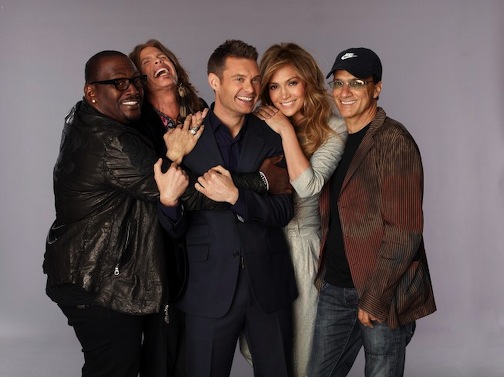 American Idol's new on-air crew couldn't be happier: From left, judges Randy Jackson and Steven Tyler, host Ryan Seacrest, judge Jennifer Lopez and "in-house mentor" Jimmy Lovine. Fox photo
By ED BARK
American Idol
's announcement of Steven Tyler and Jennifer Lopez as the show's new judges became an online fiasco Wednesday when a promised live stream of the event never really materialized.
A steady stream of tweeters on americanidol.com and other venues denounced both the show and ongoing video and sound problems that were never fully resolved. A rerun of the announcement, from The Forum in Inglewood, CA, eventually materialized roughly 45 minutes after the promised live stream had crashed and burned. A subsequent live press conference, scheduled for 1 p.m. (central), came off without a hitch, though.
Host Ryan Seacrest presided at The Forum, first welcoming holdover judge Randy Jackson to a tumultuous reception from an assembled group of screaming fans.
"I call it
Idol
Season 10, the remix, baby," shouted Jackson, the show's only remaining charter judge.
Tyler and Lopez had been rumored for months to be the new judges, but contract talks with the two reportedly blew hot and cold before Fox sweetened their deals enough to land them for at least one season.
"How does it feel to be a part of this show?" Seacrest asked Tyler.
"Fabulous. Wonderful," he said. "It feels like the perfect feathered nest."
Lopez made a ridiculously grand entrance on a below-stage riser while billows of fake smoke engulfed her.
"I want to find the next Michael Jackson," she proclaimed.
Idol
also has named Interscope Geffen A&M Records chairman Jimmy Lovine as its first "in-house mentor." Lovine will be seen behind the scenes, "working with and lending his expertise" to contestants," according to a Fox publicity release.
Tyler, the 62-year-old Aerosmith lead singer, will be
Idol
's oldest judge ever and well beyond the show's target audience of 18-to-49-year-olds.
Lopez is 41, and Jackson, 54.
The new judging team, reduced from four in the past two seasons to three, replaces Simon Cowell, who left the show under his own power, and Ellen DeGeneres and Kara DioGuardi, who were deemed expendable.
"I think we're going to have a lot of cool camaraderie," Jackson said at Wednesday's press conference.
Idol
returns in January, with restored executive producer Nigel Lythgoe hoping to reverse several seasons of declining ratings after spending two years with Fox's
So You Think You Can Dance
.