Ashton Kutcher's the one for Two and a Half Men (updated)
05/13/11 11:44 AM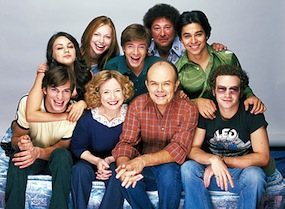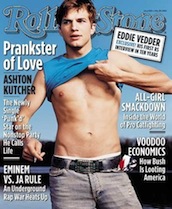 Ashton Kutcher in That 70's Show daze and latter day pose.
By ED BARK
Few if any saw this one coming until reports began surfacing Thursday. But CBS made it official Friday. Ashton Kutcher will step in for the banished Charlie Sheen next season on
Two and a Half Men
.
"I can't replace Charlie Sheen but I'm going to work my ass off to entertain the hell out of people," Kutcher said eloquently in a CBS publicity release.
He hasn't been given a character name yet. But creator/executive producer Chuck Lorre, mercilessly ridiculed a talent-less hack by Sheen, clearly is enjoying the opportunity to have a big last laugh while Sheen continues to delude himself.
"We are so lucky to have someone as talented, joyful and just plain remarkable as Ashton Kutcher joining our family," Lorre said in his first public comments since the Sheen hit the fan. "Added to that is the deep sigh of relief knowing that our family stays together. If I was any happier, I'd be illegal."
Kutcher is best known for his role as dense Michael Kelso on Fox's
That 70's Show
. He's also starred in a series of feature films -- most of which had less than dynamic reviews and box office returns -- while operating behind the camera on "reality" TV series such as
Punk'd
and
Beauty and the Geek
.
But Kutcher is a well-known name whose high-profile marriage to actress Demi Moore has easily outlasted any of The Warlock's wedlocks and relationships. CBS entertainment president Nina Tassler bills him as a "pop culture triple threat -- film star, cutting-edge producer and a social media pioneer. He brings creativity, energy and personality to everything he touches."
Before Kutcher's hiring, names such as Rob Lowe, John Stamos and lately, Hugh Grant, had been floated as potential replacements for Sheen in
Two and a Half Men's
ninth season. The series has been a linchpin of CBS' Monday night lineup, but a string of reruns in the second half of this season have deflated the ratings for surrounding shows such as Lorre's
Mike & Molly
and
Hawaii Five-0
.
Kutcher will join a returning case of Jon Cryer, Angus T. Jones, Holland Taylor, Marin Hinkle and Conchata Ferrell, which he called "ridiculously talented" in the CBS release.
Sheen and Kutcher so far have had nothing to say on their Twitter pages, in which Kutcher leads Sheen in followers by a score of 6.7 million to 3.8 million.
But Sheen did take another shot at Lorre via his other mouthpiece of choice,
TMZ
.
"Enjoy planet Chuck, Ashton," he said gracelessly. "There is no air, laughter, loyalty, or love there."