Ooh scary? Syfy's Paranormal Witness instead is "Oh, please."
09/06/11 01:07 PM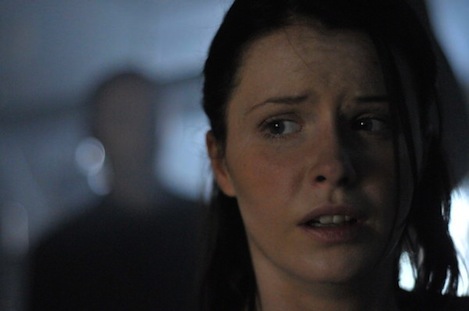 You're supposed to be really afraid of Paranormal Witness. Syfy photo
Premiering:
Wednesday, Sept. 7th at 9 p.m. (central) on Syfy
Starring:
Various freaked-out earthlings
Produced by:
Dimitri Doganis, Bart Layton
By ED BARK
Paranormal is the new normal on Syfy, which already is the haunted home of
Ghost Hunters, Ghost Hunters Academy, Ghost Hunters International
and
Fact or Faked: Paranormal Files
.
Now comes
Paranormal Witness
, which raises the question of why HGTV doesn't yet have a
Haunted House Hunters
in its arsenal.
Syfy, part of the NBC Universal chain, warns reviewers to "make sure the lights are on and the doors are locked before you watch this screener." Then "get ready to be terrified" with this new addition to the network's Wednesday "prime-time paranormal programming block" in league with
Ghost Hunters
.
Hell, I didn't even pee my pants.
Carrot Top
at all hours of the day or night is scarier than the opening episode of
Paranormal Witness
.
The one-hour series is drawn from recollections of real-life earthlings who supposedly have been severely shaken by events they can't explain. Actual witnesses testify in tandem with actor-fortified reenactments. The production values aren't bad, but the overall terror level falls well short of an attic spider web.
Two lemon chillers are recounted in Wednesday's premiere. Baltimore parents Brian and Lauren first talk about how scared they became when their little daughter, Isabella, began seeing the ghostly Emily. They initially thought she was a harmless imaginary friend. But no. Emily turned out to be a supposed "malevolent spirit" who had the power to make things fly around dangerously. She also defaced Lauren's
Wizard of Oz
mural, making the Tin Man look like an ax murderer, etc.
"I never believed in ghosts, but I do now," Brian tells the camera on several occasions. Meanwhile, the sound effects and shrill music ramp up comically before an actress playing Lauren is choked by her allegedly possessed husband, who just wasn't himself that night. But both obviously lived to tell this cockamamie tale. Hey, pay me a few thousand bucks and I might remember the night I was haunted by the ghost of
Chill Wills
.
In the second shorter story, a mom named Stephanie and her 'tude-copping teen daughter, Misty, recall witnessing a mysterious girl with a hollowed-out face while driving back home at night.
"It was the most terrifying, most horrifying thing I've ever seen," says mom, who apparently is yet to see
Sex and the City 2
.
Yes, it's true. Some people take these things very seriously. But seriously, the stories told on
Paranormal Witness
are about as believable as an Oscar nomination for
Dolph Lundgren
. Although that
would
be scary.
GRADE:
C-minus