FALL TV PREVIEW: New series -- Reaper (The CW)
09/25/07 08:06 AM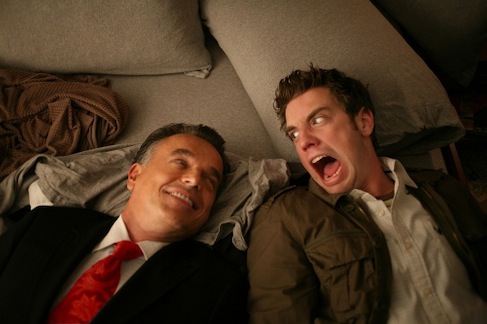 The Devil wants his due from sad sack Sam Oliver.
Premiering:
Tuesday, Sept. 25 at 8 p.m. (central) on The CW
Starring:
Bret Harrison, Ray Wise, Tyler Labine, Missy Peregrym, Rick Gonzales, Valarie Rae Miller
Created by:
Michele Fazekas, Tara Butters
By ED BARK
Reaper
should be a keeper.
Its unexpected lair is The CW, which played dead in its freshman season but now seems creatively juiced. Which is another way of saying that its new series don't all stink.
This is the best of the new crop, a darkly funny fable about a 21-year-old semi-loser who learns that his soul now belongs to the devil. His parents did the deed after dad got "really, really sick." The Olivers then vowed to remain childless rather than sell their firstborn to Beezlebub when he or she became old enough to drink.
Sam Oliver (Bret Harrison) unexpectedly arrived anyway, and now he's suddenly someone else's property. The Devil (Ray Wise), snappily attired and fond of his own wit, demands that his newest "bounty hunter" recaptured fugitives from hell and send them back for more deep-frying.
"God wins," he reasons. All of these no-goods are simply going back where they belong.
Wise, the possessed killer from Season 1 of
Twin Peaks
, is a smooth natural for this role. And Harrison's Sam (
Grounded for Life
) is a welcome addition to the new season's shopping bag full of sad sacks.
His workplace is The Work Bench, where he and and coarse best friend Bert "Sock" Wysocki (scene-stealing Tyler Labine) have the usual soul-draining jobs. There's also a sweet, pretty girl named Andi (Missy Peregrym), for whom Sam pines.
"You lucky bastard. Nothing cool like that ever happens to me," Bert gripes after Sam tells him he's the devil's newest workshop. For now, though, he's afraid to confide in Andi.
Tuesday's promising premiere puts Sam, Bert and second-string pal Ben (Rick Gonzalez) in not-so-hot pursuit of an arsonist. They're initially armed only with a Dirt Devil mini-vac with super sucking power. Depositories are the town's various "hells on earth," in this case the Department of Motor Vehicles office.
Reaper
is largely played for laughs, and merits some. But it can get a bit grim, too, because the devil doesn't mess around with people who think they can defy him.
"You will do it," he tells Sam. "Or I'll take your mother."
And later: "Word of caution. I don't accept failure -- ever."
A hockey arena ice machine also makes a bloody kill before the hour's up. But deaths and return trips downstairs are all justified as good deeds. And that logic actually works in a diabolically entertaining series that somehow seems heaven-sent.
Grade:
B+