Fox's late-arriving Wayward Pines made of stronger timber than expected
05/06/15 03:10 PM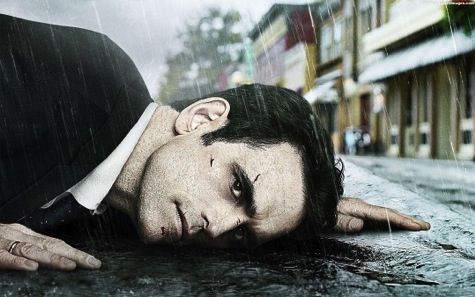 Secret Service agent Ethan Burke (Matt Dillon) has his ear to the ground but his head's all messed up in Wayward Pines. Fox photo
Premiering:
Thursday, May 14th at 8 p.m. (central) on Fox and continuing for nine consecutive weeks.
Starring:
Matt Dillon, Carla Gugino, Melissa Leo, Terrence Howard, Hope Davis, Toby Jones, Juliette Lewis, Shannyn Sossamon, Charlie Tehan, Tim Griffin, Reed Diamond
Produced by:
M. Night Shyamalan, Donald De Line, Chad Hodge, Ashwin Rajan
By ED BARK
@unclebarkycom on Twitter
Network TV programs aren't put on the shelf to marinate and improve their flavor.
On the contrary, it's usually a sign of serious misgivings about the finished product and little confidence that viewers will buy in.
This is the foreboding backdrop for Fox's
Wayward Pines
, a 10-hour "event series" announced in January 2013 and originally set for a summer 2014 debut before being pushed back a full year after filming wrapped in February 2014.
Add the recent and very bumpy track record of principal executive producer M. Night Shyamalan, who burst onto the scene with 1999's
The Sixth Sense
but lately has directed a quartet of clunkers --
Lady in the Water, The Happening, The Last Airbender
and
After Earth
, the seriously awful 2013 bomb starring Will Smith and his son, Jaden.
Still, all is not lost amid the oft-murky intrigues of what Fox bills as an "intense psychological thriller evocative of the classic hit
Twin Peaks
." Based on viewing the six episodes made available by Fox,
Wayward Pines
is appreciably better than expected even if it also could fall apart down the yet unseen homestretch.
Summer has become a hot bed for first-run mystical fare ever since CBS launched
Under the Dome
in 2013 and followed it up with last year's
Extant
. They're respectively returning for Seasons 3 and 2 while CBS premieres a third like-minded mindbender with
Zoo
. Think of it as a scripted version of
When Animals Attack
.
Wayward Pines
, starring Matt Dillon as Secret Service Agent Ethan Burke, exceeds both
Under the Dome
and
Extant
in terms of acting, atmosphere and some fairly quick payoffs. No sequel is planned, with Shyamalan saying in an accompanying Fox promotional video that "you can get to the meat quicker" with a limited, close-ended series. In that respect,
Wayward Pines
is similar to some of those old longform ABC chillers adapted from Stephen King novels. And a very eventful Hour 5 of the Fox production indeed has some big reveals.
Dillon's character is first seen flat on his back and bloody-faced in the woods. It turns out he's been in a car wreck while searching for two recently missing agents. One of them, Kate Newson (the ever-lush Carla Gugino), became more than his work partner. But in Wayward Pines, Idaho, Kate is married to toy store owner Harold Ballinger (Reed Diamond). And she's supposedly been a resident of this small town for the past 12 years.
Three principal actors in
Wayward Pines
have been away from the production long enough to since co-star in new series.
Terrence Howard, who has a smash on his hands with Fox's
Empire
, plays a seemingly sinister sheriff named Arnold Pope. Not surprisingly, Fox's most-played promo for
Wayward Pines
has Howard front and center, with his character saying "You don't" after Burke pleads, "How do I get outta here?"
The cast also includes Juliette Lewis as mysterious bartender Beverly. Lewis has just finished playing a very severe-countenanced detective in Season 1 of ABC's
Secrets and Lies
. Another principal
Wayward Pines
denizen, Hope Davis as school teacher Megan Fisher, headed the cast of NBC's
Allegiance
, which recently was canceled midway through its planned run.
Adapted from the bestselling books by Blake Crouch,
Wayward Pines
is further buoyed by Oscar winner Melissa Leo as the pivotal Nurse Pam and Toby Jones (who's starred as Alfred Hitchcock and Truman Capote in films) in the role of manipulative but well-meaning Dr. Jenkins.
Back home in Seattle, Agent Burke has a wife, Theresa (Shannyn Sossamon), and a teen son, Ben (Charlie Tahan), who wonder what's become of him. Their resultant search helps to trigger some key subplots.
Dillon does a solid job of both butting his head against dead-ends and bumping into knowledge that others consider dangerous. There are very firm ways to deal with malcontents and truth-seekers, with the end of Episode 2 offering grisly proof.
Wayward Pines
threatens to go off the rails on more than one occasion. But by the end of Episode 6, most of what's happened is making some cockeyed sense. Whatever you make of it, virtually the whole world will have a chance to watch -- or not watch. Fox is simultaneously premiering
Wayward Pines
in more than 125 countries while touting this gambit as "the largest day-and-date launch for a scripted series ever."
It's been quite a long wait, which generally is a bad sign. In this case, though,
Wayward Pines
looks as though it has the potential to rise above its false starts while grippingly spooling out truths that are "worse than anything you could even imagine." Those watchwords came at the end of Episode 3. And by that time, all that dangling bait had hooked me.
GRADE:
B
Email comments or questions to: