The Michael J. Fox Show: a solid start before it starts to wobble
09/25/13 04:02 PM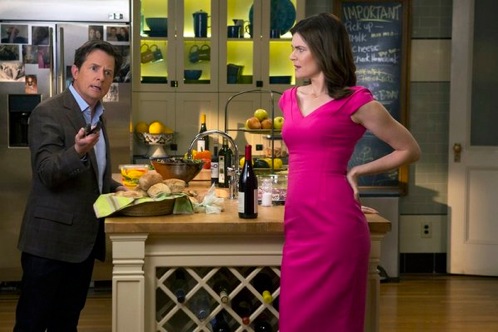 Michael J. Fox and Betsy Brandt star in his namesake sitcom. NBC photo
Premiering:
Thursday, Sept. 26th at 8 p.m. (central) on NBC
Starring:
Michael J. Fox, Betsy Brandt, Katie Finneran, Juliette Goglia, Wendell Pierce, Conor Romero, Jack Gore, Ana Nogueira
Produced by:
Will Gluck, Sam Laybourne
By ED BARK
@unclebarkycom on Twitter
Michael J. Fox has built up an enormous reservoir of good will since going public with his Parkinson's Disease in 1999.
Just about everyone wants him to succeed. And his determination to rise up and shoulder the rigors of a weekly comedy series is almost the stuff of fairy tales.
So here comes
The Michael J. Fox Show
, premiering on the same network and night as
Family Ties
, which made him a mega-star way back in the early years of the Reagan administration.
Thursday's premiere half-hour, the first of back-to-back episodes, is solid enough in setting the show's premise of a popular New York news anchor who quit because of Parkinson's Disease and now is talked into making a triumphant return. In large part, his wife and three children just want him out of the house.
The second and third episodes, also made available for review, fall short of delivering on the initial promise. Thursday's second helping, featuring a guest appearance by Fox's real-life wife, Tracy Pollan, is particularly ill-conceived. She plays a flirtatious upstairs neighbor named Kelly, whose loud TV prompts Mike Henry (Fox) to knock on her door and be almost instantly bowled over. He then becomes possessive of her attention after his miffed wife, Anna (Betsy Brandt in an instant detour from playing Marie on
Breaking Bad
), lobbies for a double date between Kelly and Mike's TV station boss, Harris Green (fine, droll work by Wendell Pierce).
Viewers who recognize Pollan as Fox's wife -- as opposed to the many more who probably won't -- might find this a little easier to swallow as an "in joke" of sorts. But it seems totally out of character for Fox's character, and a lame little sermonette at the end doesn't help matters.
Episode 1 is more firmly grounded, with Mike liberally joking about his disease while oldest child Eve (Juliette Goglia) wonders why passersby keep commiserating.
"Alcoholism is a disease. Do people go up to David Hasselhoff and tell him about their crazy uncles?" Eve reasons in one of her repeated talk-to-the camera riffs. There's too much of that, too, and not only on her part during the first three episodes.
The other members of the Henry family are oldest son, Ian (Conor Romero), a college dropout with deluded dreams of starting up a wildly successful website, and seven-year-old Graham (Jack Gore), who's mostly around for babysitting purposes. Mike's cleavage-flaunting sister, Leigh (Katie Finneran), doesn't live under the same roof but might as well. A writer of some sort, she procrastinates on a piece for
Us Weekly
in Episode 2 and force-feeds the first chapter of her steamy novel in Episode 3, which also includes a guest shot by Anne Heche.
NBC additionally still lists wide-eyed apprentice producer Kay Costa (Ana Nogueira) as a regular character. But after making a bit of an impression in the premiere episode, she's nowhere to be seen in the next two.
The Peacock's beleaguered
Today
show also gets some exposure, with Matt Lauer, Savannah Guthrie and Al Roker all dropping in as themselves in Episode 1. Lauer gets the most to do, greeting Fox's Henry warmly upon his return to work before asking, "See you at the track later?"
"Awful, awful man," news director Green then says out of earshot, prompting Mike to add, "Why don't people see that?" Who wrote this portion of the script -- Ann Curry?
The crowded Henry house can be good for a few laughs, but the series seems to be on firmer ground in the "News 4 New York" newsroom. It's a juggling act, though, with Episode 2 almost totally ignoring the workplace before Episode 3 is partly built around daughter Eve's out-of-nowhere internship at the station.
The Michael J. Fox Show
shows signs of deteriorating into a too sitcom-y enterprise with occasional flashes of smart writing and situations. One would like to see more of the star, but he might not be up to an increased workload. That's perfectly understandable. But other than Wendell Pierce's understatedly amusing character, none of the supporting players are resonating to the point where more of them wouldn't be less. Even Fox at times is less than sharply tuned.
What NBC may end up having is an ensemble comedy whose title says otherwise. And whose ensemble requires considerable further assembly.
GRADE:
B-minus
Email comments or questions to:
unclebarky@verizon.net