Fox accentuates African-Americans in new fall lineup
05/18/09 11:16 AM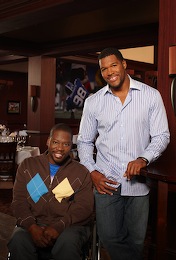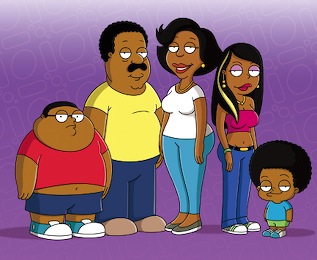 The casts of Fox's Brothers and The Cleveland Show.
By ED BARK
Fox is adding three new prime-time series and one late-nighter this fall, with three-fourths of its incoming freshman class featuring predominantly African-American casts.
The No. 1 network among advertiser-coveted 18-to-49-year-olds also will return
Dollhouse
for a second season despite its very lowly ratings on Friday nights. You likewise can't kill
'Til Death
. The Brad Garrett sitcom will return after barely airing this season. And
So You Think You Can Dance
will be in the fall mix for the first time after ending its fifth annual summer run, which begins Thursday.
Fox also announced Monday that
24
will return for its eighth season on Jan. 17th, with the locale shifted to New York. The network additionally plans to launch at least three new midseason shows.
Here are the fall newcomers.
Brothers
(comedy) -- Recent NFL retiree Michael Strahan plays recent NFL retiree Mike Trainor, who's ordered back home to Houston by his momma (CCH Pounder from
The Shield
). She wants him to help his wheelchair-bound brother, Chill (Daryl "Chill" Mitchell) keep his struggling restaurant afloat. Carl Weathers of
Rocky
fame stars as the two brothers' football-coaching father, but "really it's mom who calls the shots," says Fox.
The Cleveland Show
(comedy) --
Family Guy
creator Seth MacFarlane spins off that show's Cleveland Brown into a show of his own. He'll be hooking up with his high school sweetheart, Donna, after her marriage goes sour. She's equipped with two high-maintenance kids.
Glee
(drama) -- Sneak-previewing Tuesday night after
American Idol
, it'll then rest until fall. Matthew Morrison stars as a teacher determined to reinvent his high school glee club, which of course is well-stocked with underdogs who haven't yet reached for the stars. Fox has been promoting the show incessantly for the past month or so. The series' creator is
Nip/Tuck
's Ryan Murphy.
The Wanda Sykes Show
(comedy) -- She's supplanting
MADtv
in what Fox describes as a "high-energy one-hour show" featuring "biting commentary (that we've already figured out) and heated panel discussions with recurring personalities."
Here's Fox's night-by-night fall lineup, with all times central:
MONDAY
7 p.m. --
House
8 p.m. --
Lie To Me
TUESDAY
7 p.m. --
So You Think You Can Dance
(performance show)
WEDNESDAY
7 p.m. --
So You Think You Can Dance
(results show)
8 p.m. --
Glee
THURSDAY
7 p.m. --
Bones
8 p.m. --
Fringe
FRIDAY
7 p.m. --
Brothers
7:30 p.m. --
'Til Death
8 p.m. --
Dollhouse
SATURDAY
7 p.m. --
Cops
7:30 p.m. --
Cops
8 p.m. --
America's Most Wanted
11 p.m. --
The Wanda Sykes Show
Midnight -- "Animation Domination" encores
SUNDAY
6 p.m. --
The OT
(NFL post-game show)
7 p.m. --
The Simpsons
7:30 p.m. --
The Cleveland Show
8 p.m. --
Family Guy
8:30 p.m. --
American Dad
These are the three announced midseason shows:
Human Target
(drama) -- DC Comics graphic novel hero Christopher Chance (Mark Valley) makes himself a bullseye in the interest of saving clients' lives. Chi McBride and Jackie Earle Haley co-star.
Past Life
(drama) -- A pair of "past-life" detectives investigate "whether what is happening to you today is the result of who you were before." Starring are relative unknowns Kelli Giddish and Nicholas Bishop, with Richard Schiff from
The West Wing
playing her character's mentor.
Sons of Tucson
(comedy) -- The three Gunderson brothers hire a "charming wayward schemer" to impersonate their father after the real one goes to jail. Fox says the show is "in the tradition" of
Malcolm In the Middle
and
The Bernie Mac Show
.