Fox's fall lineup announcements overshadowed by Jack Bauer's return next summer
05/13/13 08:05 AM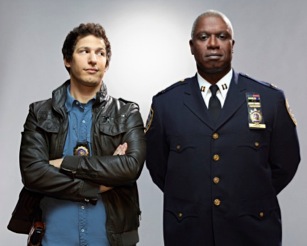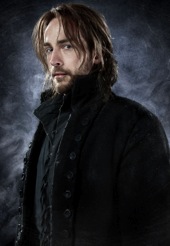 Andy Samberg, and Andre Braugher front new comedy Brooklyn Nine-Nine while Sleepy Hollow stars newcomer Tom Mison. Fox photos
By ED BARK
@unclebarkycom
Knocked off its perch as No. 1 with 18-to-49-year-olds after an eight-season run, Fox will re-load in the fall with three new comedies, two new dramas and another Gordon Ramsay spinoff.
But the network's biggest announcement Monday morning won't be a reality until
after
the 2013-14 TV season is history. Set to premiere in the summer of 2014 is a new 12-episode edition of
24
, with star Kiefer Sutherland back as Jack Bauer after his
Touch
series was canceled.
24: Live Another Day
again will occur in "real time," but some hours will be skipped, says Fox entertainment president Kevin Reilly.
Fox also is dropping
The Cleveland Show
, but its creator, Seth MacFarlane, is getting his first live-action series as compensation. Preciously announced cancelations include
Ben and Kate, Fringe
and
The Mob Doctor
. Two of this season's newcomers,
The Mindy Project
and
The Following
, have been invited back. But the latter serial killer drama again won't return until midseason.
The network also is planning a 2014 "Event Series" titled
Wayward Pines
. Starring Matt Dillon, it's adapted from the novel
Pines
by Blake Crouch and produced by M. Night Shyamalan, who's had a string of box office failures after the huge success of
The Sixth Sense
and lesser hits such as
Unbreakable
and
Signs
.
Fox's most star-driven fall newcomer is a comedy fronted by
Saturday Night Live
alum Andy Samberg and the venerable Andre Braugher. And the network has Greg Kinnear tabbed for a midseason drama. A Season 3 episode of
New Girl
will get the post-Super Bowl slot next February, along with a new comedy to be named later.
Here are the six fall newcomers:
Brooklyn Nine-Nine
(comedy) -- Samberg and Braugher respectively play a "talented, but carefree" detective and an authoritarian new commanding officer intent on reining him in. Terry Crews (
Everybody Hates Chris
) also is on hand as a police sergeant with twin daughters named Cagney and Lacey.
Dads
(comedy) -- MacFarlane is executive producer of this dysfunctional family sitcom starring Seth Green and Giovanni Ribisi as co-founders of a video game company whose cantankerous fathers (played by Martin Mull and Peter Riegert) suddenly move in with them.
Enlisted
(comedy) -- Fox describes this as "an irreverent but heartfelt" outing centered on three brothers stationed at a small Florida Army base. Together they're "not quite good enough to be sent overseas, yet not bad enough to be kicked out." Geoff Stults, Chris Lowell and Derrick Hill star.
Sleepy Hollow
(drama) -- Fox begins by asking this question: "What if you suddenly woke up from the throes of death 250 years in the future to find the world is on the brink of destruction, caused by unimaginable events, and you are humanity's last hope?" Of course, Fox could just as easily ask, "What if you saw ABC having some success with
Once Upon A Time
and decided you wanted a piece of that?" Tom Mison (
Salmon Fishing in the Yemen
) stars as the reborn Ichabod Crane.
Almost Human
(drama) -- J.J. Abrams (
Lost, Fringe, Revolution
) is behind another bizarro hour. This one originates 35 years into the future, where human police officers are partnered with human-like androids.
Friday Night Lights
alum Minka Kelly, back in the game after a stint in ABC's short-lived remake of
Charlie's Angels
, is the most familiar TV face.
Junior Masterchef
(reality) -- Kids from eight to 13 dive into the culinary arts. Ramsay, restaurateur/winemaker Joe Bastianich and chef Graham Elliot are the judges. Ramsay presumably won't curse the kiddoes too much.
This is the fall (and "late fall") schedule announced by Fox:
MONDAY
Bones (fall), Almost Human (late fall)
Sleepy Hollow
TUESDAY
Dads
Brooklyn Nine-Nine
New Girl
The Mindy Project
WEDNESDAY
The X Factor
THURSDAY
The X Factor
Glee
FRIDAY
Junior Masterchef (fall), Bones (late fall)
Sleepy Hollow encores (fall), Raising Hope/Enlisted (late fall)
SATURDAY
Fox Sports Saturday
SUNDAY
The OT
The Simpsons
Bob's Burgers
Family Guy
American Dad
Here are Fox's announced midseason shows:
Rake
(drama) -- Adapted from an Australian hit series, it starts Greg Kinnear as a divorced criminal defense lawyer whose life is a combination of chaos and comedy.
Gang Related
(drama) -- A former gang member joins the L.A. police force. The series supposedly explores "how every villain has a noble cause and every hero has a dark side."
Murder Police
(comedy) -- The cop show genre in cartoon form, with voices behind the camera including Chi McBride, Will Sasso and Jane Lynch.
Surviving Jack
(comedy) --
Law & Order: SVU
alum Christopher Meloni plays the title character in this adaptation of Justin Halpern's autobiographical book
I Suck at Girls
. It's set in 1990s California.
Us & Them
(comedy) -- Fox describes it as "an outrageous but authentic" laugher about "a pair of young lovers whose path to happily-ever-after is complicated by the screwed-up circus of people closest to them." Jason Ritter (
The Event
) and Jane Kaczmarek (
Malcolm In the Middle
) are among the stars.
Email comments or questions to:
unclebarky@verizon.net