Starz rewinds its way back machine to Camelot during a big month for Arthurs and royals
03/30/11 09:57 AM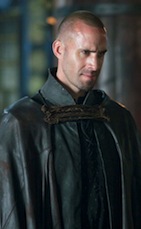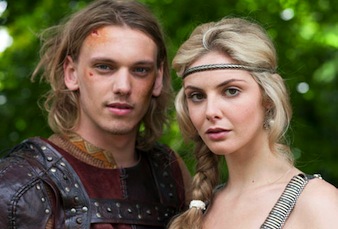 Joseph Fiennes' Merlin looms over Arthur and Guinevere. Stars photos
Premiering:
Friday, April 1st at 9 p.m. (central) on Starz
Starring:
Joseph Fiennes, Jamie Campbell Bower, Eva Green, Tamsin Egerton, Peter Mooney, Claire Forlani, Philip Winchester, Clive Standen, Diarmaid Murtagh
Produced by:
Chris Chibnall
By ED BARK
April's a big month for Arthurs, with the same-named big screen remake opening on April 8th while Starz takes the reins on Fools Day with the Arthur-fueled, 10-episode
Camelot
.
Quickly back in the swords 'n' armor game after
Spartacus
and its recent prequel, Starz urges urges prospective viewers to "Forget Everything You Know. This is the Story of Camelot That Has Never Been Told Before."
Not that we'd really know. This is, after all, the stuff of 5th and 6th century "Arthurian legend." So the producers and writers of innumerable treatments over the years can pretty much do as they please while retaining the essential principal characters of Arthur, Merlin, Guinevere and Morgan. In other words, you probably can't just throw a Sir Herb or a Lady Whoopi in there. And you'll need a big sword-in-the-stone scene in one form or another. Which
Camelot
has in Episode 2.
Joseph Fiennes' manipulative Merlin is bald, with his left cheek bisected by a thin horizontal scar. In an interview with TV critics last summer, he quotably described the character as "sort of a cross between Obi-Wan Kenobi and Donald Rumsfeld."
Fiennes schemes and often glowers his way through the first three hours made available for review. But he's a piker compared to Morgan (Eva Green), the potion-mixing, shape-shifting, very bitter half sister of Arthur (Jamie Campbell Bower) and exiled daughter of King Uther. A scene-stealing Green brings Morgan vividly to life, baring her fangs and later other impressive attributes in a closing Episode 2 scene opposite a snarling wolf.
Arthur's a malleable kid in comparison, unknowingly born with royal blood and reared by a peasant family until Merlin comes to claim and mold him into the rightful King of the Britons.
"Why? Why do you need me?" Arthur wonders.
"Everything in time," Merlin assures him.
And later: "Are you really a sorcerer?"
"I can do things others believe impossible," Merlin replies. "Is that sorcery?"
Oh that Merlin. Even Rumsfeld might find him a bit cryptic. But nothing can be allowed to stand in the way of Arthur's destiny or Merlin's reminders that he'd still be nothing without him. So it gets complicated when Arthur first feasts his eyes on the beauteous Guinevere (Tamsin Egerton), who's already betrothed to his goodly protector, Leontes (Philip Winchester). Merlin is vexed and Arthur would sextext her night and day if the technology were available. Instead they couple clandestinely in the great outdoors. But "just once," she tells him a scant three days before her wedding bell blues.
It all gets pretty involving in time. Based on the first three hours, this is a sturdy production from a producer/scriptwriter (Chris Chibnall) whose well-appointed credits include
Torchwood, Doctor Who
and the United Kingdom version of
Law & Order
.
As
Camelot
's helmsman, Chibnall takes his first crack at medieval times, which have never lost their pulling power. So away we go again, with Arthur, Merlin, Morgan and Guinevere parrying, thrusting and lusting all the way up to and through the latest royal wedding, on April 29th, between Prince William and Kate Middleton.
Camelot
's out-of-body tricks and turns at best will provide a subdued but tasty appetizer for the rampaging media feast to come. It also begs the question of what an Arthur/Guinevere wedding would be like in these days and times. Although their legends live on, it's better that both will never know.
GRADE:
B