Still on his feet: Cuban cleared for a fourth round on Dancing
10/10/07 06:29 AM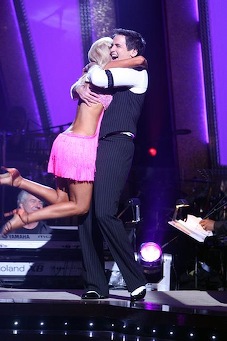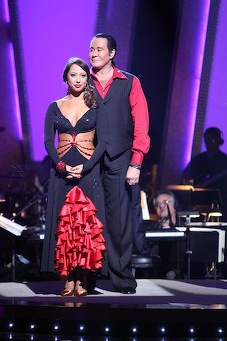 "Saved" at last. Not so Mr. LV and two-time champ Cheryl Burke.
By ED BARK
He's now outlasted two models and a Model T.
Dallas Mavericks owner Mark Cuban climbed another rung on
Dancing with the Stars
Tuesday night while Wayne Newton debarked along with two-time champ Cheryl Burke.
At first he did a double take after host Tom Bergeron pronounced him "safe."
"Us?" Cuban asked. "Us?" It then dawned on him to accept the spoils of another victory by lofting sublimely cute pro partner Kym Johnson in a bear hug. As blondes go it beats embracing Dirk Nowitzki.
In a wee hours email, Cuban said he wasn't shocked, just preoccupied.
"I was clapping for Helio (Castroneves) and did not hear them call my name," he said. "Nothing more than that."
All five remaining women and two male contestants were cleared for takeoff next Monday before Cuban got the word. That left a red-lighted Bottom Two of Newton and boxing champ Floyd Mayweather. Big Wayne offered a tree trunk carve-able quote.
"I think it's important to live life, not exist in it," he said before he and Burke went through the motions of their last dance. She previously helped Emmitt Smith and Drew Lachey to win the show's gaudy mirror ball trophy, symbolic of bad design but now a treasured keepsake.
Despite receiving generally low scores from
Dancing
's three judges, Cuban now has successfully navigated the fox trot, mambo and jive in outlasting one-quarter of the show's original 12-celebrity field. Previously axed were models Josie Maran and Albert Reed. Viewer support is crucial in surviving from week to week, and Cuban clearly has rallied his share of it via his
blog
and overall appeal. He's yet to yell at a judge and notably is tackling each dance with full-out energy and enthusiasm.
"I don't see the cameras, I don't see the audience," Cuban said in a taped segment Tuesday on the pressures competitors face. "Because if I really thought about it, knowing there were 20-some million people watching me dance of all things, I'd probably freak out."
He'll next do either the Viennese Waltz (which might help rest his surgically repaired left hip) or the
paso doble
(which wouldn't).