TNT takes ownership of Mondays with women-powered returns of The Closer and Rizzoli & Isles
07/11/11 08:47 AM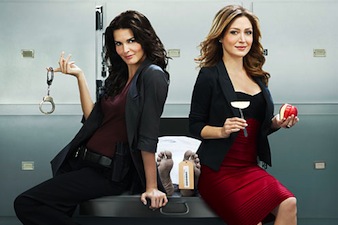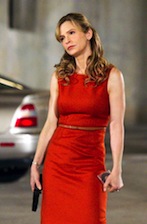 Heroine addicts get two hours worth, starting Monday. TNT photos
By ED BARK
The straw that first stirred the "We Know Drama" drink begins its last season on TNT while the network's resident ratings champ fires up Season 2.
That makes Monday (July 11th) quite a night for both TNT and distaff cops, with Kyra Sedgwick's
The Closer
(
8 p.m. central
) tackling a crime scene stocked with seven dead bodies before
Rizzoli & Isles
(
9 p.m.
) opts for single-victim car explosions.
The Closer
is to TNT what
The Shield
was to FX and
Mad Men
is to AMC. It proved to be the branding iron TNT needed to launch a wealth of subsequent original series under the network's self-assured, tight-lipped slogan. Now comes its seventh and final go-around, with 10 new hours this summer and an unspecified number of "additional episodes" in winter before next year's last gasp.
It's the one troublesome aspect of
The Closer
, whose recurring split seasons no doubt have been confusing/irritating to fans and injurious to the show's overall ratings strength.
Rizzoli & Isles
, co-starring Dallas native Angie Harmon and Sasha Alexander, is now TNT's undisputed ratings champ, setting an advertiser-supported cable network record with an average of 8.8 million viewers per episode in last summer's first season. Thirteen episodes have been ordered for Season 2.
Sedgwick's sweets-loving, tart-tongued Brenda Leigh Johnson is under the gun in Monday's season opener. A bloody crime scene at a rapper's digs re-tests her whodunit skills while a civil lawsuit and a reorganization of her LAPD Major Crimes Unit also hang over her head.
"It's so infuriatin' to work so hard for so long with so little appreciation from people," she carps to husband/FBI agent Fritz Howard (Jon Tenney). They then turn to other matters of a more personal nature after Fritz notes that he's naked in bed for a reason. Brenda's all-business demeanor still allows for a little pleasure, although not nearly as often as her more even-keeled hubby would like.
The series' other regular characters also return, several of them notably graying while Brenda's hair retains every last inch of its auburn. Added as a weekly presence is Mary McDonnell, who had a recurring role for the past two seasons as Capt. Sharon Raydor. She'd become friends with Brenda, but now is spearheading a divisive internal investigation.
Brenda's interrogating skills as usual pan out in the end, with a terrific performance under pressure by the eventual confessing assailant. Given the upsides of jury trials these days, no murderer in his or her right mind would fess up to anything. But this is television.
The episode ends with a departmental jolt that will carry over into next Monday's episode. Then it's on to
Rizzoli & Isles
, where Harmon's Boston-based police detective, Jane Rizzoli, is still on the mend both mentally and physically three months after a climactic Season 1 shootout. Eight people died, five of them bad guys. Rizzoli took a bullet in her slim, trim side.
Persnickety, high-style medical examiner Maura Isles (Alexander) is aghast at the mess in Rizzoli's living room and determined that she return to the living and show up in uniform to be honored at a "Salute to Heroes" event. She also inquires, "When was your last bowel movement?" That's what friends are for.
Then comes bad news on two fronts. Rizzoli's high-strung mother, Angela (Lorraine Braco), faces a sudden domestic crisis while a co-hero from the war in Afghanistan meets a sudden and grisly end. This spurs Rizzoli back into action as both a crimefighter and bedmate of an ex-boyfriend who's now a sergeant major on leave. Mom of course busts in on them. That's what moms are for.
Harmon remains in fine gravelly-voiced form, playing Rizzoli to the hilt without hamming it up. Alexander also has her moments, even if their one-upping banter a times gets a little too forced.
Rizzoli & Isles
otherwise measures up and at this point has surpassed
The Closer
as a summertime crime excursion. Both are well-executed and thoroughly watchable, giving TNT a big Monday night advantage over anything the Big Four broadcast networks can offer. Why succumb to
The Bachelorette
when you instead can watch three women call the shots in far more convincing fashion?