Two made-in-Dallas series make Fox's fall cut
05/17/10 08:42 AM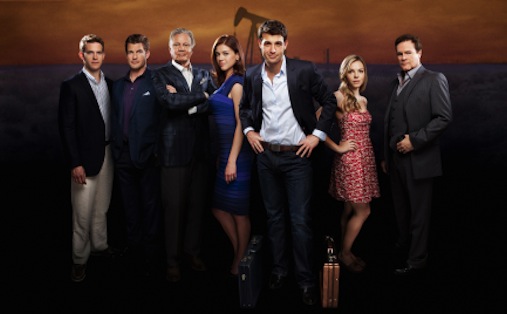 The cast of Lonestar, teaming with House on Mondays. Fox photo
By ED BARK
Fox is adding just three new series to its fall lineup, but one of them is the made-in-Dallas
Lonestar
.
Starring newcomer James Wolk, whom Fox executives envision as a "huge, breakout star," the hour-long "provocative soap" will air after
House
on Mondays. In other words, it's getting
24
's high profile spot.
"This is a very cool show. It's got a little bit of modern day
Dallas
in it," Fox entertainment president Kevin Reilly told TV writers during a teleconference Monday.
Wolk, starring in his first TV series, leads two lives as "charismatic and brilliant schemer" Robert/Bob Allen. Bob resides in Houston and has a wife named Cat (Adrianne Palicki from
Friday Night Lights
). But in oil-rich Midland, Robert shacks up with "sweet, naive" girlfriend Lindsay (Eloise Mumford) while bilking local investors on the side.
Cat's daddy is an oil magnate named Clint Thatcher(Jon Voight), who'd be pretty unhappy if he knew about his son-in-law's secret life. One of Clint's sons, Trammell (Mark Deklin), already is suspicious. But another son, Drew (Bryce Johnson), is a devoted acolyte of Bob.
Dallas was home to the pilot episode of
Lonestar
, with the series also being shot in the North Texas area. It joins Fox's ongoing
The Good Guys
, which set up shop in Fair Park early this year.
Good Guys
, which launches with a preview episode on Wednesday, May 19th before beginning a summertime run on June 7th, will then move right into Fox's fall lineup. It could be a tough go, though. The action-cop drama, starring Bradley Whitford and Colin Hanks, is destined for Fox's long lost Fridays, to be paired with the returning
Human Target
. Extra episodes being made beyond the original 13-episode order will keep the show in Dallas longer than originally anticipated.
Fox also made other news Monday by announcing that
Glee
will be next year's post Super Bowl attraction when the NFL's super-powed end game makes its inaugural appearance at Cowboys Stadium in Arlington.
Also, the
American Idol
Wednesday night results show will be sliced from an hour to a half-hour while the Tuesday performance edition will weigh in at 90 minutes. Both shrinkages will make room for two new fall comedies set to carry over into 2011. They are:
Running Wilde
-- Will Arnett (
Arrested Development, 30 Rock
) stars as "filthy rich, immature playboy" Steve Wilde, who yearns to win or buy the heart of child sweetheart Emmy Kadubic (Kerri Russell from
Felicity
). Steve's the spoiled son of an oil tycoon while Emmy is described as "an earnest do-gooder who has spent her adult life trying to save the world." Emmy also has a 12-year-old daughter named Puddle (Stefania Owen), who hasn't spoken in years.
Raising Hope
-- Twenty-three-year-old loser Jimmy Chance (Lucas Neff) is a pool-skimmer and party hound who still lives at home with his family. But he may have to grow up in a semi-hurry after a chance romantic encounter yields a baby daughter. Mom's in prison, so she's no help. Neither is Jimmy's family, which includes Cloris Leachman in the role of batty Maw Maw.
Fox also announced four new midseason series, including Steven Spielberg's
Terra Nova
, billed as "an epic family adventure 85 million years in the making." Originating in 2149 on a dying planet earth,
Terra Nova
soon takes advantage of a "fracture in the space-time continuum" to journey to prehistoric times in hopes of righting past wrongs. There's no casting or air date yet.
Likewise slotted for midseason -- and the Sunday night animated block -- is the new cartoon
Bob's Burgers
, about "a man, his family and a burger joint."
Midseason berths also are awaiting the Chicago-based cop drama
Ride-Along
(from
The Shield
creator Ryan Murphy) and the sitcom
Mixed Signals
, about three longtime pals trying to balance relationships with their needs to be free.
Here's Fox's night-by-night lineup, always subject to change, of course:
(New series are marked by an asterisk.)
MONDAY
House
Lonestar*
TUESDAY
Glee
Raising Hope*
Running Wilde*
WEDNESDAY
Lie to Me
Hell's Kitchen
THURSDAY
Bones
Fringe
FRIDAY
Human Target
The Good Guys
SATURDAY
COPS
COPS
America's Most Wanted
Sunday
The OT (NFL post-game show)
The Simpsons
The Cleveland Show
Family Guy
American Dad