Andy Samberg scores as top cop in Fox's Brooklyn Nine-Nine
09/12/13 09:32 AM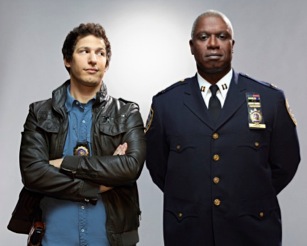 Andy Samberg and Andre Braugher of Brooklyn Nine-Nine. Fox photo
Premiering:
Tuesday, Sept. 17th at 7:30 p.m. (central) on Fox
Starring:
Andy Samberg, Andre Braugher, Melissa Fumero, Terry Crews, Joe Lo Truglio, Stephanie Beatriz, Chelsea Peretti
Produced by:
Dan Goor, Michael Schur, David Miner
By ED BARK
@unclebarkycom on Twitter
Hmm, a sitcom starring Andy Samberg. You don't want to rein him in -- nor let him run amuck.
Mission for the most part accomplished in Fox's new
Brooklyn Nine-Nine
, in which the former
Saturday Night Live
mad hatter plays a semi-infantile ace detective with a high opinion of himself.
Samberg as a crime-solver will never be entirely believable. But this
is
a comedy, and the premise perhaps is more salable than Samberg playing a ship's captain or an Old West sheriff.
In this case he's detective Jake Peralta, who's first seen in closeup doing lines from
Donnie Brasco
during an investigation of an electronics store robbery. His partner, Amy Santiago (Melissa Fumero), barely tolerates him while also striving to one-up Jake in the number of cases they've cracked. They make for a good mis-matched pair in an ensemble comedy without a laugh track and with the considerable presence of Andre Braughter as new precinct captain Ray Holt.
Tuesday's premiere episode, which includes a cameo by Samberg's old
SNL
running mate, Fred Armisen, nicely showcases the regular seven-member cast while also throwing in a cockeyed murder investigation in which a rare $6,000 ham also has been pilfered. The producers and cast have resisted any comparisons to ABC's late, great
Police Squad!
, which was replete with non-stop sight gags. But there is a certain resemblance, and for that they should be grateful.
The other members of the
Brooklyn Nine-Nine
menagerie are sergeant Terry Jeffords (Terry Crews), nicknamed "Terry Titties" because of his outsized pecs; grouchy detective Rosa Diaz (Stephanie Beatriz); wimpish "grinder" Charles Boyle (Joe Lo Truglio), who pines after Rosa; and batty civilian officer manager Gina Linetti (Chelsea Peretti).
Although Samberg gets the spotlight -- "Good news for all you murder fans!" -- the others have their moments during an amusing opener. And Braugher, in his first TV comedy series, looks as though he'll measure up as an outwardly stern captain who both demands his men wear ties and is openly gay.
Samberg likewise manages to get the sitcom rhythms down, with his delivery wringing the best out of lines such as "I am Detective Right All the Time and this is my partner, Detective Terrible Detective."
Brooklyn Nine-Nine
, with its solid supporting cast aiding and abetting Samberg, has a so far/so good first outing that rises above the majority of this season's new fall comedies. The hammiest thing about it is its $6,000 ham. Samberg comes in second, but by quite a distance.
GRADE:
B
Email comments or questions to:
unclebarky@verizon.net