Rangers-Giants World Series scrapes bottom nationally
11/02/10 11:28 PM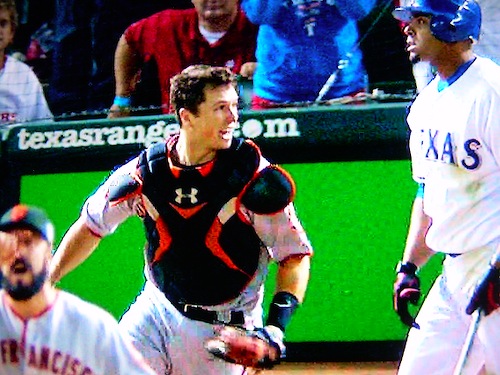 Giants catcher Buster Posey celebrates good times a second or so after Rangers OF Nelson Cruz strikes out to end the 2010 World Series and give San Fran its first national championship. Photo: Ed Bark
By ED BARK
It's still a very nice ratings boost for any network. Still, the 2010 World Series, won by the San Francisco Giants in five games over the Texas Rangers, ranks as the second least-watched of all time in the national Nielsen ratings.
Baseball's biggest showcase averaged 14.3 million viewers in perfect weather. That's a bit better than the 13.6 million who watched 2008's rain-soaked 5-gamer between the victorious Philadelphia Phillies and upstart Tampa Bay Rays.
Roughly one-fourteenth of this year's World Series audience came from the Dallas-Fort Worth area, where each game averaged more than one million viewers in a No. 5 market of 6.9 million.
Fox, which has carried the Series for 10 straight seasons, would have preferred a rematch between the Phillies and New York Yankees, who averaged 19.4 million viewers for last fall's six-gamer.
This time around, Sunday's Game 4 of the Series was outdrawn for the first time by NBC's competing
Sunday Night Football
. The Peacock's potent Saints-Steelers matchup had 18.1 million viewers, compared to Game 4's 15.5 million.
The 1978 World Series between the Yankees and Los Angeles still holds the record since Nielsen began tabulating total viewer numbers in 1973. Telecast on NBC, it averaged 44.3 million viewers. No World Series has averaged 30 million or more viewers since the 1992 matchup between the Toronto Blue Jays and Atlanta Braves on CBS.
The last six World Series have drawn under 20 million viewers.
***
Meanwhile, AMC is jubilantly circling the bases after hitting a home run with Sunday's Halloween night premiere of
The Walking Dead
.
The 90-minute premiere episode of the network's fourth original series drew 5.3 million viewers nationally. That's easily a record audience for any AMC original series. The Oct. 17th Season 4 finale of its Emmy Award-winning
Mad Men
in comparison had 2.4 million viewers.
Walking Dead
also lured 3.6 million advertiser-coveted 18-to-49-year-olds, the biggest haul of viewers in that age range of any cable series premiere this year.
AMC has ordered an initial batch of six episodes. But AMC programming executive Joel Stillerman says in an accompanying publicity release that "this is only the beginning of a long, intense and powerful ride."
Walking Dead
is adapted from a comic book series by Robert Kirkman.