ABC adds five fall newcomers, keeps four freshman series and subtracts 10 for next season
05/17/16 11:22 AM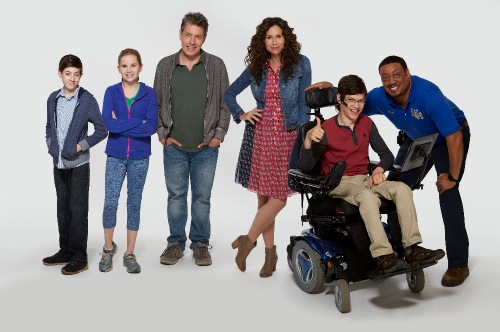 Minnie Driver (right center) heads the cast of Speechless. ABC photo
By ED BARK
@unclebarkycom on Twitter
ABC is adding five newcomers to its fall lineup while retaining four series from last year's freshman class.
But three of those four --
Dr. Ken, The Catch
and
The Real O'Neals
-- have been anything but ratings dynamite on a network that needs some major reconstruction under new entertainment president Channing Dungey. The network also has given a second season to
Quantico
, which showed more signs of life on Sunday nights.
"Our new shows reflect the inclusive and empowering storytelling that defines the ABC brand," Dungey said in network-speak as part of a late Tuesday morning announcement. But the casualty list is heavy. Canceled by ABC are
Castle, The Muppets, Nashville, Marvel's Agent Carter, The Family, Wicked City, Of Kings and Prophets, Blood & Oil, Galavant
and
Beyond the Tank
. Still, there's always
America's Funniest Home Videos
, the fall-down-go-boom staple that's back yet again as Sunday night's leadoff hitter.
Among the returnees,
Scandal
and
American Crime
will await midseason berths while
The Middle
is being dislodged from its longtime Wednesday, 7 p.m. (central) berth and being relocated to Tuesdays at the same time this fall.
Earlier this week, NBC and Fox announced 2016-17 seasons in which the freshman midseason series far outnumber the puny output of fall newcomers. ABC is the first network -- on paper at least -- to have more new series in the fall than later on. One leftover from ABC's May 2015 announcements, a new version of
Uncle Buck
, is scheduled to finally premiere on June 14th.
Here are ABC's five new fall series:
Designated Survivor
(drama) -- No longer a part of Fox's latest incarnation of
24
, Kiefer Sutherland takes his man-of-action street cred to a "conspiracy thriller" in which he plays a lower-level cabinet member who becomes president after a devastating terrorist attack. He's now determined to "prevent the country and his own family from falling into chaos" after being "thrust into one of the most difficult presidencies in history." Natascha McElhone, Maggie Q and Kal Penn are among the co-stars.
Conviction
(drama) -- Former First Daughter Hayes Morrison (Hayley Atwell from
Agent Carter
) takes a job from her "sexy nemesis" to avoid doing hard time for cocaine possession while also keeping her mom's Senate campaign free of scandal. She'll now be part of the newly formed Conviction Integrity Unit.
Notorious
(drama) -- It's inspired by the true-life stories of TV gadfly and criminal defense attorney Mark Garagos and cable news producer Wendy Walker, who are this show's executive producers. Piper Perabo stars in what's supposed to be a "provocative look at the unique, sexy and dangerous interplay of criminal law and the media."
American Housewife
(comedy) -- A "confident, unapologetic wife and mother" of three raises her family in entitled, snobbish Westport, Connecticut. Katy Mixon and Diedrich Bader star as Katie and Jeff Otto.
Speechless
(comedy) -- Minnie Driver also plays a mom -- a "mom on a mission who will do anything for her husband" and three kids, the oldest of whom has special needs.
Here is ABC's night-by-night new prime-time fall lineup:
Monday
Dancing with the Stars
Conviction
Tuesday
The Middle
American Housewife
Fresh Off the Boat
The Real O'Neals
Marvel's Agents of S.H.I.E.L.D.
Wednesday
The Goldbergs
Speechless
Modern Family
black-ish
Designated Survivor
Thursday
Grey's Anatomy
Notorious
How to Get Away with Murder
Friday
Last Man Standing
Dr. Ken
Shark Tank
20/20
Saturday
Saturday Night Football
Sunday
America's Funniest Home Videos
Once Upon a Time
Secrets and Lies
Quantico
ABC also has announced these four new midseason entries:
Still Star-Crossed
(drama) -- It's the network's fifth series from Shonda Rhimes, following
Grey's Anatomy, Scandal, How to Get Away with Murder
and
The Catch
. This one picks up where Romeo and Juliet left off, chronicling "the treachery, palace intrigue and ill-fated romances of the Montagues and Capulets in the wake of the younger lovers' tragic fate." A passel of mostly unknowns makes up the ensemble cast.
Time After Time
(drama) -- H.G. Wells is transported to contemporary Manhattan to pursue Jack The Ripper. He also finds a "young woman who captivates him." Freddie Stroma plays H.G. and Josh Bowman is The Ripper.
Downward Dog
(comedy) -- Baylor University grad and former Dallasite Allison Tolman, who came to fame during the first season of FX's
Fargo
, stars as a "struggling millennial" who owns a "philosophical" hound named Martin.
Imaginary Mary
(comedy) -- Jenna Elfman makes another return to prime-time, this time as a "fiercely independent career woman" whose life goes topsy turvy when she falls in love with the divorced dad of three kids. She also has an imaginary friend who reappears to help her out.
Saturday Night Live
alum Rachel Dratch voices Mary.
Email comments or questions to:
unclebarky@verizon.net