Legit goes from FX to FXX for Season 2 -- & you really should try to find it
02/26/14 01:22 PM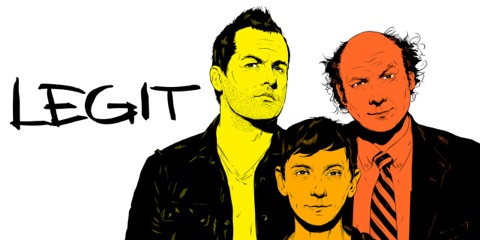 Jim Jefferies, DJ Qualls and Dan Bakkedahl of Legit. FXX image
By ED BARK
@unclebarkycom on Twitter
It's very seldom sunny on
Legit
, the outwardly dirty to the touch comedy series that began life on FX and returns for Season 2 on the still largely undiscovered FXX network.
The series' three leading men, Jim, Steve and Billy, at times are harder to embrace than a cactus, a porcupine or Chuck Norris as Hamlet. But as in the first season, these Three Stooges of the Apocalypse find a way to make
Legit
work. So it remains at the top of my list of comedies that merit far more attention than they're getting. After watching the four episodes made available for review, I still wanted nothing more than to pop in some more. Even though -- fair warning -- this is the kind of series whose closing credits list the bit part of "asshole" (played in the Season 2 premiere by an actor billed as The Greg Wilson).
Legit
re-launches on
Wednesday, Feb. 26th at 9 p.m. (central)
, with Jim (Jim Jefferies) taking halting steps toward curbing his addiction to porn while also trying to stop blowing opportunities. His standup comedy career continues to stagnate. Worst yet, he got fired from an action movie that turned out to be a hit.
Jim's longtime pal and roommate, Steve (Dan Bakkedahl), is in appreciably worse shape, though. Slovenly and pot-bellied with really bad hair, he's become a self-pitying, fall-down drunk after a failed marriage that also cost him custody of his daughter.
In Season 1, Jim and Steve also took in Steve's comparatively sweet-natured brother, Billy (DJ Qualls), whose muscular dystrophy mostly confines him to a wheelchair.
Legit
has its heart in the right place with this character. Just don't expect any sugar-coating.
John Ratzenberger of
Cheers
fame and Mindy Sterling co-star as the brothers' warring parents, Walter and Janice Nugent. Billy's nurse, Ramona, who's never hesitant to speak her mind, is played by Sonya Eddy.
Jim seeks aid and comfort from, urp, Dr. Drew Pinsky in the season premiere. A very ribald radio talk segment kicks in before Jim agrees to attend a sex addition meeting at which his talk is equally explicit. Still, he's making progress of a sort.
Episode 2 is built around the sudden death of one of Billy's old friends at his previous residence, the Shady Grove care facility. The deceased has a sister named Sara (Betsy Beutler), who becomes attracted to Jim during funeral services. Damn the luck, though. She turns out to be a racist in a storyline that carries over into Episode 3. One of Jim's black comedian friends at the Lotsa Laughs club -- Al Jackson playing himself -- ends up being the remedy for this.
Episode 4 is largely set at a high school reunion where Steve outdoes himself in the making-an-ass-of-oneself department while Jim tries to make amends with both a woman he chided as "Tubs" and his first real girlfriend.
Legit
usually has a way of pouring vinegar onto any onset of sweetness. But this half-hour ends pretty damned touchingly. And given all that has gone before, it's to the show's advantage to try a little tenderness as a brief respite.
Some might see
Legit
as a poor man's
Louie
. And no, it's not of that caliber yet. But the Australia-born Jefferies, who like Louis C.K. is a real-life standup comedian, has put his own distinct stamp on
Legit
. As such, it's an acquired taste worth acquiring -- or at least sampling. Because you just won't know until you've tried.
GRADE:
B+
Email comments or questions to:
unclebarky@verizon.net