ABC's banter-laced Castle solves crimes without going medieval
03/05/09 04:42 PM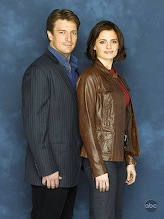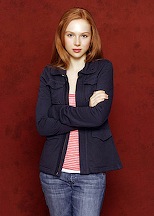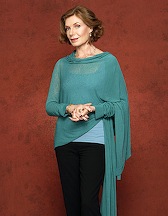 Castle stars Nathan Fillion, Stana Katic, Molly Quinn, Susan Sullivan
Premiering:
Monday, March 9th at 9 p.m. (central) on ABC
Starring:
Nathan Fillion, Stana Katic, Susan Sullivan, Molly Quinn, Ruben Santiago-Hudson, Tamala Jones, Jon Huertas, Seamus Dever
Produced by:
Andrew Marlowe, Armyan Bernstein, Barry Schindel, Rob Bowman, Laurie Zaks
By ED BARK
Murder, He Wrote
is the easiest shorthand description, and pardon me if it's already been used a zillion or so times.
Viewers who began their TV-watching before the Internet hit also might recognize a little/lot of
Moonlighting
in
Castle
, which ABC hopes will be catapulted by Monday's preceding two-hour launch of
Dancing with the Stars'
eighth edition.
The snippy and sometimes snappy banter flows freely between carefree mystery novelist Richard Castle (Nathan Fillion) and tightly wound NYPD detective Kate Beckett (Stana Katic). They're thrown together after some of his bestselling murder yarns are copycatted by a real-life killer.
"Oh my gosh, in my world, that's the red badge of honor," he tells her. "That's the criminal Cooperstown."
Judging from the first two episodes,
Castle
is no threat to become a Hall of Fame whodunit. But next Monday's hour, subtitled "Nanny McDead," is better rendered than Monday's paint-by-the-numbers premiere. And that beats the alternative.
Rival networks, but not ABC, already have had some luck this season with new guy/gal pairings in which he's always the flip or quirky Sherlock and she's always the no-nonsense taskmaster. CBS has
The Mentalist
and
Eleventh Hour
while Fox has
Lie to Me
and
Fringe
. NBC is still trying hard with
Life
, but few viewers have bought in.
ABC also is without an open-and-shut "procedural" police drama that doesn't require weekly viewing in order to keep from getting hopelessly lost/
Lost
. And in a dismal season for both bottom lines and breakout hits, the success or failure of
Castle
could go a long way in determining whether actors and their roles have a long-term future at any of the Big Four broadcast networks. "Reality," after all, is so much cheaper. And damned if
The Bachelor
didn't deliver again for ABC just when it seemed to finally be all used up.
Castle
has an appealing male protagonist in Fillion, the jaunty space captain of 2002's
Firely
and its spinoff feature film,
Serenity
. Fillion knows how to play with a line and a situation. And in his latest new try, he also gets to play off of two other female characters besides the hard-bitten Beckett.
Ring-wise Susan Sullivan, who pretty much steals all of her scenes, co-stars as Castle's mother, Martha Rodgers. He also has a teen daughter, Alexis (Molly Quinn), from one of his two previous marriages. She's opinionated but sweet and self-controlled. Dad is mostly only opinionated.
Castle and Beckett are thrown together -- and stay together -- because he's killed off his crime novel franchise, Derek Storm, and since has come up empty. So he'll be tagging along with her with an eye toward creating a new gumshoe, whom he dubs Nikki Heat. We didn't say he was an award-winning writer, just a popular one.
The opening night crime's perpetrator is known too early on to generate much heat. But next Monday's episode is more in the
CSI
mold, with one suspect being discarded in favor of another until -- ding! -- it all becomes clear.
Beckett also apparently has a tragic back story that drove her into detective work. Castle reads her like a book and deduces this in totally unconvincing fashion while she momentarily showcases a little vulnerability.
Mostly, though, she's on his case, barking rather typically, "This is a homicide investigation, not a day at Disneyland." That's not exactly product placement, but Disney-owned ABC would greatly appreciate any business that might result.
Monday's premiere includes a brief appearance by Dan Castellaneta (Homer Simpson's voice) as a judge. You also can catch Kier Dullea (
2001: A Space Odyssey
) as a corporate executive whose daughter is the principal murder victim. And writers James Patterson and Stephen J. Cannell (who once created
Hardcastle & McCormick
for ABC) chip in as themselves during a contrived poker game respite.
None of this is terrible, nor is it terribly invigorating. But
Castle
has a better go of it next week, even if there are no TV or movie icons in guest roles. Instead the second episode drops the names of Alec Baldwin, Ellen DeGeneres and Portia De Rossi. It's a lot cheaper that way.
GRADE:
B-minus