New fall season: CW's Ringer a splashy double dip for Gellar
09/12/11 01:23 PM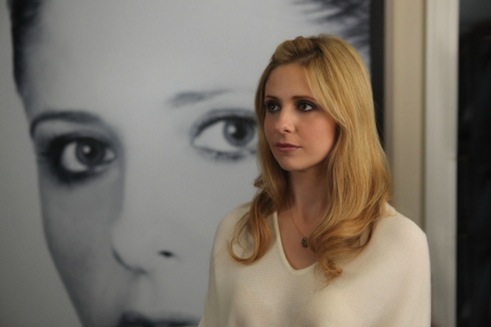 Sarah Michelle Gellar doubles down in return to prime-time. CW photo
Premiering:
Tuesday, Sept. 13th at 8 p.m. (central) on The CW
Starring:
Sarah Michelle Gellar, Nestor Carbonell, Kristofer Polaha, Ioan Gruffudd, Tara Summers
Produced by:
Pam Veasey, Peter Traugott, Richard Shepard
By ED BARK
Three networks have a hand in Sarah Michelle Gellar's new dual identity drama.
The pilot episode came from ABC Studios, although CBS is where it almost landed. But all concerned eventually deemed
Ringer
a better fit for CBS' kid sis sibling, The CW. Or so the story goes.
Gellar's return to prime-time, after leaving
Buffy the Vampire Slayer
behind eight seasons ago, qualifies as li'l CW's biggest fall season event since its 2006 launch as an amalgamation of The WB and UPN. She's a ripened 34 now, putting her at the far north extremity of CW's prime target audience of females 18 to 34. But Gellar's not quite grizzled yet. Nor is she a frisky kid anymore in what comes off as CW's most grown-up series of the fall season, both new and returning.
Gellar is first seen in jeopardy, hiding and then on the run from a masked man with a tire iron. Then comes a mini-flashback to "Nine Days Earler" in Rock Springs, Wyoming, where her Bridget Cafferty is a recovering addict, former stripper and star witness to a murder.
She's scheduled to testify, with FBI agent Victor Machado (Nestor Carbonell attempting to navigate a
Lost
afterlife) dutifully hovering and promising to protect her. But a night in the Double Nickel Motel apparently convinces Bridget that there might be better things in life. So she's off to New York in hopes of rekindling a relationship with twin sister Siobhan Martin (Gellar), who's a wealthy, unhappily married schemer.
The plot twists are plentiful in Tuesday's opening hour, with Bridget quickly awash in the apparent drowning death of the sister she's just re-met while a pregnancy, an infidelity and a bratty teen stepdaughter are also stirred in. There are no otherworldly creatures, though, because CW already has those covered in
Supernatural, The Vampire Diaries, America's Next Top Model
and another newcomer,
The Secret Circle
.
Siobhan's husband, Andrew, who now in effect is the masquerading Bridget's spouse as well, is played by Britisher Ioan Gruffudd. His name might have been changed to something like Cliff Diver back in Hollywood's old days. There's also Siobhan's best friend, Gemma (snappily played by Tara Summers) and her philandering husband, Henry (Kristofer Polaha on the rebound from CW's relatively short-lived
Life Unexpected
).
Gellar shares the same frame with Gellar in a few early scenes. The camera trickery is fairly impressive, but her acting tends to be more than a bit sedate. It's as though both characters are still on mood depressants no matter what startling revelations befall them. Still, the developments move along briskly and pretty unpredictably, giving
Ringer
a lot of balls in the air by the end of its first hour.
The marquee star of the show has become a mom (her marriage to actor Freddie Prinze Jr. endures) who's acted sparingly since
Buffy
ran its course.
Ringer
gives Gellar a full-immersion opportunity to re-tune her skills and put some extra bounce into both characters. Tuesday's premiere certainly has enough intrigue for starters. What it needs is more overall electricity.
GRADE:
C+