HBO's varnished James Brown documentary is still more thrilling than unfulfilling
10/23/14 01:39 PM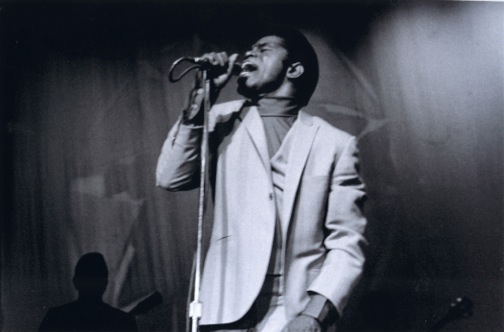 James Brown: No one could him in his prime. HBO photo
By ED BARK
@unclebarkycom on Twitter
Obtaining the complete cooperation of any late legend's estate invariably is a double-edged proposition.
In return for all that "rare and previously unseen footage," a filmmaker generally is expected to downplay the controversial aspects of the subject's life and times. So it goes with HBO's
Mr. Dynamite: The Rise of James Brown
, which ends abruptly after fast-forwarding to the influence he had on artists ranging from Michael Jackson to rapper Chuck D.
Produced by Mick Jagger (who also helped birth the 2014 Brown biopic
Get On Up
) and directed by Alex Gibney, the two-hour documentary premieres on
Monday, Oct. 27th at 8 p.m. (central)
. That's directly opposite the Dallas Cowboys-Washington Redskins
Monday Night Football
face-off, although viewers in those two venues will have ample other opportunities to watch
Mr. Dynamite
on their own schedules.
The film loads up on Brown's incredible stage performances and how he made his music on his terms and no one else's. His political activism -- and the odd turn it took -- also is detailed at considerable length. But Brown's repeated physical abuse of women is lamentably glossed over while his various drug addictions and latter day arrests go entirely unmentioned. He died on Christmas Day, 2006 at the age of 73. A series of elaborate memorial services ensued.
Jagger's interest in Brown dates to seeing him first-hand during one of his many electric performances at Harlem's Apollo Theater. There's apparently no filmed footage of those historic early 1960s appearances. Or at least nothing is shown in
Mr. Dynamite
other than still pictures. But Jagger's recollections are vivid. He recalls watching Brown from the Apollo balcony while seated next to an old lady smoking a joint.
"I was obviously learning from it," he says, "trying to steal everything I possibly could do" as the gyrating lead vocalist for the then formative Rolling Stones.
A few years later, In 1964, Brown and The Famous Flames, the Stones, The Beach Boys, Chuck Berry, The Supremes, Marvin Gaye and other musical deities were all booked on the T.A.M.I. concert, which also was being filmed as a movie. In
Mr. Dynamite
's most intriguing segment, Jagger remembers being asked to arbitrate after Brown objected to the Stones closing the show rather than him.
"He wasn't really that mad. But he was a bit pissed off, I think," Jagger says.
The upshot: Brown's crazy-good retaliatory performance, much of it reprised in
Mr. Dynamite
, supposedly upstaged the Stones and made him a completely impossible act to follow. But Jagger says that a new audience was brought in while the stage was re-set after Brown's performance.
"I don't think they'd even seen James Brown," he says. "Still, "if you watch the film, you see us up against him, so to speak," Jagger adds. He laughs good naturedly and basically agrees that Brown reigned supreme that day. But it's clear he also had pride in his own performance. And the crowd reaction to the Stones is hardly dismissive, even if the intensity of the squeals for Brown would have shattered far more crystal.
A number of Brown's old band members also are interviewed. Some recall him as a "black power" capitalist in public forums, but a skinflint when it came to spreading the wealth. When band members finally confronted him, Brown simply cut them loose and recruited mostly new musicians.
Brown wore over-sized wigs or had his hair processed ("conked") during his rise to fame via hits such as "Please, Please, Please; Papa's Got a Brand New Bag" and "I Got You." But he went natural for a while during the "black power" movement of the later 1960s while also recording his most stirring declaration of independence, "Say It Loud -- I'm Black, I'm Proud."
The future "Godfather of Soul" regularly took his music and sometimes his views to
The Mike Douglas Show
, a syndicated afternoon hour in which Brown once memorably squared off with the imperial David Susskind. Condescendingly calling him "Jimmy," Susskind said blacks were ill-advisedly re-segregating themselves. "Open your ears," he told Brown, who wasn't buying it.
"My ears have been open. Have your eyes been open?" Brown retorted. It's an amazing verbal joust.
But after endorsing Democratic Party presidential nominee Hubert Humphrey in 1968, Brown re-embraced his processed coif and endorsed Richard Nixon's 1972 re-election campaign. "I'm endorsing the country," not a political party, he told an interviewer.
Many in the black community renounced him. Speaking volumes without saying a word,
Mr. Dynamite
includes footage of a black boy carrying a sign saying, "James Brown A Bought Brother."
The film pretty much leaves it at that after showing a young Al Sharpton giving a plaque of appreciation to Brown on an episode of
Soul Train
. In a fresh interview for
Mr. Dynamite
, Sharpton also is the one who briefly touches on Brown's mistreatment of women. He knew it was "wrong" and was contrite about it, Sharpton says. If anything, the physical abuse intensified in Brown's later years. But the film seems to be saying in so many words, "Let's move on." The subject's life still has 30-some years to go when
Mr. Dynamite
closes the door on it with an appreciation of his music's ripple effect.
James Brown's parents both abandoned him at an early age, the film points out on more than one occasion. It left him to be raised by an "Aunt Honey" who both ran a brothel and brewed moonshine. So he came from basically nothing and supposedly never conquered his insecurities or inability to fully trust those who worked for him.
"He had to force people to be around him. I think he was lonely," says Fred Wesley, Brown's former trombonist and band leader.
"I guess you could say James Brown was a tyrant," tour manager Alan Leeds says. But he chalks this up to how hard he had to fight to get to the top.
Mr. Dynamite
, and no doubt Brown's estate, are primarily intent on charting that rise. Much of the performance footage is phenomenal in that respect. But in two hours time, the film could have dug deeper rather than coming to a screeching halt that almost rivals its subject's high-pitched stage wails. Then again, it's partly titled
The Rise of James Brown
. The descent just doesn't cut it from an estate-authorized standpoint.
GRADE:
B+
Email comments or questions to:
unclebarky@verizon.net