Auction Hunters stars shed light on their profession at Garland, TX storage unit
04/07/11 04:47 PM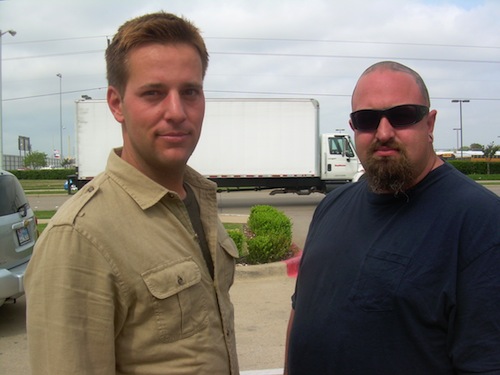 Allen Haff and "Ton" Jones of Spike TV's Auction Hunters. They were in Garland Thursday to peer into storage units and talk up the show.
Photo: Ed Bark
By ED BARK
GARLAND, TX -- It's a warm, breezy late Thursday morning at a storage facility off North First St., where the running mates of Spike TV's
Auction Hunters
have dropped in to scope out the remains of two repossessed "rooms," as they call them in the trade.
The proprietors of the place are adamant that it not be named. Nor may any photos be taken of the contents up for auction. In Texas terms, it turns out to be a dry hole anyway for partners Allen Haff and Clinton "Ton" Jones. They unconcernedly watch rivals bid $300 for a shed containing a wooden rocking horse and a bicycle among other things -- and $50 for another abandoned set of belongings whose centerpiece is a well-worn hot tub.
"What can you do?" Haff says afterward. "Sometimes you win, sometimes you lose. This one's a loser."
It was mostly for show-and-tell anyway. Cameras aren't rolling for any of this. And the stars of the show already have bought and sold other stuff during their brief stop in North Texas, Haff says. Reporters mainly have been invited to get a taste of the bidding action, with some of the star-struck bidders and their friends more interested in getting their pictures taken with the
Auction Hunters'
disparate duo.
Jones, 32, sports a 300-pound frame, is covered head-to-toe in tattoos and has dime-sized piercings in both ear lobes. Haff, 41, has boyish, matinee idol looks and no visible tattoos or piercings. "You know why?" he asks. "People will stereotype you anyway, so why make their job easy?"
Their partnership works like a charm, though. Haff knows antiques inside and out after running his own store in Houston at age 24. His mother taught him the trade. Jones is the expert in weaponry, currency, precious metals and stones. He used to be a rough, tough teenager in Abilene, where his father was stationed at Dyess Air Force Base.
"If we both knew about the same stuff, it'd never work," Jones says of their partnership, which was formed several years ago when they met at -- where else? -- a storage unit auction. "He's very particular about everything. Me? If it happens, it happens. Life is a lot easier if you don't stress."
Haff says he tends to skulk around auction sites, wearing a hat and shades, his shoulders slumped. Of course that's getting harder to do now that
Auction Hunters
is at the start of its second season (
Tuesdays at 9 p.m. central
) after drawing 2.3 million viewers for last December's Season 1 finale.
"Having him at your side, it takes the focus off of me," Haff says of Jones. "People never see me comin'. They're too worried about him. He's big and strong, I'm pretty crafty. You don't see me until I steal the room from you at the last second."
Haff previously hosted HGTV's
My House Is Worth What?
and was the "Yard Sale Guy" on Style Network's
Clean House
. He's also had bit parts in TV series such as
CSI: Miami
and
Just Shoot Me
.
Jones also has done a bit of acting, popping in as a security guard on an episode of
CSI: NY
. But he mostly craves road trips -- and reptiles. Texas' plethora of snakes -- and New Braunfels' famed Snake Farm and Exotic Animal Farm -- has him frequently returning to these parts from the partners' home base in Southern California.
"I'll be back here in two or three months when the sneak season gets in full run," Jones says. "And we're going to be photographing wild life. I love it."
His third passion dates to his teen years at the Psycho City tattoo parlor in Lancaster, Calif., where he swept floors "to stay out of trouble." Jones quickly learned how to do body-piercings, and at age 18 began adorning his body with pictures that tell his story.
"So it's not just this random junk," he says. "Every three minutes I'd have a different feeling for the day. And I'd get part of my life tattooed on me."
His chrome dome -- "I've never been a big fan of hair" -- is illustrated with a "shield of protection" and "eyes in back of my head." His arms and hands include aces, pistols, poker chips, a smoking gun and "a grenade with a 'W' for wasted youth." On his knuckles -- "Walk Away." Which Jones has learned to do when a storage unit doesn't meet his expectations.
As a rube, he lost $2,000 in three weeks time," he recalls. "So I took a step back. I realized I can make a lot of money, but I've gotta be smart at it. Because one bad day hurts. And it can put someone behind for a long time."
There are some basic tricks of the abandoned storage room trade, Haff says. A half-empty room, which they encountered in Garland, means that the former owner probably cleaned out most of the good stuff. But 95 percent of the property left behind is in good working order, he says. "You've got the crazies who just put garbage in there. I've seen that. But most of us wouldn't consider storing stuff if it wasn't functional."
Auction Hunters
premiered in November of last year, just a month before the A&E network also got in on the act with
Storage Wars
. Another like-minded series,
Auction Kings
, beat both shows on the air with its October 2010 premiere. So it's already getting to be a crowded field -- at least on TV screens.
Haff and Jones will keep hitting the road, though -- with the additional luxury of now getting paid extra for their toils and travels.
"When this job is done correctly, it's very hard work," says Haff.
"Every day's a treasure hunt for me," says Jones. "If I stay stagnant too long, I go stir crazy."
They're still good enough at it to make more money off-camera than Spike TV is paying them to star in
Auction Hunters
.
"N-o-o-o-o," Jones says laughing when asked if the network's paycheck now exceeds his other earnings. "The auction business, if you do it right, can be very lucrative. You do it wrong, you can go home broke."