New fall season: Winging it without a flight plan in ABC's new Charlie's Angels
09/21/11 05:52 PM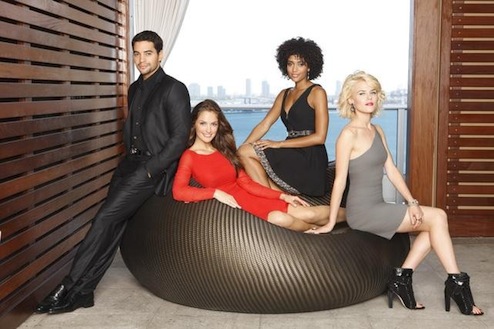 Bosley's pretty, too, in yet another new Charlie's Angels. ABC photo
Premiering:
Thursday, Sept. 22nd at 7 p.m. (central) on ABC
Starring:
Minka Kelly, Annie Ilonzeh, Rachael Taylor, Ramon Rodriguez
Produced by:
Alfred Gough, Miles Millar, Drew Barrymore, Leonard Goldbert, Nancy Juvonen
By ED BARK
Nothing against eye candy, "jiggle" or memories of Farrah Fawcett making outstanding contributions in both.
But
Charlie's Angels
surely is a worn-out franchise after the campy, iconic original, two feature films and a pair of failed efforts --
Angels '88
and
Angels '89
-- that both fell short of full series status despite the presence of Tea Leoni.
By now you know, though. ABC is rebooting anew with a
Charlie's Angels
in which they're all former criminals given second chances by condescending old Charlie Townsend. It leads off the network's Thursday prime-time schedule, with the action originating in Miami and the scripts apparently bought from Godawful, Inc.
Here's the lineup, introduced by Charlie himself (Robert Wagner backed out and Victor Garber reportedly will voice the new Charlie, although ABC still won't officially confirm anything.):
Abby Sampson (Rachael Sampson) used to be a "Park Avenue princess turned thief."
Gloria Morales (Nadine Velazquez) was "court-martialed for a deadly mistake."
Kate Prince (Annie Ilonzeh) is a former "dedicated police detective turned dirty cop."
Except that one of them is going to be blown to bits early in Thursday's premiere episode. That leaves an opening for former
Friday Night Lights
co-star Minka Kelly as Eve French. She's fresh from four years in the slammer after pleading no contest to grand theft auto and manslaughter.
John Bosley is the only same-named character from the original series. But he's no longer a pudgy court jester. This Boz is a hunk played by Ramon Rodriguez. And in a sting operation set at a "Heaven and Hell" costumed soiree, he even gets to seduce an evil Russian Natasha whose name is actually Nadia.
Missing amid the action scenes is any real sense of fun. Instead the script groans with lines such as "You know, I never thought my heart could hurt this much." Or this from Charlie, for whom a gag order should be issued: "Just remember, you're Angels of justice, not Angels of vengeance."
Minka's newbie Angel also gets to be rather gruesomely tortured by Carlos Bernard of
24
fame, who plays a thoroughly nasty child trafficker named Pajaro. He might as well be twirling a handlebar mustache while he punches and electro-shocks poor Eve.
The acting pretty much dips to the level of the opening night script, which may well be what a reviewer or two said of the 1976 premiere episode of the original
Charlie's Angels
. But that series had a wink-and-a-nod sensibility in addition to its scenic beauties. Thirty-five TV seasons later, the new
Angels
strives to take itself seriously, even when Abby spouts lines such as, "We're Angels. Not Saints." And by the way, they "don't exactly play by the rules either." Guh-roan.
Eve plays a bit hard to get before of course joining the crew. Just what does Charlie expect of an Angel, she wonders. And will there at least be a gift basket (she doesn't wonder).
"He keeps his criteria close to his vest," Bosley replies in one of the clunkier lines ever written for anybody.
The theme song at least hasn't been changed. It remains oddly listenable in a Montovani sort of way. Who the hell's
Montovani?
Case closed, before my head explodes.
GRADE:
D