NBC's never-ending story: Leno on the ropes again
03/21/13 09:21 AM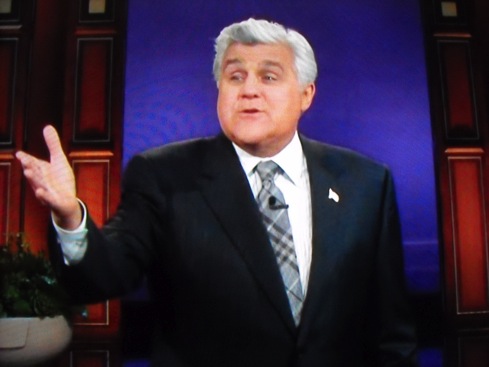 Jay Leno jabbed at NBC again in Wed. monologue. Photo: Ed Bark
By ED BARK
@unclebarkycom
The NBC network, flailing and failing in prime-time and now an early morning loser as well, is again preparing a coffin for the one guy who's still winning.
One doesn't have to enjoy Jay Leno's comedy to empathize with him. And with his reported second impending ouster from
The Tonight Show
, even his old antagonist, David Letterman, might be feeling a few sympathy pangs.
The New York Times
' Bill Carter, who's owned the late night beat for the past two decades or so, has a
front page story Thursday
with an opening sentence that reads, "NBC has settled on two new stars for
The Tonight Show
: Jimmy Fallon and New York City."
According to his report, the switch from Leno to Fallon at the very latest will happen in fall 2014. NBC confirms that it's building a new studio for Fallon, but otherwise has no comment.
The Tonight Show
, which originated in New York, headed West in 1972 with Johnny Carson at the helm. It hasn't been back since, save for, ironically, Leno's one-week stand in NYC during the May 1994 ratings "sweeps."
Leno, once again very aware of his IMPENDING DEMISE: THE SEQUEL, reportedly angered NBC entertainment president Robert Greenblatt with his jabs at the downtrodden network. The two of them exchanged pointed emails, according to an earlier report by Carter.
But Leno clearly isn't cowed. He fired away again during Wednesday's
Tonight Show
monologue with a joke about how scientists are getting closer to doing "
Jurassic Park
-style cloning of extinct species. Imagine that. Things that were once thought to be extinct could now be brought back to life. So there's hope for NBC. It could turn around."
Leno, who referred to Peacock executives as "snakes" in Monday's monologue, has been portrayed as one himself during previous late night NBC machinations involving Letterman and Conan O'Brien. He's never been a favorite of most TV critics, including this one. But that's basically immaterial when you're delivering the ratings goods. And against all odds at this point, the soon to be 63-year-old Leno (on April 28th) is still somehow on top.
In the latest available season-to-date national Nielsen ratings, he's averaging 3.5 million viewers per week, with Letterman second (3.1 million) and ABC's still newly transplanted Jimmy Kimmel in third with 2.7 million.
Among advertiser-prized 18-to-49-year-olds, Leno and Kimmel are tied for the top spot, with Letterman still close behind. Lately, though, Leno has been beating both of his adversaries in this key demographic. And he's done so with absolutely no help from his network, whose prime-time lineup has been lost and unfound during the midseason absence of
Sunday Night Football
and
The Voice
.
In the latest ratings week (March 11-17), NBC averaged an abysmal 3.8 million viewers in prime-time compared to 8.6 million for front-running CBS. Fox ran second with 6 million and ABC averaged 5.8 million. The Peacock also ran fourth in that week with 18-to-49-year-olds.
Pitiful ratings for 9 p.m. (central) series such as
Smash, Deception
and the almost immediately canceled
Do No Harm
make even Leno's much-maligned prime-time run a qualified success. Still, NBC is determined to push him out -- this time no doubt for good. But why?
As always, it's all about audience age levels. And NBC is scared to death that Kimmel, 45, eventually will corral a lion's share of 18-to-49-year-olds opposite two comparative geezers. So the network has knighted the 38-year-old Fallon to ride to the rescue. But as NBC discovered with O'Brien, going younger can be very hazardous to
The Tonight Show
's overall ratings health. Not that it's really learned that lesson.
Fallon is widely perceived as a very nice guy who calls everyone "buddy," even TV critics. He's also inventive and ingratiating, getting big stars to participate in sketches and bits that immediately go viral on youtube. Such as First lady Michelle Obama's recent "Evolution of Mom Dancing" duet with a Jimmy-in-drag.
But Fallon also can be too fawning during his sit-down interviews with guests. He hasn't quite mastered the craft yet, although he's certainly come a long way. As did Conan after a very rough beginning in the
Late Night
seat that Fallon now occupies.
No one owns
The Tonight Show
or any talk franchise in perpetuity. Still, Leno continues to be the overall people's choice, even if many of his viewers are now in the AARP drop zone. In the view of most TV networks, that means they don't matter anymore.
CBS isn't one of those networks, although it enjoys the young fruit demographic and in fact also has the prime-time lead among 18-to-49-year-olds. Its late night standard-bearer is still Letterman, who will be 66 a half-month before Leno turns 63.
It will be interesting to see how Letterman reacts to the idea of Kid Fallon going directly against him. For the first time ever, he'll be in direct combat with another NYC-based late night show. Will Letterman inherit some of Leno's "mainstream" viewers? Might CBS start measuring him for a coffin as well? In the interim, it would
not
be surprising if Letterman finds a way to sympathize with Leno's latest predicament. If only because he'll miss his old punching bag in the same way that virtually every standup comic in the land longs for George W. Bush or Rick "Oops" Perry's laughable presidential campaign.
Meanwhile, the man who replaced Leno before being replaced by Leno might be feeling all but forgotten at his TBS outpost. Conan O'Brien has become an afterthought in the past year or so. The man whom NBC saw as the future of late night seems like a ghost from TV's past. No buzz, no attention, no nothing.
Leno at least will be able to ride a newfound wave of attention all the way to the death knell. His options beyond NBC seem to be few right now. But here's a guy who will find a way to resurface while NBC figures out what to do, if anything, with the show that long has followed
Tonight
.
Will
Tonight
possibly expand to 90 minutes? It's reportedly being considered, but that's a lot of duress on any host. Would keeping
Late Night
in the same locale be too New York-centric, as well as too limiting on guest options?
Whatever happens, one thing seems certain. NBC will find a way to dig a new hole for itself. Leaving well enough alone -- a k a keeping Leno in place -- seems to be out of the question at this point. The Peacock is too intent on making another big bumble. It's become very good at that.
Email your questions or comments to:
unclebarky@verizon.net