Mark Cuban as the President (hoo hah) in Syfy's Sharknado 3
07/21/15 05:21 PM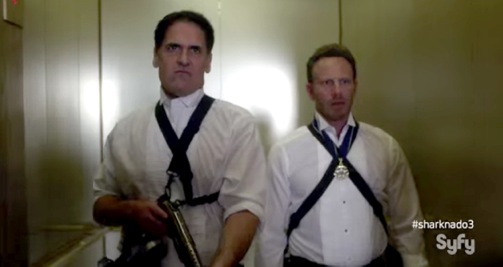 Mark Cuban as President of United States & that other guy. Syfy photo
By ED BARK
@unclebarkycom on Twittter
Purely fake or not, shark conqueror Finley "Fin" Shepard at least deserves the Presidential Medal of Freedom more than past recipient Bill Cosby does these days.
And so he receives it, from a U.S. President played by Mark Cuban, during the opening minutes of Syfy's
Sharknado 3: Oh Hell No!
(
Wednesday, July 22nd at 8 p.m. central
)
Cuban, whose vice president is Ann Coulter, has a fair amount to do other than decorate Fin (Ian Ziering). The cheese ball action quickly kicks in when sharks begin raining down on D.C. And the Dallas Mavericks owner proves himself to be a better automatic weapons wielder and hand grenade tosser than thespian. Not that anyone is required to act up a storm under these circumstances.
"They used to call me a shark. But now I'm looked upon as a symbol of hope, a beacon of change," Cuban's Prez emotes while Ziering's Fin affixes a straight face. Don't worry. The human-devouring sharks are getting ready to rock again and mitigate the dialogue. One of them plops itself into the venerable marble lap of Abraham Lincoln while others prompt the President to declare, "Nobody attacks my house! This time it's personal!" And so on.
As you can see from the title, this is the third movie in a
Sharknado
franchise that erupted out of nowhere, became a Twitter phenomenon and pumped considerable life into the nickel-and-dime careers of director Anthony C. Ferrante and screenwriter Thunder Levin. They team up again to throw all kinds of stuff up against the wall while charting new vistas in product placement. The end result is another two hours (minus commercials) of thoroughly mindless entertainment in which lots of celebrities are harmed at the end of their cameo appearances. We'll abide by the network's strong request to not specify "any character deaths." But let's note that Cuban remains among the living and ready for any further duty in
Sharknado 4
, which is teased at the end of the third "because we're not done yet."
Amid all the junk food goings-on is one instance of very questionable taste. The president, vice president, Fin and his brother-in law, Martin (Mark McGrath), replicate the classic pose of Marines who raised the American flag on Iwo Jima. Except that they're impaling an airborne shark on the flag's staff. Really!?
Viewers also are urged to vote on whether a certain main character should live beyond Wednesday's third installment. As if there won't be enough "social media" action already.
The celebrity drop-ins include six shameless stars of the
Today
show, with Matt Lauer and Al Roker taking a second bite while being joined by Savannah Guthrie, Natalie Morales, Kathie Lee Gifford and Hoda Kotb. Perhaps "shameless" is too strong a word. Because imagine what
Good Morning America
would do with this opportunity if
Sharknado
were airing on a Disney-owned network instead of being the property of NBC Universal.
David Hasselhoff joins in as Fin's dad, Colonel Gil Shepard. And Bo Derek plays the easily vexed mother -- named May -- of Fin's pregnant wife, April (Tara Reid). She now sports a prosthetic left hand after that nasty bit of business early in
Sharknado 2
.
Perhaps I went soft in the head from the first two-thirds or so of
Sharknado 3
, which didn't include Hasselhoff. But from this perspective, he gives a performance that actually contains wee bits of nuance. The film takes off, literally and figuratively, when father and son are reunited at Cape Canaveral after some heavy promotion of NBC Universal's Orlando theme park, which also is invaded by swirling swarms of sharks.
Returning to the third movie after skipping the second is Cassie Scerbo as Nova Clarke, a former bartender who's still enamored of Fin. Preceded by her amply displayed cleavage, she's now a leather-clad shark-hater who travels in an armored van with mechanic Lucas Stevens (Frankie Muniz from
Malcolm in the Middle
).
Various chainsaws also are back in action, with
Sharknado 3
's opening credits including a pretty nifty variation on the James Bond movies' opening silhouetted image. But this film otherwise isn't as "good" as
Sharknado 2: The Second One
, which laid more inventive waste to New York City and included Judd Hirsch of
Taxi
fame as a cabbie.
Given the real-life shark attacks making big news this summer,
Sharknado 3: Oh Hell No!
may seem even more redundant than usual. Still, these things are largely sling-and-arrow proof, with nobody watching with any thought of being edified. Hell, even
disgraced former New York congressman Anthony Weiner
of sexting fame has a brief role in this one, as an all-business NASA mission control guy. Oh hell yes.
GRADE:
C
Email comments or questions to:
unclebarky@verizon.net