ABC might have a marginal winner with Imaginary Mary (or is it just my imagination?)
03/26/17 01:21 PM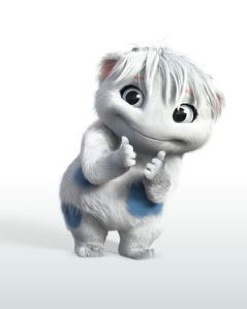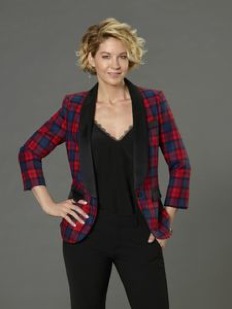 The title character and Jenna Elfman of Imaginary Mary. ABC photos
Premiering:
Wednesday, March 29th at 7:30 p.m. (central) on ABC before moving to regular Tuesday, 8:30 p.m. slot on April 4th
Starring:
Jenna Elfman, Stephen Schneider, Rachel Dratch, Nicholas Coombe, Matreya Scarrwener, Erica Tremblay
Produced by:
Adam F. Goldberg, David Guarascio, Doug Robinson
By ED BARK
@unclebarkycom on Twitter
"Better than expected" generally isn't deemed suitable for a network promotional blurb.
There are mitigating circumstances, though, with ABC's
Imaginary Mary
. Its principal punchline-thrower is a sardonic, Pillsbury Doughboy-ish figment voiced by Rachel Dratch. Hmm, that's a potential recipe for disaster. And the main human star is Jenna Elfman, whose track record charitably has been spotty since she first came to fame two decades ago in ABC's
Dharma & Greg
.
Elfman since has sputtered through a raft of failed TV series, including
Courting Alex, Accidentally on Purpose, 1600 Penn
and
Growing Up Fisher
. Oof. But here's another at-bat, with the first two episodes of
Imaginary Mary
showing some potential. It's also from the creative team behind
The Goldbergs
, which is a plus on paper at least.
Back when she was six years old, Alice (played as a grownup by Elfman) became traumatized by her constantly bickering parents' failed marriage. So she conjured up Mary for emotional support and friendship. But Mary disappeared from her life when Alice became a successful but commitment-phobic career woman. That changes after Alice meets Ben (Stephen Schneider), a divorced dad with principal custody of three children, two of them prototypically problematic teens.
Ben and Alice have been sleeping together for three months. But his kids -- Andy (Nicholas Coombe), Dora (Matreya Scarrwener) and little Bunny (Erica Tremblay) -- still know nothing about their relationship. Isn't it long past time to clue them in? In pops Mary to suddenly haunt Alice with her now unwanted advice.
"Technically imaginary," she says in terms of being seen and heard only by Alice. "But to you I'm real as hell and here to stay."
Mary has a mouth on her, and likes to watch when Alice and Ben are doing it. But the kids initially are a non-starter with "her." After witnessing their behavior for the first time, she deduces, "OK, the way I see it, these are garbage children."
Mary regularly encourages heavy drinking as a means of chasing away the blues. "Nothing soothes like ice cold vodka," she counsels in Episode 2.
This second half-hour, which will be shown in
Imaginary Mary
's regular Tuesday slot (after sneak-previewing on Wednesday), also has a shot at Bill Cosby and the first thaws in Alice's relationships with Ben's kids. It's a predictable and inevitable turn, but fairly well-executed. Mary at times disappears rather puzzlingly, though. Perhaps there's only so much money in the budget for the deft way in which she's animated.
A couple of months down the road, ABC will launch the like-minded
Downward Dog
, which co-stars a talking canine opposite Allison Tolman in her first TV series since breaking out in Season One of FX's
Fargo
. This makes the network not only the prime home of family comedies, but the place to be for voluble non-humans.
In that context,
Imaginary Mary
could either pave the way or poison the pond. It seems like a harmless little diversion at this point, with Elfman and Dratch playing well off one another in a fantasy that may have enough winning moments to survive its tough-to-pull-off premise. Then again, ABC couldn't even keep
The Muppets
on the air last season. So there's that, too.
GRADE:
B-minus
Email comments or questions to:
unclebarky@verizon.net