Fabric softener: Michelle Obama guest hosts The View
06/18/08 05:34 PM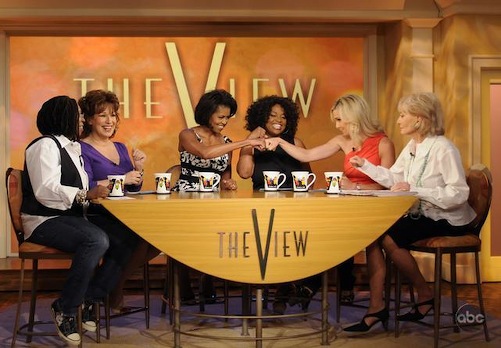 For starters Michelle Obama initiates a "fist bump." ABC photo
By ED BARK
Michelle, their belle. And on Paul McCartney's 66th birthday, too.
ABC's
The View
embraced Michelle Obama as a guest host Wednesday, with
The New York Times
touting the visit as the first in a series of efforts aimed at "softening her reputation."
The gabfest's grande dame, Barbara Walters, displayed the front page article -- "After Attacks, Michelle Obama Looks for a New Introduction" -- after the wife of presumptive Democratic presidential nominee Barack Obama sat down and immediately said with a big smile, "I have to be greeted properly. Fist bump, please."
She was then treated deferentially -- very deferentially -- from the "Hot Topics" segment that consumed the first half of the show to a closing "Breakfast Manifesto" portion in which Michelle revealed, "We're bacon people."
It's hard
not
to look softer when sitting next to
View
co-host Joy Behar, the show's only remaining hard-boiled egg now that Whoopi Goldberg has mostly gone poached. Elisabeth Hasselbeck, the conservative in residence, made it a point to say that people of all political persuasions can get along just fine otherwise. Michelle readily agreed, of course, later clasping Hasselbeck's hand.
Impeccable in a flattering black-and-white print dress, Michelle even praised First Lady Laura Bush for defending her hotly debated comments at a Wisconsin campaign rally where she said, "For the first time in my adult lifetime, I'm really proud of my country."
"I was touched by it, and actually I sent her a note," Michelle said, declining to discuss the contents because Mrs. Bush may not have received it yet, she said.
The comment was made in mid-February, presumably giving even the much-derided U.S. Postal service ample time to get it delivered. But whatever the case, Michelle said she greatly appreciated the First Lady's "calm, rationale approach . . . She doesn't fuel the fire." Husband George got left out.
Growing up on Chicago's South Side as the daughter of dutiful, working class parents has made her "proud of my country, without a doubt," Michelle emphasized. Her remarks at the rally were aimed more at the country's political system and the intense interest in the Democratic primary, she said.
Her husband's opponent, Hillary Clinton, was on the receiving end of some sexism, she allowed. But there also were "elements of racism," Michelle added before Walters obligatorily asked whether Mrs. Clinton should be Barack's running mate.
No answer was expected and none was given. Instead, Michelle said she wanted nothing at all to do with that decision.
Co-host Sherrie Shepherd then told her, "You look gorgeous. Everything you wear."
"It's fun to look pretty," Michelle replied, noting that she has "some high-end stuff" but that this outfit was purchased at a chain of stores that specializes in selling black-and-white outfits. The Black and White Store no doubt will appreciate the free plug.
Goldberg praised the guest host for breaking the stereotype of black women on TV who "have no teeth."
"I just want to say thanks," she told Michelle, who accepted.
Perhaps the show's signature moment came when Walters began talking about the pros and cons of panty hose. She sometimes dons them, sometimes doesn't. But "out of respect for you, I put on panty hose," said Walters, who then noted that Michelle wasn't wearing any.
The camera then cut to a less than decorous, under-the-table shot of Michelle's bare, sculpted legs before she confided, "I stopped wearing panty hose a long time ago because it was painful and they always ripped."
After that, guests Matthew Broderick and dietician Elizabeth Somer seemed pretty anti-climactic. It all ended with the six hosts back behind the show's official "Hot Topics" desk, with Michelle praising Walters, Goldberg, Behar, Hasselbeck and Shepherd as "phenomenal ladies."
It's hard to imagine looking much softer. The "new" Michelle Obama, if one in fact is required, got just the launch pad she needed Wednesday. Now on to
Rachael Ray
, maybe. No sense in wasting all this momentum. Time to whip up a 30-minute meal.