Comedy Central's Key & Peele back in fine form for Season 3
09/16/13 02:48 PM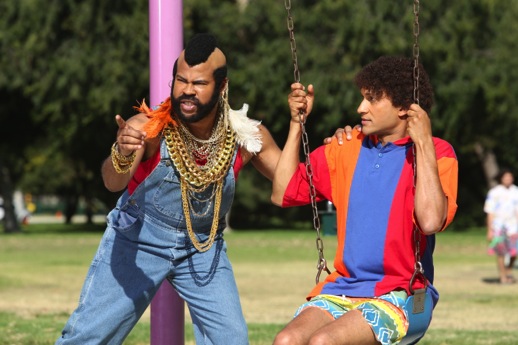 Jordan Peele and Keegan-Michael Key in costumed sketch on Key & Peele, which starts Season 3 on Wed., Sept. 18th. Comedy Central photo
By ED BARK
@unclebarkycom on Twitter
A subtly effective mini-sketch on the Trayvon Martin case opens Season 3 of Comedy Central's
Key & Peele
.
Message sent. And it speaks louder than any and all bluster from MSNBC commentator/activist Al Sharpton, getting this opening half-hour off to a memorable start before the two hosts as usual present their amiable selves to a pumped, interracial studio audience. Showtime is
Wednesday, Sept. 18th at 9:30 p.m. (central)
.
Keegan-Michael Key and Jordan Peele aren't wildly funny all the time, although last year's
East/West Collegiate Bowl sendup
remains in the latter day comedy stratosphere. The first two episodes of Season 3 have nothing quite approaching those heights, including a Sept. 25th rap-off of the two teams that uses the 1985 Chicago Bears
"Super Bowl Shuffle" video
as a springboard.
What
Key & Peele
still does very well is sharp but not shiv-like "urban" humor. It's virtually non-existent in the broadcast network universe and served up in broad slapstick fashion by Tyler Perry in factory assembly line sitcoms on TBS and OWN.
The stars of the show are easy to like during the studio audience segments bridging their sketches. And the sketches themselves often require a lot of work let alone makeup and costuming. An ambitious
Les Miserables
bit adds operatic singing to the stars' repertoires before Peele ends Wednesday's episode with his dead-on impression of President Obama while Key again plays "anger translator" Luther.
NBA semi-star Ron Artest, who re-christened himself Metta World Peace a while back, is briefly on hand in both episodes as the anchor of a "Metta World News" snippet. In the second one, he notes for no particular reason, "I'd rather eat my hand than have my penis cut off." Thanks for that.
The first two episodes also include sketches on mobsters, Middle East "terrier-ism," high school classroom tyranny (with Key reprising substitute teacher Mr. Garvey) and valet parkers who wonder why movies keep "messing with the Batmans."
Another of Wednesday's sketches suddenly will make perfect sense to some when a printed "Steinbeck y'all" postscript sends it off. Key and Peele aren't afraid to kick it up a few notches at the risk of dumbfounding some of their younger fans.
Key & Peele
has 13 episodes scheduled -- the show's most ever -- for Season 3. It may be quite a challenge to keep up the pace and the quality. But the bet here is that these guys will find ways to keep making it all work for them.
GRADE:
B+
Email comments or questions to:
unclebarky@verizon.net