Living the life of tortured standups in Showtime's searing I'm Dying Up Here
06/02/17 12:34 PM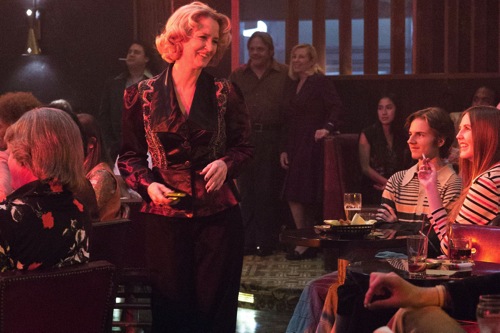 Melissa Leo is rarely all smiles as owner of Goldie's comedy club.
Showtime photo
Premiering:
Sunday, June 4th at 9 p.m. (central) on Showtime
Starring:
Melissa Leo, Ari Graynor, Andrew Santino, Michael Angarano, Clark Duke, Erik Griffin, RJ Cyler, Al Madrigal, Jake Lacy
Produced by:
Jim Carrey, Dave Flebotte, Michael Aguilar, Christina Wayne, Cindy Chupack, Dave Holstein
By ED BARK
@unclebarkycom on Twitter
It's oftentimes said, usually by its practitioners, that comedy isn't pretty.
Showtime's
I'm Dying Up Here
, set in Los Angeles, circa 1973, is nothing if not a firm believer. It unsparingly puts standup comics in a self-inflicted torture chamber before further turning the screws. And heaven help them, they like it.
The principal soul-sucker/tough lover -- but also the best thing that ever happened to many startup standups -- is Melissa Leo's Goldie Herschlag, who's obviously modeled after
Mitzi Shore
. Her same-named comedy club is the Sunset Strip's undisputed "only runway to Carson," meaning Johnny's
Tonight Show
.
Goldie -- and only Goldie -- will tell her unpaid underlings when they're "ready" while also bouncing them from the nightly lineup on a moment's notice for someone she deems readier. It's a fire-breathing, suitably showy role for the multi-awarded Leo, who rasps, chain-smokes and boozes her way toward a certain Emmy nomination. "Oh, there's a pecking order," Goldie tells anyone who dares question her power or motives. "Goes me, you."
Showtime made six of Season One's 10 episodes available for review. Like a comic in search of just the right "set," they stumble on occasion. But
I'm Dying Up Here
delivers far more than it flails. It's uniquely tragic, tragi-comic and riotously funny in some instances. Those who might initially be put off are advised to give this mix of basically maladjusted dreamers a chance to hit their marks.
Jim Carrey, a principal executive producer, is one of the comics who got his start at Mitzi Shore's The Comedy Club, as did the likes of Richard Pryor (played very deftly by guest star Brandon Ford Green in Episode 3), David Letterman, Robin Williams, Freddie Prinze, Jay Leno and Sam Kinison.
Carrey also has recounted, in interviews and Showtime publicity materials, how he lived in an acquaintance's L.A. closet for a year while trying to make his bones as a comic.
I'm Dying Up Here
doubles this particular pleasure by putting two transplanted Boston comics, Eddie Zeidel and Ron Shack (Michael Angarano, Clark Duke), in this severely cramped situation. They've come to L.A. expecting to crash with a comedian who's become an overnight big deal by "getting the couch" on Carson's career-making late-nighter. But that accommodation never materializes, thanks to the self-destructive comedic gene.
There's also a cynical, striving, ever-inappropriate comic named Bill Hobbs (Andrew Santino), who at least has a degree of self-awareness. "I'm an anti-social asshole, a narcissistic douche bag," he admits. That he is, with the slightly saving grace of having a disagreeable, demeaning father who looms large in later episodes.
The series' most likable character, attractive Cassie Feder (Ari Graynor), is a drawler from Wink, Texas whose parents died in a car wreck when she was 10. She makes this part of her act in a determination to break out of the Phyllis Diller/Joan Rivers/Totie Fields mold of female comedians whose routines are built around being "unattractive" to men. But Goldie doesn't much like that style, meaning Cassie repeatedly gets bumped or relegated to lousy, late hours weekday slots. It's the boss lady's way of nurturing.
The roll call of tortured souls also includes:
***
Comedy club/emcee performer Ralph King (Erik Griffin), a Vietnam War veteran who's repressed some of his worst memories -- or thinks he has.
***
Sully Patterson (Stephen Guarino), struggling to make ends meet as the husband of a supportive wife and father of their new baby.
***
Edgar Martinez (Al Madrigal), a mockup of Freddie Prinze with a fairly polished routine but no tact whatsoever.
***
Adam Proteau (RJ Cyler), a very green African-American comic who takes a series of degrading jobs to survive.
***
Nick Beverly (Jake Lacy), introduced in later episodes as an off-and-on drug addict who rather suddenly lands
The Tonight Show
. But will he stick the landing?
In the first six episodes, the only real-life characters are Pryor and Carson, played by Dylan Baker in a manner that manages to avoid caricature, but sometimes not by a lot. His Johnny mostly emits the big, boisterous Carson laugh, but does have an angry backstage moment in Episode 6.
Meanwhile, the random misadventures of Eddie and Ron range from an appearance on
Let's Make A Deal
to taking a "hot wings" challenge in hopes of offsetting the unseen expenses of taking two women to dinner.
I'm Dying Up Here
intends to tell the tale of a time when cutting edge comedians with "a voice" were starting to flourish and multiply while old-timers became embarrassments -- albeit rich ones. Cassie is the principal female instrument, balking at Goldie's insistence that she do "more women appropriate" humor and regularly getting benched as a result. But this also is the year when Billie Jean King defeated the chauvinistic Bobby Riggs in their celebrated "Battle of the Sexes," even though she had to endure this televised moment with the real-life Frank Gifford, who asked, "The feminist 'thing,' how important is that, Billie?"
Leo's Goldie isn't entirely without virtue, although neither is a tarantula perhaps. Her dirtiest deed so far comes in Episode 4, when Goldie's ex-husband (guest star Jere Burns), now a weathered comedian, looks to prep for a possible national TV spot. What she does to him is unspeakable -- if you're a comedian.
Things are laid on too thick at times, and some storylines take predictable turns. Even so,
I'm Dying Up Here
convincingly recreates both a period and the primal scream existence of would-be star comedians who seem to most enjoy trading very barbed insults during frequent gatherings at a local diner.
One insult isn't all that funny. And it doesn't come from a comic. Guest star Robert Forster, cast in Episode One as a tightly wound, formally dressed grieving father, renders even this bunch silent when he finally bursts. "You're children with your eyes closed, thinking nobody can see you," he bellows. "I see you! I see through all of you!"
Mike drop.
GRADE:
A-minus
Email comments or questions to:
unclebarky@verizon.net