Ten takeaways from Mad Men's Episode 1, Season 7
04/14/14 11:57 AM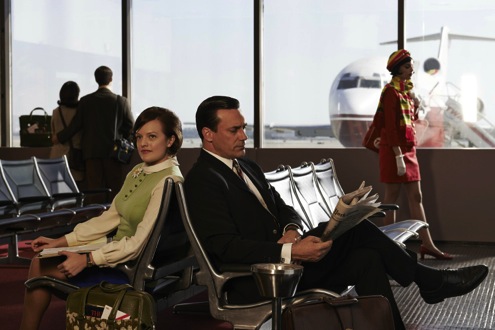 Don and Peggy: Will they have each other's backs again? AMC photo
By ED BARK
@unclebarkycom on Twitter
Rather than give you voluminous chapter-and-verse
Mad Men
recaps each week, let's try dispensing 10 bite-sized takeaways or talking points. It'll be easier on both you and me.
Some are meant to get fans thinking further about what just happened. Others are strictly trivial or informational. Here we go with the Sunday, April 13th Season 7 premiere, subtitled "Time Zones."
1.
Maybe this is only wishful thinking, but the final moments seemed to set up an eventual re-teaming of Don Draper (Jon Hamm) and Peggy Olson (Elisabeth Moss). Both were left thoroughly miserable and unfulfilled -- to the very evocative
Vanilla Fudge version of "You Keep Me Hanging On."
Career-wise, Don still needs Peggy and Peggy still needs Don. So let bygones be bygones. There's a lot of ad money still on the table, and these two are better suited than ever to make it happen for them while their old creatively constipated agency keeps corroding from within.
2.
I was in the Marines when Vanilla Fudge released their psychedelic, harder-rockin' cover of The Supremes' hit in 1968. It became our weekend anthem at the San Diego USO club. And it's never gone stale.
3.
Don clandestinely funneling his pitches through old-line ad guy Freddy Rumsen (Joel Murray) -- with Peggy as his audience in Sunday's opening scene -- reminded me a bit of Johnny Carson secretly sending monologue jokes to David Letterman after he retired from
The Tonight Show
. Dave never let on until Carson's death in January 2005. He then did an entire monologue's worth of Carson jokes, revealing their origin at the end of it.
4.
Yes, that was former
Party of Five
and
Scream
movies star Neve Campbell as the comely widow sitting next to Don on their "red eye" flight back from Los Angeles. Interestingly, in the 2013
HBO docu-film Seduced and Abandoned
, Alec Baldwin and writer/director James Toback used Campbell as one of their non-starter selling points for
Last Tango in Takrit
, basically a fake remake of
Last Tango in Paris
. They took it to Cannes in hopes of raising money but more in the interests of poking at the underbelly of today's Hollywood film industry. As probably intended, Baldwin and Toback were told more than once that Campbell lacked the marquee stature to shake any big money trees. But hey, look at her now.
5.
January Jones, who memorably played Don's wife, Betty, in early seasons of
Mad Men
, was not seen during Sunday's re-launch. Jones still gets second billing, only to Hamm, in the series' credits. But can creator/executive producer Matthew Weiner find any more viable ways to work her back into this mix, other than a few scenes here and there with the Draper children? I'm not sure he should even try anymore. But oldest daughter Sally (Kiernan Shipka) should still very much be a keeper.
6.
Don's current wife, Meg (Jessica Pare), learned to her delight in Sunday's episode that she's still in the running for a role in the NBC pilot
Bracken's World
. The fictional drama series about the movie business eventually premiered on Sept. 19, 1969 in a Friday 9 p.m. (central) slot opposite the second hour of CBS movies and -- get this --
Jimmy Durante Presents the Lennon Sisters
. A re-tooled
Bracken's World
staggered into a second season but was gone by the end of 1970. Its last telecast was on Christmas night of that year. Leslie Nielsen played movie studio head John Bracken.
7.
I remain convinced that adman Roger Sterling (John Slattery) will die of various conspicuous consumptions before the end of
Mad Men
's run. He was very much at it again Sunday night.
8.
Hamm's work as one of TV's all-time signature characters likely will never be rewarded with a best actor Emmy. The odds-on favorite for this year's ceremony is already Matthew McConaughey for his work in HBO's
True Detective
, with Bryan Cranston again likely in the hunt for the final season of AMC's
Breaking Bad
. Hamm deserves better but would be in good company. Others who never won an Emmy include Larry Hagman (as J.R. Ewing), Andy Griffith (Sheriff Andy Taylor), Angela Lansbury (Jessica Fletcher), Jackie Gleason (Ralph Kramden) and James Arness (Marshal Matt Dillon).
9.
Matinee idol adman Bob Benson (James Wolk) was referenced once but not shown in Sunday's re-launch. He's been playing a contemporary adman this season, opposite Robin Williams and Sarah Michelle Gellar, in the CBS sitcom
The Crazy Ones
. But it's a long shot to be renewed, so Wolk's Benson might still have a shot before
Mad Men
ends its run with a second seven-episode arc next year.
10.
Save for Pete Campbell (Vincent Kartheiser), I've gotten really bored with the rest of the younger supporting ad men on
Mad Men
. The less seen of them, the better.
Email comments or questions to:
unclebarky@verizon.net