New series review: Notes From the Underbelly (ABC)
04/11/07 05:25 PM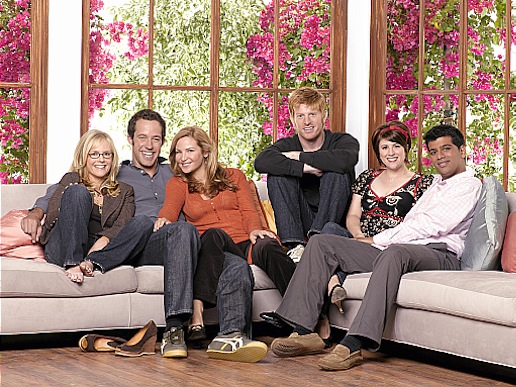 Premiering:
Thursday (April 12) with back-to-back episodes at 9 p.m. central (10 eastern) on ABC. The series then moves to Wednesdays at 7:30 p.m. central unless the network changes its mind again.
Starring:
Jennifer Westfeldt, Peter Cambor, Rachael Harris, Melanie Paxson, Michael Weaver, Sunkrish Bala
Produced by:
Stacy Traub, Barry Sonnenfeld, Kim Tannenbaum, Eric Tannenbaum
By ED BARK
ABC at first planned to deliver this baby-themed series early last fall. Now, after the longest pregnant pause in TV history,
Notes From the Underbelly
at last arrives Thursday before immediately moving to Wednesdays.
That's odd and uncalled for because
Underbelly
turns out to be ABC's best new half-hour comedy series in a season that's already had some pretty fair ones in the since canceled
Help Me Help You, Big Day
and
The Knights of Prosperity
.
Even
Underbelly's
early spring premiere comes after ABC announced and unannounced at least three different time slots for the show in just the past few weeks. It doesn't breed confidence that the newly expectant parents will get a chance to birth their first baby before the network in effect decides to abort the show.
Directed by Barry Sonnenfeld (
Men In Black, Get Shorty
), the premiere episode stars Jennifer Westfeld and Peter Cambor as a married couple in their early 30s. For several years they've wrestled with the idea of having kids. Now they want to pin their misgivings to the mat and get on with it. So Lauren Stone quickly becomes pregant in hopes that both she and her husband, Andrew, won't come totally unglued.
The kid could become a brilliant scientist, says he.
Or a weird shut-in who kills people, says she.
Like all of ABC's recent new comedies,
Underbelly
plays without a laugh track. It does, however, have nifty, organ-driven theme music and a very appealing mom-to-be in Lauren. After a flashback, she's 10 weeks pregnant in the first half-hour while her giggly, close friend, Julie (Melanie Paxson), is on the verge of delivering.
Very much against both pregnancies is self-absorbed Cooper, who's tartly and knowingly played by Rachael Harris. There's also the inevitable doofus single guy, and his name is Danny (Michael Weaver).
Underbelly
was filmed so long ago that three of its characters are still enthralled with
Lost
. It's hoped that this smart, solidly acted comedy somehow can be located this late in the season. But given its treatment so far, that's perhaps less likely than Rosie O'Donnell taking a vow of silence.
Grade:
B+