FX may need a quickie divorce from Married
07/07/14 08:29 AM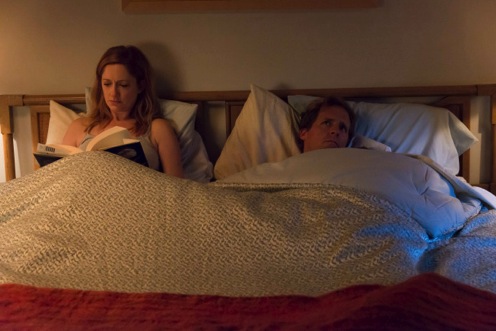 Another strikeout for a loser hubby in the dim Married. FX photo
Premiering: Thursday, July 17th at 9 p.m. (central) on FX
Starring:
Nat Faxon, Judy Greer, Jenny Slate, Brett Gelman, Regina Hall John Hodgman, Paul Reiser, Michaela Watkins
Produced by:
Andrew Gurland, Peter Principato, Paul Young, Salamo Levin
By ED BARK
@unclebarkycom on Twitter
Fox's very first sitcom,
Married . . . With Children
, took a polar opposite view of wedded bliss. But the battling Bundys could be broadly, loudly funny, and the series endured for a decade.
Now we're down to FX's
Married
, billed as a "comedy about being miserably in love." It turns out to be about as much fun as bed-wetting. Sample exchange from Episode 3, one of four sent for review:
Wife: "I don't hate you. I just hate my life and my life is you."
Husband: "Is this foreplay?"
That's pretty much the lay of this land. Russ and Lina (Nat Faxon, Judy Greer) have three daughters and little else going for them. Including sex, which Russ wants but can never seem to get.
Although seldom employed as a freelance graphic designer, hangdog hubby still somehow has money to blow on nightly drinks at The Oaks Tavern. Morose pals A.J. (Brett Gelman) and Jess (Jenny Slate) join him. A.J.'s bitterly divorced and Jess is less than happily married to an older guy who has to wear knee braces to do it "doggy style." Paul Reiser, his career now on fumes, is the older guy in question. Luckily for him, he's not seen on camera until Episode 4.
Back on the home front, Lina is unfulfilled but also unwilling to go back to her old job. In Episode 3, she makes a half-hearted effort at layabout Russ's urging, but finds herself "nauseous" at working for a boss who always seems to have "day-old breath."
Greer, who played the recurring role of Kitty Sanchez on
Arrested Development
and voices Cheryl/Cherlene on FX's
Archer
, is better known at the moment as the perky woman in Sprint's omnipresent "Framily" ads. She's generally appealing, but
Married
is an antonym of that.
Faxon is trying to rebound from Fox's failed
Ben and Kate
comedy series, where he also played a jobless, direction-less, but more buoyant character. In
Married
, his main activities are asking for sex, welshing off his pal, Bernie (John Hodgman), drinking and laying around. In the premiere episode, wife Lina him to "be with someone else" sexually if he'd like. Of course this doesn't go very well. Nothing goes very well in
Married
.
The opening half-hour also borrows a subplot from the second episode of
The Cosby Show
. Namely a goldfish funeral after Russ over-feeds "Norman." But the basic humor of the situation is completely lost on
Married
.
Storylines in subsequent episodes include Russ's visit to "the cock butcher" to firm up his vasectomy surgery, a $5,000 veterinarian bill, Russ's and A.J.'s dalliance with two escort girls and Russ's yearnings to take a shower with his wife.
It's possible -- just about anything's possible -- that
Married
somehow will find its way at some point during whatever its future might be. But so far this is a dour, sour affair replete with uninviting characters. That's generally not a good recipe for return visits.
GRADE:
D
Email comments or questions to:
unclebarky@verizon.net