Nice while it lasted: Jerry's Palace Super Bowl nipped nationally by XLVI, which now ranks as most-watched TV program ever
02/06/12 02:22 PM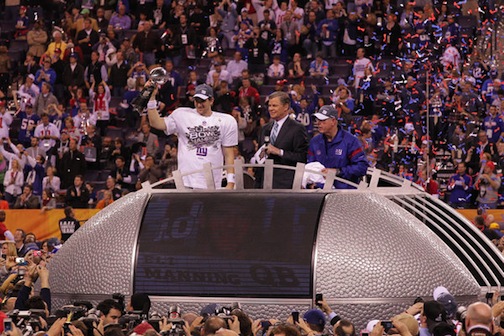 Hey, look what I won again. And big brother's only got one. NBC photo
By ED BARK
Super Bowl XLVI has inched past last year's big game from Jerry's Palace to become the new "Most-Watched Show In U.S. Television History."
Its host network, NBC, put out the word mid-Monday afternoon, using Nielsen Media Research data to give the game an average of 111.3 million viewers. Super Bowl XLV drew 111 million.
The New York Giants' 21-17 win over the New England Patriots, which wasn't decided until a climactic "Hail Mary" pass fell incomplete in the end zone, built steadily throughout the early evening and night to average 117.7 million viewers in its final half-hour. The game began with 99.2 million viewers.
This marked the seventh straight year of Super Bowl audience increases, NBC says. But the country is more populated than it used to be, making the overall 47.0 household rating for XLVI still only the sixth best on the list. Super Bowl XLV ranks just 10th with a 46.0 household rating. The all-time champ in that respect is still 1973's Super Bowl XVI on CBS between the San Francisco 49ers and Cincinnati Bengals. It was played in the Pontiac Silverdome and had a 49.1 rating.
NBC also noted that the less than favorably received Madonna halftime show actually averaged more viewers than the game itself -- 114 million according to Nielsen. Last year's Cowboys Stadium performance by the Black Eyed Peas had 110.3 million viewers.
NBC's post-Super Bowl attraction, the Season 2 launch of
The Voice
, held on to 37.6 million viewers.