Jerry Lewis lionized in Encore's Method to the Madness
12/16/11 02:12 PM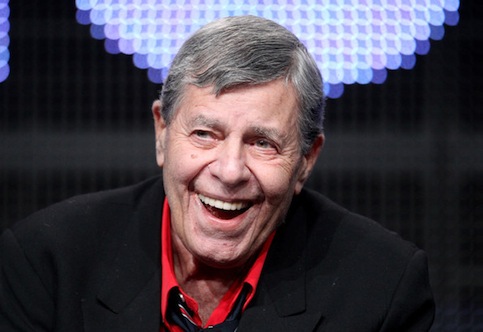 Jerry Lewis during a summer session with TV critics. Encore photo
By ED BARK
Adoring yet instructive, Encore's
Method to the Madness of Jerry Lewis
gives its subject the worshipful treatment he's always felt he deserved.
And that's not necessarily a criticism of this nearly two-hour tribute, which premieres on
Saturday, Dec. 17th at 7 p.m. (central)
.
Lewis, 85, is still entirely too adept at making an ugly spectacle of himself, as he
did again this past summer
during a session at the semi-annual Television Critics Association "press tour." But his artistry and contributions to comedy are undeniable. And in the hands of young filmmaker/acolyte Gregg Garson, that's what
Method to the Madness
is all about. Period.
Lewis is very much a contributor, via fresh interviews and recurring excerpts from a performance on his 2009-11 "World Tour." But an impressive number of high-profile admirers also do much of the talking. And there's no holding back when the likes of Jerry Seinfeld, Carol Burnett, Woody Harrelson, Steven Spielberg, Eddie Murphy, Quentin Tarantino and Billy Crystal extoll his comedic virtues.
"If you don't get Jerry Lewis, you really don't understand comedy," says Seinfeld. "Because he is the essence of it . . . He is the diamond of comedy."
"He's a very gifted genius," Burnett says with certainty. And in Harrelson's view, "If you don't like Jerry Lewis, I have no interest in hanging with you. We can't even have a relationship."
The film is determined to prove their points, whether with footage of Lewis' incredibly popular 10-year partnership with Dean Martin ("When they blew up, it was very much like The Beatles," says Murphy) or via film clips that underscore the subject's gift for improvisational physical comedy. There's also a wealth of behind-the-scenes footage, all courtesy of Lewis.
"He is the last great giant of the great days of our business," comedian Richard Belzer rhapsodizes.
Nothing is said of Lewis' long association with the Muscular Dystrophy Association, which ended messily when he was disinvited from this year's telethon. Nor are any real reasons given for his breakup with Martin and their subsequent 20-year estrangement until Frank Sinatra staged a surprise reunion at the 1976 telethon.
Still,
Method to the Madness
is adroitly packaged and probably in roughly the same flattering mode of a PBS
American Masters
tribute. That series' longtime executive producer, Susan Lacy, told unclebarky.com at that same summer's press tour that she wanted to do a portrait of Lewis, but he kept balking at yielding creative control. After learning of the Encore film, she said that
American Masters
likely would abandon any efforts to do business with Lewis.
Method to the Madness
, where never is heard a discouraging word, heaps on the praise to the point of redundancy. Burnett even lobbies for a Kennedy Center Honor for Lewis. And frankly, it's amazing he hasn't yet received this accolade.
Lewis did, however, receive an honorary Oscar in 2009. "I take my Academy Award wherever I go," says Lewis, who is shown kissing it during a 2009 press conference at the Cannes Film Festival.
He was in Cannes trying to drum up interest for
Max Rose
, in which Lewis plays the title character of a widower revisiting major moments in his life. The film, Lewis' first feature since 1995's
Funny Bones
, has a cast that includes Claire Bloom, Peter Bogdanovich and Ben Gazzara. But it's yet to find a distributor. And on the review DVD of
Method to His Madness
, it's not even specified what film Lewis is promoting. So much for details.
Method to His Madness
will be surrounded Saturday by Encore's showing of five Lewis films. Here's the marquee, with all times central:
12:50 p.m.
--
The Bellboy
2:05 p.m.
--
The Errand Boy
3:40 p.m.
--
The Geisha Boy
5:20 p.m.
--
The Ladies' Man
9:05 p.m. (following the documentary)
--
The Nutty Professor
The first and last in order are acknowledged classics in the Lewis catalogue. The others not so much. But take it from Jerry Seinfeld, who enthuses about how Lewis could even turn a sputtering car into a side-splitting sight gag.
"This is not low brow to me," Seinfeld says. "This is the highest brow."
GRADE:
B