HBO's Getting On has just the right prescription for a medical comedy
11/21/13 12:40 PM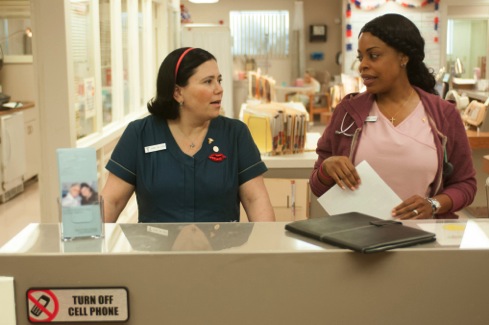 Alex Borstein and Niecy Nash commiserate in Getting On. HBO photo
Premiering:
Sunday, Nov. 24th at 9 p.m. (central) on HBO
Starring:
Laurie Metcalfe, Niecy Nash, Alex Borstein, Mel Rodriguez
Produced by:
Mark V. Olsen, Will Scheffer
By ED BARK
@unclebarkycom on Twitter
"There's a turd on the chair in the lounge."
Those are the first spoken words in HBO's new hospital-set comedy series. And no, they're not intended as code words for "Obamacare."
In any case, don't be put off. Based on the same-named BBC series,
Getting On
is amusing, caring and very deftly adapted for HBO by
Big Love
creators Mark V. Olsen and Will Scheffer. What's more, you'll see three revelatory performances from actresses best known for entirely different TV personas.
***
Laurie Metcalfe (
Roseanne
) plays tightly wound Dr. Jenna James, who strongly resists being permanently assigned to look after the geriatric female patients inhabiting the Billy Barnes Extended Care Unit of Long Beach's Mr. Palms Hospital. Grandiosely devoted to breakthrough medical research, she's been fastidiously collecting stool samples for the past 17 months. Laughing is out of the question and smiling is a forced, pained expression for Dr. James. It's all the more reason to savor Metcalfe's amazing array of facial contortions during the course of her Emmy-worthy portrayal.
***
Alex Borstein (
Madtv
and the voice of Lois Griffin on
Family Guy
) is Nurse Dawn Forchette, a 13-year veteran of the Billy Barnes facility. Her love life is a thorough beat-down, but Dawn continues to treat her elderly, oft-problematic patients with dignity and respect. Belittling them is not an option for this weepy but resilient Florence Nightingale. Situations present themselves, but
Getting On
never stoops to the level of a broad, crude situation comedy in which whacked out elders are reduced to punch toys. Borstein's performance is letter-perfect under any form of duress.
***
Niecy Nash (
Reno 911!
) co-stars as new nurse DiDi Ortley, who strives to do right by everybody. A little sass is called for on occasion. But DiDi is never crass or short on empathy for incoming or long-term patients. Nash likewise is terrific in this role, which makes it a threesome of standout performances.
Perhaps you're wondering just where the comedy is. Well, don't worry. There's a very funny scene in Sunday's Episode 1, with Dawn trying to translate the pained words of a new Asian patient by shouting them to DiDi, who in turn mouths them over the phone to a translator. Dr. James in turn thinks the woman sounds "Chinese-y."
HBO sent all but the final half-hour of a six-episode Season 1. And all were gems in their own ways, with guest stars such as Harry Dean Stanton, Molly Shannon and Daniel Stern adding a little extra flavor.
Getting On
's fourth regular cast member is a new supervising male nurse named Patsy De La Serda (Mel Rodriguez). He arrives in Episode 2 to take some serious verbal abuse from a full-blown battle ax patient named Varla. De La Serda, over-sized, ambiguously gay and extra-sensitive, is the overall weakest link in this ensemble. But that's in no small part because everyone else is so terrific.
The series is a "workplace comedy" without exception in the first five episodes. Personal lives are alluded to, but every scene is within the walls of Mt. Palms Hospital. Dr. James, for instance, isn't shown going home to her husband (guest star Stern). Instead he's worked into Episode 5's late night Billy Barnes activities, with Nash the put-upon focal point while working a short-staffed "graveyarder."
In the end,
Getting On
is about small triumphs in the face of ever-present indignities. Its tender moments register without feeling forced while the comedy comes in the form of a constant IV drip. Getting old -- or "getting on" for the purposes of the title -- is nothing to look forward to here. But discovering a new series of such unexpectedly high caliber is good reason to celebrate.
GRADE:
A
Email comments or questions to:
unclebarky@verizon.net