Dire Straits left in the lurch during HBO's annual reprise of the Rock and Roll Hall of Fame induction ceremony
05/02/18 09:46 AM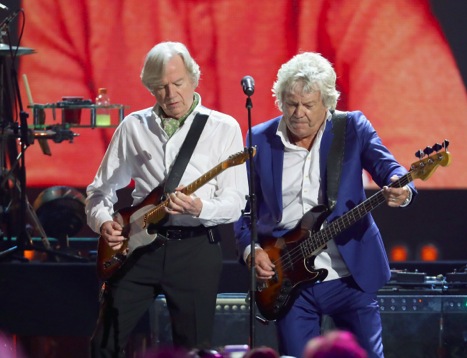 Justin Hayward (left) and John Lodge show both their age and talent as charter members of The Moody Blues during a performance at the 2018 Rock and Roll Hall of Fame induction ceremony. HBO photo
By ED BARK
@unclebarkycom on Twitter
The man who isn't there unfortunately is the one who stands out at HBO's annual re-packaging of the Rock and Roll Hall of Fame induction ceremony.
Mark Knopfler, driving force of Dire Straits, blemished the night by not showing up because, in the words of bandmate and bassist John Illsley, "He just didn't feel like coming" and couldn't get his "head around it." Illsley
told this to Billboard
in an article posted two days before the April 14th festivities in Cleveland, which HBO reprises in a three-hour special on
Saturday, May 5th (7 p.m. central)
. As usual, it's impeccably produced, with the cameras giving viewers a front row seat that betters the views of those who actually had front row seats at The Public Auditorium.
Knopfler's churlish blow-off of the event, for reasons he didn't share with Illsley, by no means robs the evening of its firepower. But it does leave Illsley and fellow Dire Straits members Guy Fletcher and Alan Clark rather naked and alone onstage. Absent any induction speech, they simply step onstage, make brief acceptance remarks and then exit without any thought of performing without their leader. It would be like The Pips trying to make a go of it without Gladys Knight or Aerosmith absent Steven Tyler at the center.
So as a long-time big fan of Dire Straits, I say boo on you, Mark Knopfler. You'll regret this some day, unless you're made of stone.
In sharp contrast, two other inductees who had long been "snubbed," The Moody Blues and Bon Jovi, show up, perform and leave any hard feelings on the cutting room floor. The Cars also perform in lively fashion while youth is served via powerful musical tributes to two deceased inductees, Sister Rosetta Tharpe and Nina Simone.
The Moody Blues, another personal fave rave, have been particularly decimated. Vocalist/flautist Ray Thomas died in January at age 76 while key members Denny Laine and Mike Pinder left the band lifetimes ago.
But vocalists/guitarists Justin Hayward, 71, and John Lodge, 72, along with drummer and occasional narrator Graeme Edge, 77, show they're still up to the challenge of powering through the group's anthem, "Nights in White Satin." It appears to be the best-received performance of the night, judging from the decibel level at song's end. The Moodies also rock through "Ride My See-saw" and "I'm Just a Singer (In a Rock and Roll Band)."
The night begins with Brandon Flowers of The Killers impressively vocalizing the late Tom Petty's "American Girl" before enthusiastically setting the table for The Cars as "the first band I ever truly fell in love with. And you never forget your first."
Lead vocalist Ric Ocasek and his mates then accept with gratitude before performing "Just What I Needed, My Best Friend's Girl" and "You Might Think."
Sister Rosetta Tharpe, a pathfinding electric guitarist who blended gospel with rock 'n' roll, is feted by Brittany Howard of Alabama Shakes after an introductory video includes Little Richard marveling, "That black woman could play guitar. And she was hot -- hot as cayenne pepper." Howard then performs "That's All" with her usual full-out intensity.
Singer/activist Nina Simone is saluted by Mary J. Blige, and briefly by Simone's brother, Dr. Samuel Raymond, before extended, fiery and inventive musical tributes by Andra Day ("I Wish I Knew How It Would Feel to Be Free" and "I Put a Spell on You") and Lauryn Hill ("Black is the Color of My True Love's Hair," followed by "I Ain't Got No, I Got Life" and "Feeling Good").
The Rock and Roll Hall of Fame also is introducing a new category by "inducting" influential singles from bands and performers who otherwise don't have a Hall pass. Steven Van Zandt does the honors, with the first batch of six including "Louie, Louie" by the Kingsmen, "The Twist" by Chubby Checker and "Born to Be Wild" by Steppenwolf.
The long-snubbed Bon Jovi gets the honor of going last, with lead singer Jon Bon Jovi remarking in the introductory video that he initially pictured himself as "Clint Eastwood with a guitar."
Howard Stern gives the induction speech, which not surprisingly is long, sometimes funny and typically self-indulgent at times. Touting Bon Jovi's 130 million album sales, Stern notes that an average ejaculation in comparison yields 100 million sperm. So yeah, Bon Jovi beats sperm -- among other things.
Stern also leads a sing-along, twits Hall of Fame potentate and
Rolling Stone
magazine Jann Wenner for finally letting Bon Jovi in and aims a double vulgarity at Bob Dylan.
Jon Bon Jovi himself then spends an even longer time accepting the induction, but there's no unseemly bitterness on display. He even invites former longtime lead guitarist Richie Sambora to play with the band after he left in 2013. From among many hits, the three song selections at the induction ceremony are "You Give Love a Bad Name, When We Were Us" and "Living on a Prayer." Jon Bon Jovi seems to be near tears while leaning into the mike with Sambora to vocalize "When We Were Us."
This is the 33rd Rock and Roll Hall of Fame induction ceremony. The charter inductees, a group of 10 in 1986, did
not
include The Beatles, The Beach Boys, The Supremes or Bob Dylan, all of whom got in two years later (after even Ricky Nelson).
In Knopfler's defense, more or less, it should be noted that both Paul McCartney (citing longstanding "business differences" with surviving Beatles George Harrison and Ringo Starr) and Diana Ross (for whatever reason) were no-shows at the 1988 ceremony. It prompted an acid-tongued acceptance speech on the part of The Beach Boys' Mike Love, who ripped both McCartney and Ross while also taking shots at various other rock luminaries. This led Dylan to say later, "I'd like to thank Mike Love for not mentioning me . . . Peace, love and harmony is important indeed, but so is forgiveness."
But McCartney showed up in 1994, to induct John Lennon individually, and again in 1999, for his own stand-alone induction. At the latter ceremony, he also lobbied for individual inductions of George Harrison (this happened in 2004) and Ringo Starr (McCartney inducted him in 2015).
Knopfler likely won't get another chance to atone for the gaping hole he left at the 2018 inductions. Being a standup guy apparently isn't his cup of tea. The band's best-selling album, 1985's "Brothers in Arms," has a hollow ring to it these days.
GRADES:
F for Mark Knopfler, B+ for the show at large
Email comments or questions to:
unclebarky@verizon.net