Motive gives ABC a second self-contained cop drama amid all those serials
05/16/13 02:19 PM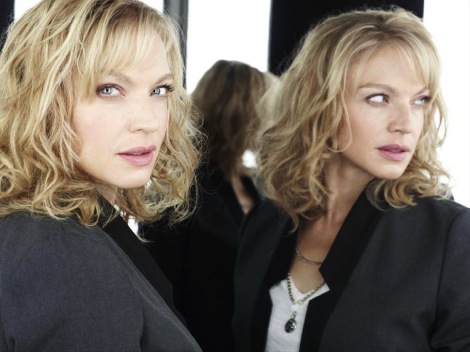 Kristin Lehman doubles down on crime in Motive. ABC photo
Premiering:
Monday, May 20th at 9 p.m. (central) on ABC before moving to regular Thursday, 8 p.m. slot
Starring:
Kristin Lehman, Louis Ferreira, Lauren Holly, Roger Cross, Brendan Penny, Cameron Bright
Produced by:
Daniel Cerone, James Thorpe, Louise Clark, Rob Merilees, Rob LaBelle, Erin Haskett, Lindsay Macadam
By ED BARK
@unclebarkycom
This one just might find an audience on a network that's still enamored of serial dramas but does very well with its only remaining one-shot "crime procedural" hour.
We're talking about
Castle
, and the Canadian import
Motive
is in that mode. Throw a murder out there, solve it by episode's end and move on to the next one in a new self-contained episode. CBS has been doing this for years, and it's now No. 1 with a bullet in both total viewers and, for the first time in 21 seasons, advertiser-coveted 18-to-49-year-olds.
Motive
has a bit of a gimmick, though, even if it's been done before, most notably and indelibly with
Columbo
. Identify the killer during the opening minutes. Then let the gumshoes do their work while viewers are still left guessing -- up until the closing minutes -- as to why the murder was committed.
Monday's premiere, with
Motive
then moving to its regular Thursday berth, quickly fingers a high school band member who's initially taunted by low-lifes at a football game. His victim, also identified in short order, is a popular high school science teacher. You won't have to do any heavy lifting, because ABC has weekly on-screen print IDs for "The Killer" and "The Victim."
Connecting the dots after the corpse is found are homicide detective Angie Flynn (Kristin Lehman from AMC's
The Killing
) and partner Oscar Vega (Louis Ferreira). The inevitable forensic lab slicer/dicer, Dr. Betty Rogers, is played by former
Picket Fences
star Lauren Holly, who's also been a recurring player on
NCIS
.
Angie and Oscar get along fine, but can't resist needling each other. Both actors know how to do this without over-doing it. She also has a teenage son, Manny (a recurring Cameron Bright), who's first seen in the sack with a very voluptuous young woman who tells Angie her breasts are surgically inflated. Mom rolls her eyes but isn't overly upset. Later on, she cheers Manny on at a drag racing competition. The lineup of teens wanting a mother like that might well equal the distance between Earth and Mars.
Meanwhile, the first two crimes are puzzled out in not always convincing fashion. Angie tends to have a lot of hunches. But in an hour's time, minus commercials, the culprits also tend to cooperate by playing right into her hands.
This is especially true in the Thursday, May 23rd Episode 2, in which the killer is a former prosecutor running for mayor on a hardline law and order platform. A teenage girl is on his hit-and-run receiving end. And he's way too over-zealous about framing a hunky teen playboy who's been happily bouncing from one conquest to another, including the victim.
Motive
uses flashbacks as walk-ups to its eventual murders. It's a reasonably involving series made better by the chemistry between the two leads. Unlike Fox's
backhanded treatment of The Goodwin Games
, ABC is giving
Motive
a substantial promotional push and slotting its first episode after a two-hour performance edition of
Dancing with the Stars
.
As a whodunit with the who already answered,
Motive
is more than passable and quite a bit better than two of this season's string-along ABC clunkers --
Zero Hour
and
Red Widow
. They've been canceled, but this series seems to have more of a clue about what it takes to carry on.
GRADE:
B-minus
Email questions or comments to:
unclebarky@verizon.net