Former Fox News Channel anchor Gretchen Carlson assails boss Roger Ailes in sexual harassment lawsuit
07/06/16 11:09 AM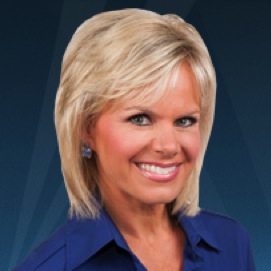 By ED BARK
@unclebarkycom on Twitter
Former Miss America Gretchen Carlson, who anchored at Fort Worth-based KXAS-TV from 1999 to 2000 before joining CBS News, has filed a blistering sexual harassment lawsuit against Fox News Channel chairman and CEO Roger Ailes, who hired her in 2005 and fired her on June 23rd of this year.
She claims it was because she refused Ailes' persistent sexual advances.
The suit, filed on July 6th in the Superior Court of New Jersey, alleges that Ailes "retaliated against Carlson in various ways, including by terminating her employment . . . and prior thereto, by, among other other things, ostracizing, marginalizing and shunning her after making clear to her that these 'problems' would not have existed, and could be solved, if she had a sexual relationship with him."
Carlson, 50, who won the Miss America crown in 1989, contends in the lawsuit that she met with Ailes, 76, nine months before being terminated to "discuss the discriminatory treatment to which she objected." The lawsuit quotes Ailes as telling her, "I think you and I should have had a sexual relationship a long time ago and then you'd be good and better and I'd be good and better. Sometimes problems are easier to solve that way."
Ailes or his attorneys so far have not commented on the allegations. (Ailes later said that Carlson's accusations are completely false. "This is a retaliatory suit for the network's decision not to renew her contract." )
During her first seven-and-a-half years with Fox News Channel, Carlson co-hosted the morning
Fox & Friends
show. The lawsuit notes that in September 2009, she complained to a supervisor that co-host Steve Doocy "had created a hostile work environment by regularly treating her in a sexist and condescending way, including by putting his hand on her and pulling down her arm to shush her during a live telecast." (In another local connection, Doocy is a first cousin of longtime Fox4 sports anchor Mike Doocy.)
Steve Doocy, who is not being sued and remains on
Fox & Friends
, "engaged in a pattern and practice of severe and pervasive sexual harassment of Carlson," the lawsuit says, "including, but not limited to, mocking her during commercial breaks, shunning her off air, refusing to engage with her on air, belittling her contributions to the show, and generally attempting to put her in her place by refusing to accept and treat her as an intelligent and insightful female journalist rather than a blond female prop."
The suit charges that Ailes "responded by calling Carlson a 'man hater' and 'killer' and telling her that she needed to learn to 'get along with the boys.' "
"In further retaliation for her refusal to accede to sexual harassment," Ailes fired Carlson from
Fox & Friends
in 2013 and reassigned her to a less visible 2 to 3 p.m. (ET) slot at lower pay, the suit contends.
The suit also cites a string of other allegedly sexist comments by Ailes, including "embarrassing Ms. Carlson by stating to others in her presence that he had 'slept' with three former Miss Americas but not with her."
Carlson is seeking compensatory and punitive damages, "including lost compensation, damage to career path, damage to reputation and pain and suffering damages."
Fox News Channel's top personality, Bill O'Reilly, hired by Ailes for the 1996 launch of the "Fair and Balanced" network, also was the target of a sexual harassment lawsuit filed by a former FNC employee. But O'Reilly eventually
settled out of court in 2004
before telling viewers, "On a personal note, this matter has caused enormous pain, but I had to protect my family and I did. Some of the media hammered me relentlessly because, as you know, I am a huge target, as is Fox News."
The complete text of Carlson's lawsuit against Ailes can be
found here
.
Email comments or questions to:
unclebarky@verizon.net