WE tv's super-ludicrous Sex Box tries to position itself as an idea whose time has, um, come
02/25/15 02:12 PM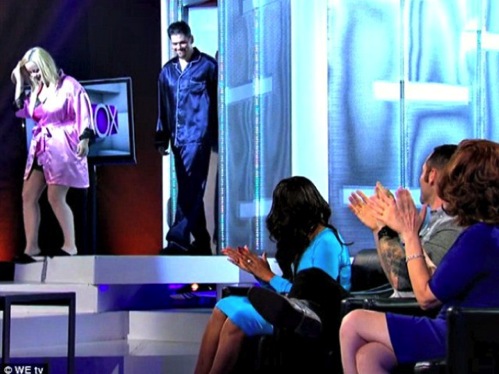 Exiting the Sex Box to applause from therapists. WE tv photo
Premiering:
Friday, Feb. 27th at 9 p.m. (central) on WE tv
Starring:
Sexually troubled couples and therapists Chris Donaghue, Fran Walfish, Yvonne Capeheart
Produced by:
Tom Forman, Brad Bishop
By ED BARK
@unclebarkycom on Twitter
Getting all indignant about
Sex Box
won't do anything to stop it from actually airing on an American television network after it flopped in the United Kingdom.
Besides, it's much more fun to make fun of it as a ridiculous and desperate effort to generate some buzz about its carrier, the wee little WE tv network.
TV critics are given more big, juicy low-hanging fruit to feast on than a giraffe in an apple orchard. This begins immediately, with an off-camera pitchman assuring viewers: "Couples in crisis with nowhere else to turn will take part in the most radical therapy ever seen on television. Confessions will be made. Secrets revealed. Lives changed. All by having sex. In this box. In front of a live studio audience."
WITH NOWHERE ELSE TO TURN!?
But we digress.
The Sex Box looks like a storage bin and is a glowing light blue when uninhabited. But when whoopee is in progress, the Box lights up to a hot blend of reds and pinks. Three frequently applauded couples take the plunge in each one-hour episode. They're also timed by Dr. Chris Donaghue, a "clinical sexologist" who serves as the show's lead dog.
A question comes to mind. What does the whooping studio audience do during, say, the 31 minutes, 49 seconds that Alexia and Christopher are said to have spent in the Sex Box? Are they given free drinks and snacks while being entertained by an episode of
Sex and the City
? Because whatever the couples are doing -- and are they actually
really
doing it? -- it's all completely inaudible. They then emerge as conquesting heroes before the three resident therapists say things like, "The Sex Box was able to really help you guys find that compromise."
While you contemplate building one of these things in your bedroom, let's meet the other performance judges.
Dr. Fran Walfish is a Beverly Hills-based "couples psychotherapist" who charitably speaking has had some very bad cosmetic surgery done above her neck. Dr. Yvonne Capeheart, a "pastor and couples counselor," is the resident prude -- at least compared to her colleagues.
First up are musicians Elle and Brandon. He wears a "Thug Life" t shirt in his introductory video. She laments that during sex, "He has an orgasm, and I don't."
Made-for-TV concern ripples through the audience before the therapists upbraid Brandon for making light of Elle's sexual satisfaction. Donaghue soon pops the question after noting that during the sex act, Oxytocin levels (a k a the so-called love hormone) are at their very highest. "Are you ready to go into the Sex Box?" he asks. Dramatic pauses sometimes lead directly to commercial breaks. But of course they're game. Because otherwise what are these people doing here in the first place?
Post-Sex Box, Elle gives Brandon a 7.9 (on a scale of 10) for his efforts to please her. "That's huge!" Donaghue exclaims before asking, "Did you both orgasm and who orgasmed first?"
"Me," Elle says proudly, triggering an ovation.
In case you're wondering, the couples wear what seem to be silk pajamas (but probably are Polyester) for their romps in the Sex Box. Some but not all of the jammies are emblazoned with the official
Sex Box
logo.
Between introductions of new couples, "
Sex Box
correspondent" Danielle Stewart hits the streets to quiz a few couples -- a la HBO's
Real Sex
. One guy says he really likes it when his mate is "giving me road head." Hmm, texting increasingly is outlawed when driving, but . . .
OK, let's welcome Dyson and his massively endowed wife, Rebecca. They've been together for 17 years and married for 10. She says they've had "threesomes, foursomes, more somes." He says they're just "looking to spice things up a bit . . . I like to date other women with my wife."
But pastor Capeheart detects Rebecca's basic unhappiness with these arrangements. So it's into the Sex Box, with Dyson emerging an instantly changed man. Or so he says.
"For the first time ever, I've got my head on straight," Dyson assures his wife and the therapists. Thanks, Sex Box!!!
Couple No. 3, Alexia and Christopher, used to have kinky sex multiple times a day. But after just two years of marriage, she's mostly lost the urge after birthing a son.
"He doesn't look at me any different. He knows the slut that I could be," Alexia says of her horny husband.
OK, then off to the Sex Box, you two. Presto, change-o and applause upon re-entry into a beautiful new world of renewed compatibility.
The show strives to position itself as nothing more than a selfless Good Samaritan with one goal only -- to bring sexual healing for desperate couples that had no recourse other than intercourse in a big box built on a TV stage. Wonder what the pioneering Dr. Ruth Westheimer would say about that. She might disapprove, even though this is the woman who once told a very embarrassed David Letterman an anecdote about a sex game that called for tossing onion rings on an erect penis.
OK, I'm going to confession now.
Right
now.
GRADE:
F
Email comments or questions to:
unclebarky@verizon.net