ABC's Don't Trust the B looks like a comedy worth keeping (trust me)
04/10/12 12:25 PM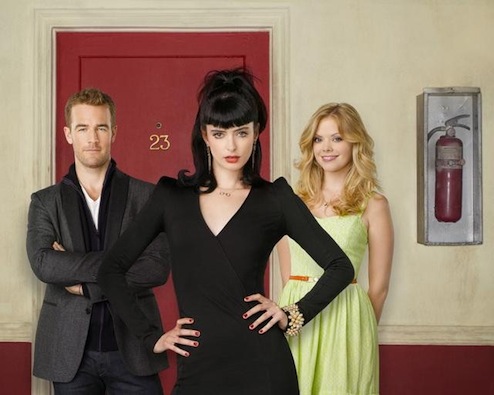 Krysten Ritter showcases herself in Don't Trust the B . . . ABC photo
Premiering:
Wednesday, April 11th at 8:30 p.m. (central) on ABC
Starring:
Krysten Ritter, Dreama Walker, James Van Der Beek, Liza Lapira, Michael Blaiklock, Eric Andrz
Produced by:
Nahnatchka Khan, David Hemingson, Jeff Morton
By ED BARK
This bitch has got some pop.
As does "The Beek."
So maybe A(bitch)C has something at least a little special in
Don't Trust the B ---- In Apartment 23
, its second new series this season with an advertiser-unfriendly word shorn from the title but deployed within the show itself.
The alphabet network's Dallas-set
GCB
, short for the
Good Christian Bitches
book it's based on, is the other dicey proposition with the hush-hush moniker. But ABC's
Dirty Sexy Money
was deemed OK a few seasons back.
Don't Trust the B
, subbing the rest of this season for
Happy Endings
, is inheriting its network's best available comedy time slot following
Modern Family
. It's "B" is Chloe, played with consummate confidence and presence by possible big star-in-the-making Krysten Ritter (no relation to the late John Ritter).
ABC's hesitancy regarding the title is quickly lapped by an in-and-out theme song that goes like this: "I'm not perfect, I'm a snitch. But I can tell you she's a bitch." The last three words are whispered, just in case Procter & Gamble might be hard of hearing.
Chloe also gets away with some of the more sexually explicit lines ever uttered in a Big 4 broadcast network comedy. As when she informs her wide-eyed new roommate June (Dreama Walker) that she and friend James Van Der Beek (playing himself) didn't work out dating-wise. "We weren't really compatible genitally," Chloe explains. "Imagine trying to fit a cucumber into a coin purse."
"The Beek from the Creek," as the former
Dawson's Creek
heartthrob is dubbed, pops in regularly to good effect. It's the best outing by an actor playing himself since Matt LeBlanc began doing it in the Showtime series
Episodes
. And if
Don't Trust the B
clicks, look for more of the same next season.
Don't Trust the B
has other familiar plot points. June is a freshly arrived naive Indiana girl with a new job at a Manhattan mortgage firm. But wouldn't you know, the CEO is yet another mockup of Bernie Madoff. So June arrives for work only to find everyone shredding, burning and running for their lives.
Jobless and now homeless, too (the company had set her up in a plush pad), June goes apartment-hunting and wades through the usual assortment of wacky would-be roommates before warming to Chloe despite warnings she's a b-i-t-c-h. And she pretty much is, but with a moral compass that occasionally points in the right direction.
It's only because of Chloe, for instance, that June discovers her doctor fiance's philandering. A suspicious Chloe first gets a little kid informant blasted on beer in order to get the scoop on Steven (guest star Tate Ellington). She then seduces the cad while inadvertently plopping into June's birthday cake. Justice is served, but it "came with a price," Chloe tells June. "I got a lot of frosting in my crack."
Ah, but she's endearing in her own way. And two upcoming episodes made available for review show that
Don't Trust the B
potentially has staying power in a season where ABC has found a few modest hits amid big misses such as
The River, Charlie's Angels, Man Up!
and most dreadful of all,
Work It
.
Ritter doesn't quite have the ready-made appeal of Zooey Deschanel in Fox's
New Girl
, which already has been renewed for a second season. But she's a pistol with a knack for cracking wise. As in an upcoming episode where she breezes into Apartment 23 and takes aim at June: "I know you hate it when I come drunk and fun and eat tomorrow's lunch. You're in a rut with tuna by the way."
But June instead has accompanied The Beek to a vodka launch party, which makes Chloe jealous. Another one-liner is saved up for the following morning, when a hung over June hears, "Good morning. I'd offer you breakfast, but you didn't make any."
Van Der Beek adeptly plays along, whether grandly prepping for a
Dancing with the Stars
stint (in real life he hasn't done it yet) or failing to get his NYU acting class students off the subject of
Dawson's Creek
. "I walk a lonely road," he says of the fame that won't release him.
Don't Trust the B
otherwise could do without a creepy voyeur named Eli (Michael Blaiklock), whose next door view of the ladies' kitchen puts him in closer proximity than the fence-talking "Wilson Wilson" from
Home Improvement
. Eric Andrz is used to better effect as Mark, who fled the mortgage company before helping desperate June get a job at a coffee shop.
The series' creator/executive producer, Nahnatchka Khan, has both a flow-off-the-tongue name and some budding mad skills as a comedy writer. Principally armed with Ritter and Van Der Beek, she makes
Don't Trust the B
a find if not a treasure just yet.
Clunky men didn't work at all in those aforementioned male-driven comedy flops. Now it's a time for a B to step up, crack wise and walk naked (and pixillated) through her apartment kitchen while saying with letter-perfect insincerity, "So how was moving? I was going to help you, but then I didn't want to."
GRADE
B