CW's new The Flash quickly gets up to speed
10/06/14 03:58 PM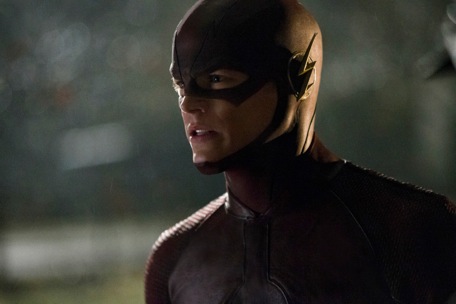 Who is that masked man? Grant Gustin as The Flash. CW photo
Premiering;
Tuesday, Oct. 7th at 7 p.m. (central) on The CW
Starring:
Grant Gustin, Candice Patton, Daniel Panabaker, Rick Cosnett, Carlos Valdes, Tom Cavanaugh, Jesse L.Martin
Produced by:
Greg Berlanti, Andrew Kreisberg, David Nutter, Sarah Schechter
By ED BARK
@unclebarkycom on Twitter
Above all else, any TV adaptation of
The Flash
needs a pulse-quickening pilot episode.
Mission fulfilled in Tuesday's premiere, in which the renowned speed racer returns in the capable hands of the creative team behind CW's
Arrow
.
Grant Gustin (
Glee
) stars as semi-geeky Barry Allen, whose life is ramped up considerably by a "particle accelerator" run amuck. As an 11-year-old he witnessed the death of his mother, Nora, from a mysterious lightning attack that police never bought. So they instead arrested Barry's father (a guest shot by John
Wesley Shipp, star of CBS' 1990
Flash
series), who's been serving time for her murder ever since.
As do most new dramas these days,
The Flash
opens with a narrative setup. "You need to believe in the impossible," Barry informs the viewing public, many of whom already believe in all kinds of outlandish TV premises. "Can you do that? Good."
Before fully discovering his powers, Barry is a forensics wunderkind whose boss is detective Joe West (sturdy Jesse L. Martin), who also raised him. West's daughter, Iris (Candice Patton) has become Barry's best friend, although he now yearns to take that to the next level. But another lightning bolt intervenes, leaving a jagged mark across his chest.
Nine months later, Barry jolts awake from a coma while within the confines of S.T.A.R. Labs, run by discredited "visionary" physicist Harrison Wells (Tom Cavanaugh). Wells' two young aides, Caitlin Snow and Cisco Ramon (Danielle Panabaker, Carlos Valdes), have been tending to him in hopes he'll re-emerge as a "meta human." Which in true comic book fashion is exactly what happens.
The Flash
isn't as darkly foreboding as Fox's new Batman prequel,
Gotham
. It has more of a spring in its step and some quips on its lips while also going about the serious business of bringing a super-powered group of bad guys to justice.
The action-hero uniform designed for Barry is much darker than the stop engine red leotard worn by the comic book original. Myself, I'm a fan of the older, brighter model.
Barry also somehow manages to hook up with the Green Arrow (Stephen Arnell dropping in from the CW series), who gives him a brief pep talk. "The good you will do will far outweigh the bad," he counsels the kid, who's ready to rock.
Gustin generates more than just blazing speed in the title role. He's appealing both in and out of civilian clothes, with Barry still pining for Iris (who's now dating a hunky detective) while The Flash sets his jaw and explores new vistas in fast-action heroism.
Cavanaugh, who's kicked around for a decade in a wide variety of TV stuff since starring in NBC's
Ed
, may finally have found a role that suits him in
The Flash
. Let's just say he's not all that he seems -- they never are -- as the now wheelchair-bound head of S.T.A.R. Does he have Barry's best interests at heart? Or is he a sinister Svengali?
CW has paired
The Flash
with its long-running
Supernatural
instead of
Arrow
on Tuesday nights this fall. Its sci-fi/comic book-heavy lineup also includes
The Vampire Diaries, The Originals
and
The 100
.
The Flash
pushes most of the right buttons with its engaging first episode. It's alternately action-packed, character-driven and poignant, with dashes of humor here and there. CW's younger target audience is likely to buy right in. Fan boys and girls of all ages likewise should find much to like in this tale of a onetime bullied kid now equipped to save lives while moving faster than a speeding bullet -- not to say Usain Bolt.
GRADE:
B
Email comments or questions to:
unclebarky@verizon.net