New fall season: Showtime's Homeland stands as the first great freshman drama -- and it's not even close
09/29/11 08:58 AM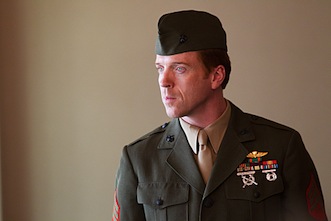 Claire Danes and Damian Lewis propel Homeland. Showtime photos
Premiering:
Sunday, Oct. 2nd at 9 p.m. (central) on Showtime
Starring:
Claire Danes, Damian Lewis, Mandy Patinkin, Morena Baccarin, David Harewood, Diego Klattenhoff, Morgan Saylor, Jackson Pace
Produced by:
Howard Gordon, Alex Gansa, Gideon Raff, Michael Cuesta, Avi Nir, Ran Telem
By ED BARK
No new fall drama series on the broadcast networks comes anywhere near Showtime's
Homeland
. And that's being charitable to the broadcast networks, who have served up retro Playboy bunnies, wistful Pan Am fantasies, curvy crimefighters and nothing at all exceptional.
Homeland
, adapted from the Israeli series
Prisoners of War
, soars above this ho-hum field on the strength of its acting, storytelling and overall import in times when terrorist guessing games are still very much with us. It also gives Showtime television's best one-two dramatic punch, with the Season 6 premiere of
Dexter
returning Sunday as
Homeland
's lead-in.
Claire Danes, an Emmy winner for her exceptional work in the HBO movie
Temple Grandin
, stars as impassioned but unstable CIA agent Carrie Mathison. Her ongoing "mood disorder," controlled by clandestine doses of heavy medication, stems from lingering guilt that she "missed something" that might have averted the Sept. 11th terrorist attacks. She's now exceedingly vigilant, perhaps to the point of obsession.
"I'm just making sure we don't get hit again," she tells mentor/boss Saul Berenson during Sunday's opening episode.
Mathison is first seen in Baghdad, scurrying to get last second information from a condemned, imprisoned Iraqi source who now feels betrayed. But his last words to her, whispered through cell bars, begin to loudly resonate 10 months later. Marine Sgt. Nicholas Brody (Damian Lewis), presumed dead since he went missing in 2003, has been rescued after years of torture and confinement. And he's coming home an American hero. It's more than enough to put Mathison on Code Red alert. Because the source's last words to her were, "An American prisoner of war has been turned."
Homeland
is a contemporary descendant of
The Manchurian Candidate
with elements of the landmark PBS reality series
An American Family
also in play.
That's because Mathison and a bugger for hire have rigged the Brody home with surveillance cameras just before he returns in the company of his wife, Jessica (former
V
villainess Morena Baccarin), and their children, Dana and Chris (Morgan Saylor, Jackson Pace). She had been sleeping with one of her husband's Marine buddies, Capt. Mike Faber (Diego Klattenhoff). Now there's little recourse, save to welcome him back and pretend that nothing happened in his long absence.
Watching this tableau from afar, Mathison at time feels like a voyeur, particularly when the Brodys are struggling to be intimate again. She frets in Episode 3 about whether the surveillance cameras will uncover anything of value or whether this all amounts to a non-stop "reality show" with a devoted audience of one.
Co-executive producer Howard Gordon, the principal force behind Fox's
24
, told TV critics this summer that
Homeland
's 13-episode first season will satisfactorily answer the question of whether the freed Brody in fact has been turned. So we're going to hold him to that while also being transfixed by the myriad possibilities in play during the first three episodes sent for review. The second hour was in production when Osama bin Laden's death was announced. Ergo, Episode 2 has a reference to his demise after earlier creating its own fictional terrorist threat, Abu Nazir.
The performances in
Homeland
are uniformly first-rate. Lewis has been in uniform before, as Major Richard Winters in the acclaimed HBO World War II miniseries,
Band of Brothers
. He in effect plays three Brodys -- the bloodied captive in prison flashback scenes, the clean-shaven "hero" presented for public inspection and the tormented returnee who recites Muslim prayers in a closed-door garage away from the cameras' prying eyes.
Danes plays Mathison as a bundle of raw nerve endings, certain she's onto something but wracked with insecurities. Episode 1 has a terrific sequence in which she believes that all is lost after mentor Saul excoriates her for betraying him. A lone discordant jazz horn accompanies her agonies.
One of
Homeland
's reverberating lines comes in Episode 2, when Brody's behavior seems to be at odds with the conventional wisdom of how a double agent would proceed.
"No one said that becoming a terrorist was easy, Saul," Mathison blurts.
Homeland
expertly threads its needles, keeping viewers guessing without becoming obtuse. It's compelling, enthralling and steeped in current realities. While the broadcast networks flail about with their new, mostly disposable dramas, Showtime threatens to overtake HBO as the premier locale for series that really count.
GRADE:
A