True Detective gives HBO the next great drama it's been looking for
01/10/14 09:37 AM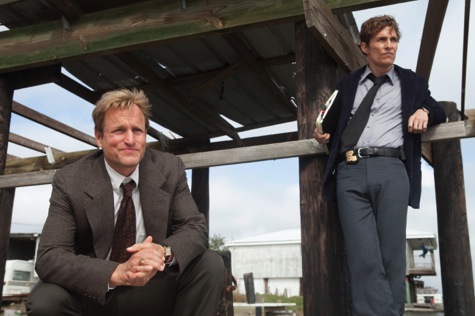 Woody Harrelson, Matthew McConaughey in True Detective. HBO photo
Premiering:
Sunday, Jan. 12th at 8 p.m. (central) on HBO
Starring:
Woody Harrelson, Matthew McConaughey, Tory Kittles, Michael Potts, Michelle Monaghan
Produced by:
Nic Pizzolatto, Cary Joji Fukunaga, Scott Stephens, Matthew McConaughey, Woody Harrelson, Steve Goblin
By ED BARK
2014 is barely out of the starting blocs. So one risks being premature in calling HBO's
True Detective
the best new TV series of the year. It sets the bar almost impossibly high, though. How will anything else be able to make such a leap?
This also is just what HBO needed to fend off an ongoing
quality drama onslaught
from Showtime, Netflix, FX, AMC, BBC America and Sundance Channel.
True Detective
, starring Matthew McConaughey and Woody Harrelson as head-butting dicks, is the kind of series that will get people talking about HBO again. It replenishes the pipeline, invigorates the brand, fires up the sprawling "water cooler" universe whether online or at the workplace.
Yes, it's that good.
Premiering Sunday, Jan. 12th,
True Detective
will tell its full story in eight episodes. And if HBO orders another season, the idea is to do a new whodunit with different characters and stars. Which means that viewers can expect to get "closure," even if McConaughey's sardonic detective Rust Cohle scoffs in Hour 3, "Closure. Nothin' is ever over."
Set in Louisiana and filmed there, too,
True Detective
ping-pongs between 1995 and 2012. Cohle initially is the new partner of detective Martin Hart (Harrelson), a "family man" with a straight-ahead view of the world when he's not swerving to suit his needs.
In 1995, as members of Louisiana's Criminal Investigation Division, they're tracking a ritualistic killer who most definitely has killed before in Cohle's view. By 2012, they're giving separate statements to two new officers named Gilbrough and Papania (Michael Potts, Tory Kittles). A similar murder has been committed long after Cohle and Hart have split up and closed the books on the 1995 case. Did they arrest and convict the wrong man?
McConaughey's Cohle has changed markedly in the 17 years. He's now a stringy-haired, chain-smoking, alcohol-dependent creature of habit who still lives alone and works four days a week at something or other. His questioners had better let him indulge himself if they want any answers. "On my off days I start drinkin' at noon. You don't get to interrupt that," he says before a sixer of tall Lone Stars is delivered upon demand.
Harrelson's Hart has less hair but still wears a suit and tie. "Past a certain age, a man without a family can be a bad thing," he continues to assert. Viewers will see about that as
True Detective
delves deeply into both men's professional and personal lives.
All eight episodes were written by series creator and novelist Nic Pizzolatto, whose first book,
Galveston
, was published in 2010 after he left academia behind. The scripts are superb, with Cohle and Hart trading punches over methods and belief systems while sharing an obsession to catch a killer who leaves his young women victims mutilated, violated and drugged. TV dramas involving serial killers are hardly in short supply of late. But
True Detective
is also very much about dissecting the crime-solvers.
McConaughey, who's rapidly evolved from pretty boy to
artiste
, has already distinguished himself in the past year with transformative roles in both
Mud
and
Dallas Buyers Club
. His performance in
True Detective
takes McConaughey to an even higher level, whether he's the barely-holding-it-together young detective dubbed "The Taxman" (for taking meticulous crime scene notes on a legal-sized ledger) or the ex-cop who's found peace of sorts in a never varying, but outwardly self-destructive routine.
Harrelson has the less showy rule, but is no less effective. His demons tear at him from within while his wife, Maggie (Michelle Monaghan), and their two pre-teen daughters are starting to run low on coping mechanisms.
Episode 3 includes some especially terrific exchanges between Cohle and Hart while they watch a tent preacher pray and/or prey on his mostly motley flock.
"People are so God damned frail they'd rather put a coin in a wishing well than buy dinner," Cohle says with disgust.
"For a guy who sees no point in existence, you still fret about it an awful lot," Hart retorts. "You still sound panicked."
The Texas-bred Cohle's back story, which slowly spools out in the first three episodes, is one of tragedy, drug addiction and recovery without any real redemption. Hart's past is far less eventful. It's the present -- circa 1995 -- that's been pushing him toward the edge. By the year 2012, his marriage may or may not remain intact. That presumably will be made clear in the remaining five hours.
True Detective
also explores the nooks and crannies of Louisiana, which in this case has nothing to do with oft-explored New Orleans. This is true on-location shooting, with a feel for people, places, sights and sounds. At one point, Cohle and Hart stop to have lunch at an out-of-nowhere ramshackle eatery that positively reeks of authenticity.
Episode 3 ends with a chilling sight and closing credits music that just couldn't fit any better.
True Detective
is a marvel of craftsmanship, storytelling and performances through these first three hours made available for review. It's what subscribers to HBO have come to expect -- and just in the nick of time, too.
GRADE:
A
Email comments or questions to:
unclebarky@verizon.net