Made by thoroughbreds, HBO's Luck also can be a daze at the races
01/26/12 09:08 AM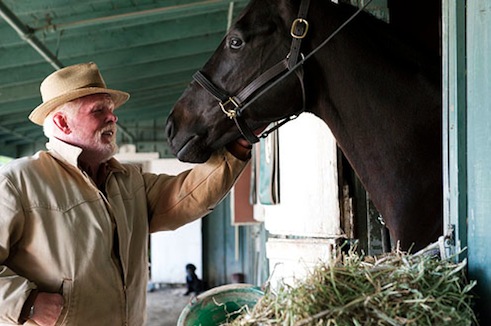 Nick Nolte with his prized possession in Luck. HBO photo
Premiering:
Sunday, Jan. 29th at 8 p.m. (central) on HBO
Starring:
Dustin Hoffman, Nick Nolte, John Ortiz, Jason Gedrick, Jill Hennessy, Richard Kind, Ian Hart, Kevin Dunn, Ritchie Coster, Tom Payne, Kerry Condon, Gary Stevens, with recurring appearances by Joan Allen, Michael Gambon, Alan Rosenberg, Ted Levine
Produced by:
David Milch, Michael Mann, Carolyn Strauss
By ED BARK
A horse is a horse, of course of course. If only it were that easy with
Luck
, a measured and at times almost mystical series devoted to the so-called "Sport of Kings" -- and degenerate gamblers.
HBO took the unprecedented step of sending out all nine episodes of Season 1. And you'll pretty much win in the end if you ride this mount all the way to the finish line. Even though the overall uplifting denouement isn't entirely earned. And the mind games involving Dustin Hoffman's character and a trio of lethal big businessmen remain head-dizzying at best.
Hoffman, in his first TV series, is but one of a quartet of very estimable older men. Nick Nolte is also a featured cast member while the executive producers are real-life horseplayer David Milch (
Deadwood
) and Michael Mann (
Miami Vice
). That's a lot of
auteur/artiste
power, even for HBO.
Luck
was sneak-previewed in December following the Season 2 finale of
Boardwalk Empire
. Sunday's re-launch will be from the very beginning, with Hoffman's Chester "Ace" Bernstein in the first frame and briefly behind bars. But he's being freed after a three-year sentence, having taken a cocaine-dealing rap rather than having his grandson do the time.
Ace is picked up by his extremely loyal bodyguard/driver, Gus Demitriou (TV vet Dennis Farina). They aim to settle a score by duping the aforementioned trio of skullduggery specialists into popping for a would-be gambling Garden of Eden in which both horse track betting and casino games are suckers' baits. Or something like that. It can sometimes be quite hard to tell.
Principal among the conscience-less financiers is Michael Gambon as the really scary Michael. But he doesn't show up until Episode 4, along with Joan Allen's first appearance as a horse rescue samaritan named Claire LeChea.
Luck
's opening episode is thoroughly populated, though. Perhaps over-populated. Nolte plays grizzled Kentucky trainer-turned-owner Walter Smith, who talks as though he's just gargled gravel. His "Big Horse" is the son of a prize-winning dad who met a tragic end. This continues to deeply haunt Walter.
The degenerate gambler populace at Santa Anita Park is represented by the track-addled quartet of Jerry, Marcus, Lonnie and Renzo (Jason Gedrick, Kevin Dunn, Ian Hart, Ritchie Coster). They're combining their dwindling resources in pursuit of a nearly $2.7 million Pick Six jackpot, with Jerry the expert handicapper (and poker addict) and Marcus the wheezing wheelchair-bound super-sourpuss with a heart disease.
There's also a hard-to-understand trainer/schemer named Turo Escalante (John Ortiz), whose put-upon girlfriend, Jo (Jill Hennessy), is one of the track veterinarians. And stuttering Joey Rathburn (Richard Kind), crudely dubbed "Porky Pig" by Escalante, is a jockey agent whose clients currently include an aging drunk (real-life jockey Gary Stevens as Ronnie Jenkins) and an impetuous rookie who has trouble making weight limits (Tom Payne as Leon).
Add a spunky Irish lass/apprentice jock named Rosie (Kerry Condon) and assorted other characters dropping in and out. Sprinkle with track jargon that may be a foreign language to many. "Vigorish," for instance, is not a high-voltage energy drink. It's the amount charged for making a bet with a bookie -- usually 10 percent.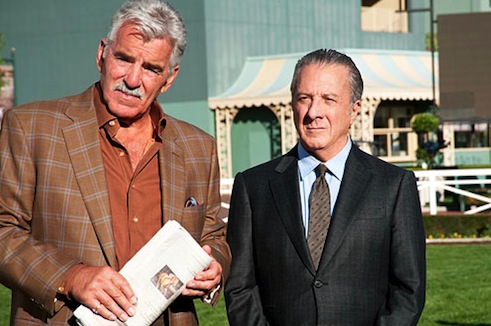 Dustin Hoffman, Dennis Farina as "Ace" and "The Greek." HBO photo
Luck
's focal point is still the horse racing, though. And thankfully, they're both plentiful and exhilarating. None more so than Episode 4's first time out for Nolte's "Big Horse," with Rosie in the saddle and the owner paying rapt attention while repeatedly banging on his binocs. It's all perfectly shot and choreographed, the sort of edge-of-your-seat stuff that drives
Luck
into a cinematic winner's circle.
Hoffman and Nolte share roughly an equal amount of screen time, but neither gets as much to do as the hardscrabble quartet of degenerates sharing rooms in the lousily appointed Oasis Motel.
Luck
's two marquee stars have nary a scene together during the entire nine-episode run. But their respective blue chip horses are fated to face off in the series' climactic $1 million Western Derby. Hit men also are involved. And it all gets pretty taut, with Ace's hardware man pitted against his boss's would-be assassins.
Farina has never been better, but Hoffman certainly has. His Ace is one tightly wound dude, a collection of ever-thin smiles, prison-fed insecurities and condescending retorts. It's an interesting characterization, and Hoffman is likely to come away with an Emmy nomination because, well, he's Dustin Hoffman. But
Luck
's surprisingly best performance is from Kind, whose hot-tempered but pathetic Joey is a revelation given the actor's previous rep as a serviceable sitcom supporting player.
Luck
also is graced by a standout opening theme song and race track atmospherics from head to toe. Horse track betting may be slowly dying on the vine, but this series makes one want to get out there and at least throw around a fistful of $2 bets.
Problem is, how many viewers will buy into this series in the first place?
Luck
is almost certain to be a tough sell, with its first season perhaps an odds-on favorite to be its last. If so, most of the loose ends are knotted in the end. And the climactic big race in fact has a winner rather than a cliffhanger freeze frame.
Having seen the whole thing, I'd say you should give
Luck
a chance to slowly pay off. It proudly depicts a gritty/picturesque world that the ABC Family channel's
Wildfire
only airbrushed during its 2005-08 run. This here is the real deal, with Milch and Mann using HBO's house money to do it their way. Any takers?
GRADE:
B+