Baez then and now in exemplary American Masters portrait
10/14/09 08:00 AM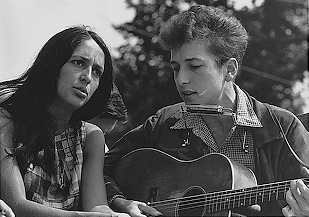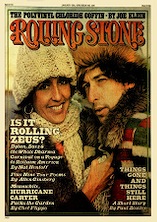 Baez and Dylan: kindred spirits from now far-off times.
By ED BARK
"Well, I'll be damned, here comes your ghost again."
Joan Baez's most famous lyric -- about Bob Dylan and from "Diamonds & Rust" -- could just as easily be the subtitle of Wednesday's
American Masters
tribute to her.
Instead PBS opts for the much tamer
Sing Me Home
(
9 p.m. central on KERA13 locally
). It'll do, because after all this is pretty much Baez's story, not his. And for a captivating 90 minutes, it's still a helluva tale.
Baez resolutely refused to talk about Dylan during an early August, satellite-fed interview session with TV critics. Asked about her "contemporary relationship" with him, she replied, "Well, I don't really have one." Period. Further questions were deflected.
That's somewhat surprising, since
Sing Me Home
finds both Dylan and Baez reminiscing about each other in new and revelatory interviews shot for the film.
Dylan is magnanimous, for him at least. He sometimes refers to Baez as "Joanie." As in, "Joanie was at the forefront of a new dynamic in American music" whose early albums greatly impressed him. After all, she "had that heart-stoppin' soprano voice. I just couldn't get it out of my mind."
They first hooked up in the early 1960s, when Baez brought him onstage with her. She'd already made her mark and he was on the verge of making his.
"I think she had a crush on him. I know he had a crush on her," David Crosby recollects.
"I was crazy about him," a current-day Baez admits. "We were an item, and we were having wonderful fun."
It came crashing down during their mid-1960s tour of England, where
Sing Me Home
shows them performing a boisterous but telling "It Ain't Me Babe."
"We were in a bubble, and it didn't last," Baez recalls. "The tour in England was hell. There's not really much more to say."
"I was just trying to deal with the madness that had become my career," says Dylan. "And unfortunately she got swept along and I felt very badly about it. I was sorry to see our relationship end."
Baez says she now realizes that he couldn't be molded -- and through no fault of his own.
"Bob suffered under me wanting him to be other than he was," she says. "I wanted him to be a political spokesperson. I wanted him to be out in public and to be on our team. That was my hangup."
In 1975 she revisited their relationship with "Diamonds & Rust," forever her anthem as she now well knows.
"I love that song . . . I mean, to this day it still impresses me," Dylan says.
She wrote it after Dylan called out of the blue and eventually asked her to join him on his late '75/early/'76 Rolling Thunder tour. This time their footage together is in color, with a far more animated Baez cutting loose as she never had onstage. And that was that.
Sing Me Home
doesn't lose its way when Dylan's not around. It's ripe with evocative footage, including home movies of Joan and her two sisters, Mimi and Pauline, on the road with their gypsy-esque parents. Joan was 10 when the family lived in Baghdad. People mistook her for an Arab while she empathized with the poverty-stricken populace. Her political activism took root then and there, she says.
Baez was a full partner in the civil rights marches of the 1960s. At the height of her fame, she literally walked arm-in-arm with Dr. Martin Luther King. Jailed repeatedly for non-violent protesting, Baez never retreated.
"When you're committed to singing meaningful songs, you also have to be committed to leading a life that backs that up," she says.
The film also includes footage from Baez's 1993 trip to war-torn Sarajevo and a reunion with her ex-husband and anti-war activist David Harris. Their son, Gabe, was born while he served a three-year prison term. Once estranged, mother and son now perform in concert together.
"I've constructed a life in which I don't feel lonely," Baez, 68, says.
Sing Me Home
is rich in texture and emblematic of times that reverberated with causes -- and effects. Baez's mother, Joan, is still ticking at age 96. But she lost her best pal and kid sister, Mimi Farina, to cancer in 2001.
Near the end, the film reprises old b&w footage of the two of them singing Donovan's "Catch the Wind" onstage. It underscores the point that
Joan and Mimi had something together that Baez and Dylan never quite mastered. But "Diamonds & Rust" remains a masterpiece nonetheless. And it still makes me misty. Here's a 1975 performance:
GRADE:
A