Stalker gives CBS another crime-driven gawker
09/30/14 01:32 PM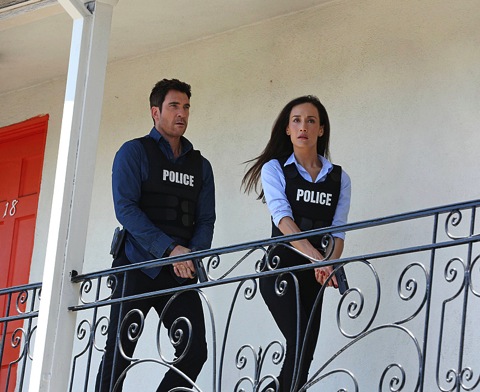 Dylan McDermott and Maggie Q on the prowl in Stalker. CBS photo
Premiering:
Wednesday, Oct. 1st at 9 p.m. (central) on CBS
Starring:
Maggie Q, Dylan McDermott, Victor Rasuk, Mariana Klaveno, Elisabeth Rohm
Produced by:
Kevin Williamson
By ED BARK
@unclebarkycom on Twitter
Kevin Williamson's psyche must have gone badly off the rails a while back.
The onetime gentle purveyor of
Dawson's Creek
and its wise-beyond-their-years small town teens has pretty much been immersed ever since in blood, guts and sadism.
Stalker
is his latest dark and foreboding drama, joining Fox's
The Following
and CW's
The Vampire Diaries
. The
Scream
movies also are part of Williamson's portfolio. It's hard to argue with success, I guess. And Williams now has little patience for those who question his seeming obsession with the dark and twisted.
"Why is this interesting? Why is this fun or entertaining?" he was asked during a session at the Television Critics Association summer "press tour."
"Turn the channel," Williamson replied.
Stalker
, compatibly paired with the grisly
Criminal Minds
on Wednesday's CBS lineup, begins with a woman who's doused with gasoline by a masked despot before he lights up her car. Her prolonged screams end when the car explodes. It's a horrid beginning that indeed might prompt some viewers to turn the channel. Terrorizing, torturing and killing women is epidemic in prime-time TV. So the celebrities behind the current
"No More" campaign
aimed at domestic violence might also want to turn their fire on Williamson and his ilk.
Stalker
otherwise stars Maggie Q as a lieutenant with the LAPD's Threat Assessment Unit and the increasingly creepy Dylan McDermott as a former New York City homicide detective with emotional baggage. She's Beth Davis, he's Jack Larsen, and they're soon at odds while tracking down the opening episode's featured killer.
"I'm sorry I stared at your breasts. It's why you don't like me," he tells Beth while they're on the case. But Jack "let my eyes linger" only because he thought she'd be flattered. And if not, why does she dress so alluringly -- in his view at least.
In a later scene he presses the issue: "I want you not to hate me . . . Why do you wear sexy things if you don't want men to notice?" At this point, maybe Jack's the guy who should be locked up.
Stalker
also includes a little classroom treatise by Beth, who tells her students that over six million people are stalked yearly in the United States. "Anyone can be a stalker . . . Anyone can be a victim. And it's on the rise."
But why? "Social media is the No. 1 reason stalking cases have tripled over the last decade," she says. "That's where I come in."
One could argue that television's bounteous crop of "procedural" crime dramas, with CBS the lead purveyor, also have played at least a supporting role in this escalation. But
Stalker
portrays itself as preventive medicine while at the same time showing another stalked, screaming woman being drenched with gasoline -- not once but in two separate segments.
A smallish companion storyline is about male-on-male stalking. Williamson insists that
Stalker
will be "balanced" in its depictions of terror. But that very much remains to be seen by those who like to watch.
Maggie Q's character also battens down her apartment each night after a previous first-hand experience with stalking. And McDermott's character can be seen spying on his ex-wife and their pre-teen child before she confronts him.
"I have a right to see my son," he insists.
"Stay away from us," she demands.
Stalker
at best is an unsavory blend of violent crime, voyeurism and by-the-book preachments just in case you aren't getting its "messages." In the process, creator Williamson has made more than enough money to build a maximum security prison for all the murderers and perverts he's brought into America's homes and theaters. He's not alone in this, but someone has to be the fall guy. Let him twist in the wind -- just as some of his victims do.
GRADE:
D
Email comments or questions to:
unclebarky@verizon.net