Super Bowl XLIV mashes M*A*S*H finale, says CBS
02/08/10 02:40 PM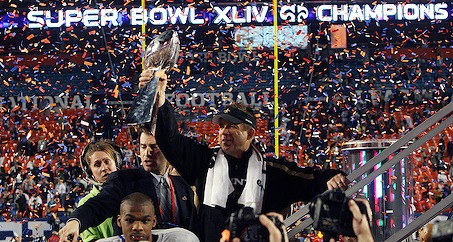 Saints coach Sean Payton hoists one at Super Bowl XLIV. nfl.com photo
By ED BARK
Sunday's New Orleans Saints' win over the Indianapolis Colts at Super Bowl XLIV is being crowned as the most-watched program in TV history by CBS.
Averaging 106.5 million viewers in the preliminary national Nielsens, the game edges CBS' Feb. 28, 1983 telecast of the
M*A*S*H
finale, which had 106 million viewers.
The Super Bowl's final national number could go up -- or down. But it
went up substantially last year
, from 95.4 million to 98.7 million in the final Nielsen compilation. That was termed an "unusual and unexpected adjustment" by NBC, which carried the game.
There are many more potential viewers now than in 1983, when
M*A*S*H
set its record. But there also are many more networks vying for viewer attention. Super Bowl audiences continue to climb steadily, with new records being set by each of the last three telecasts. The Saints-Colts game is the first to top the 100 million mark.
"With all the memorable story lines going into Super Bowl XLIV combined with the awesome power of the NFL, we are thrilled with this rating," CBS News and Sports president Sean McManus said in a statement.
CBS also is bragging about the audience for Super Bowl XLIV's followup act, the new reality series
Undercover Boss
. It drew 38.6 million viewers, the third largest ever for a post-Super Bowl attraction.
The record-setter is still a 1996 extended episode of
Friends
, which had 52.9 million viewers on NBC. In second place is the premiere of CBS' second edition of
Survivor
(45.4 million viewers after the 2001 Super Bowl).
CBS says that the first episode of
Undercover Boss
is the most-watched series premiere in any time slot since ABC launched the variety series
Dolly
(starring Dolly Parton) on Sept. 27, 1987. It had 39.5 million viewers.
POSTSCRIPT
-- The Super Bowl XLIV audience stayed the same -- 106.5 million viewers -- in final national results released Tuesday by Nielsen Media Research. The audience for
Undercover Boss
went up slightly, to 38.7 million viewers.