Showtime's The Affair tantalizes for starters
10/10/14 10:47 AM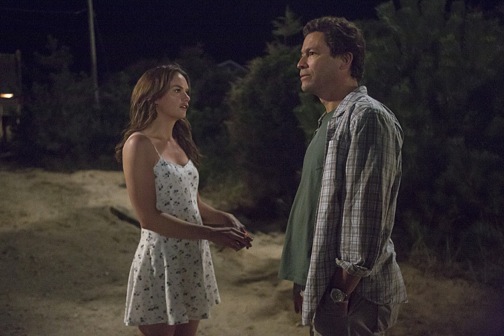 Ruth Wilson and Dominic West in budding stages of The Affair.
Showtime photo
Premiering:
Sunday, Oct.12th at 9 p.m. (central) on Showtime
Starring:
Dominic West, Maura Tierney, Ruth Wilson, Joshua Jackson
Produced by:
Sarah Treem, Hagai Levi, Jeffrey Reiner, Eric Overmyer
By ED BARK
@unclebarkycom on Twitter
One protagonist is going to be blindsided by a mid-life crisis. The other is still in the throes of a twentysomething trauma. Their launchpad is Showtime's 10-episode
The Affair
, which slowly starts unfolding Sunday following another Season 4 episode of
Homeland
.
Starring Dominic West, Maura Tierney, Ruth Wilson and Joshua Jackson, the series has considerable promise. But Showtime unusually has made only the opening one-hour episode available for review, making it difficult to assess how well
The Affair
will tell the rest of its story.
Viewers first meet first-time author/New York public school teacher Noah Solloway (Dominic West of
The Wire
), a harried married man of 17 years. He and his wife, Helen (Maura Tierney), are outnumbered by four children, two of them almost impossible to manage. They're all getting ready to spend the summer with Helen's parents at their posh Hamptons estate. Noah's not thrilled with this. His father-in-law, Bruce Butler (John Doman) is a wealthy, successful novelist with an imperious demeanor. In short, he's a dick.
Enroute to their gilded prison, the Solloways stop at a diner whose employees include young waitress Allison Bailey (Ruth Wilson). She's taking their orders when the Solloways' youngest daughter begins choking on a marble. Noah's already been through the wringer with his churlish oldest son, whose earlier idea of a practical joke is horrifying to say the least.
Allison is married to Cole Lockhart (Joshua Jackson), whose family owns a ranch that's become financially strapped. She's still deeply grieving the loss of their four-year-old son while he's been better able to pick up the pieces and move on.
Executive producers Sarah Treem and Hagai, who earlier collaborated on HBO's very interior
In Treatment
series, have constructed what Treem calls a "
Rashomon
-like framing device" in which events are remembered differently within each two-part episode. Sunday's premiere begins from Noah's perspective before transitioning to "Allison's Story." For instance, he remembers her as a flirtatious temptress while she remembers their first kiss as an uncomfortable moment instigated by him.
There are many other varying recollections on what led to what. Did Allison coax Noah into having a cigarette with her or vice-versa? Did he offer to walk her home from the beach after a second chance meeting? Or was it the other way around?
Each half-hour chapter within the overall story ends with a one-on-one interrogation by the same police detective (played by Victor Williams). Foul play of some sort is indicated but not specified in any way during Sunday's premiere.
So where is this all going? Is anyone "at fault?" Who gets hurt the worst? And what about that crime story element?
It certainly would have helped to see more. But
The Affair
for now has done its job by tantalizingly baiting its hook. The solid performances by its four principals further heighten both the drama and the expectations. It's enough for now, but we'll see if both the premise and the promise have staying power.
GRADE:
B+ for starters but still incomplete
Email comments or questions to:
unclebarky@verizon.net