Want a guilty TV pleasure? Let's play ball with ABC's Back in the Game
09/24/13 11:37 AM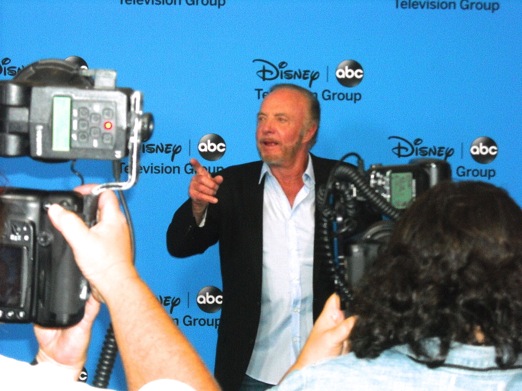 James Caan gesticulates on behalf of Back in the Game. Photo: Ed Bark
Premiering:
Wednesday, Sept. 25th at 7:30 p.m. (central) on ABC
Starring:
Maggie Lawson, James Caan, Griffin Gluck, Lenora Crichlow, Ben Koldyke, JJ Totah
Produced by:
Mark Cullen, Robb Cullen, John Requa, Glenn Ficara, Aaron Kaplan
By ED BARK
@unclebarkycom on Twitter
Grossly imperfect parents and their disaffected grown children are hallmarks of the new fall season. Amongst this bunch, ABC's
Back in the Game
is going to be my designated guilty pleasure.
Hey, it's funny every time his pre-teen grandson, Danny (Griffin Gluck), calls Terry Gannon (James Caan) "The Cannon." And Caan, who in turn keeps calling him "Donny," nails the role of a beer-swilling Neanderthal who believes a punch in the face or a verbal brickbat -- or a bat to a car window for that matter -- are great ways to cut through all the crap.
Yeah, it's definitely best not to try this at home. But do give
Back in the Game
a try. Not just for Caan but also for Maggie Lawson as his divorced daughter, Terry Jr. She's had it up to here with him after he mostly abandoned her as a kid who went on to become an all-star college softball player. But now Terry Jr. and Danny are living under his roof while she strives to earn enough dough to move out. Not gonna happen, though, particularly after Danny attempts to make the school baseball team to impress a girl. He strikes out, of course, leaving Terry Jr. in charge of a misfit alternative team that makes the Bad News Bears seem like the
1927 New York Yankees
.
Caan's Terry Sr., who urinated on home plate to protest an umpire's call in one of his daughter's championship games, soon deduces that his grandson has "an arm like a duck." He also briefly frets about Danny's sexuality after he comes home from school with a shiner delivered by a mini-bully that he impulsively kissed to confuse him.
"You're not a piccolo player, are ya?" Terry Sr. inquires.
"Cannon, I'm not gay," the kid assures him.
Let's ease off the politically incorrect throttle, because this exchange is funny, fleeting and nowhere in league with the sub-sophomoric racial/sexual "humor" on Fox's new
Dads
.
Back in the Game
co-stars Ben Koldyke as officious baseball coach Dick Slingbauch and Lenora Crichlow as wealthy widow Lulu Lovette, who finances the misfit team after her son, Michael (JJ Totah), also proves to be completely clueless on a ball diamond. With Terry Jr. coaching and Terry Sr. kvetching, it's only a matter of time before they find a way to join forces.
Caan's perfectly clipped delivery and his daughter's well-timed comebacks make
Back in the Game
at least a standup double if not a sliding triple. OK, baseball metaphors exhausted except for this one. Let's play ball on Wednesday nights at 7:30 p.m. (central).
GRADE:
B+
Email comments or questions to:
unclebarky@verizon.net