Being Human gives Syfy a supernatural threesome -- all under one roof
01/17/11 05:31 PM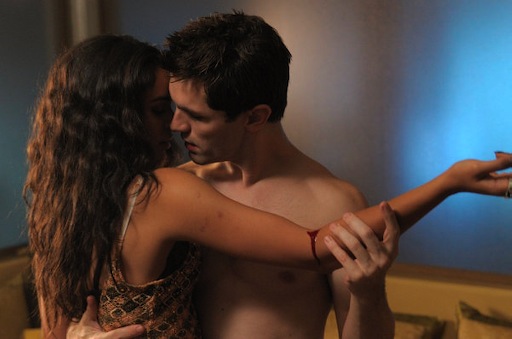 Vampire Aidan has a bite to eat in Being Human. Syfy photo
Premiering:
Monday, Jan. 17th at 8 p.m. (central) on Syfy
Starring:
Sam Witwer, Sam Huntington, Meaghan Rath, Mark Pellegrino, Sarah Allen, Gianpaolo Venuta, Alison Louder
Produced by:
Michael Prupas, Jeremy Carver, Anna Fricke
By ED BARK
Hey, have you heard the one about the vampire, the werewolf and the ghost?
They share an apartment in Syfy's
Being Human
, a light/dark and fairly diverting melodrama launching in times when fangs seem to be fail-safe. This one is braced on a British series, also hardly a novelty these days.
The vampire is named Aidan (Sam Witwer), a 200-year veteran who craves to get out from under the thumb of mentor/maker Bishop (Mark Pellegrino). His friend, Josh (Sam Huntington), is a relatively newly minted, nebbish-y werewolf who works at the same hospital as Aidan.
Striving to be regular guys, they move into a Boston brownstone together, with Josh initially seeming like a fastidious Felix Unger while Aidan lazes about. Three's a crowd, however, when Sally the ghost (Meaghan Rath) blows in. She's been languishing in the apartment for six months after dying from a fall down a flight of stairs while endeavoring to take a nighttime pee. Her boyfriend -- and the boys' landlord -- has been pretty blue ever since. But Sally is thrilled to at last be able to talk to someone, anyone. Vampires and werewolves also can see ghosts in the flesh, so that's an added plus for her.
When not being jokey,
Being Human
can be pretty grisly. Aidan succumbs to his dark side early in Monday's premiere, sinking his teeth into a
date named Rebecca (a scene-stealing Sarah Allen), who then turns up missing. We haven't seen the last of her, though, which is a good thing for this series' sense of menace.
Syfy has divided the first two hours of this series into a cliffhanging Monday to Monday episode subtitled "There Goes the Neighborhood." At the end of Part 1, Josh is on the verge of turning into a werewolf while his unsuspecting sister, Emily (Alison Louder), shares a locked room with him. Meanwhile, Aidan has been lured to a seductive vampire lair by Bishop.
Intermittent pop tunes overlay
Being Human
with a somewhat juvenile CW-y feel. And its breathe easier banter is a bit contrived at times, with Aidan cracking, "Look at you, Julia Child" while Josh whips up a meal. The serious portions are appreciably better done, with viewers exposed to plenty of red. Aidan's flashback to a wedding party slaughter is decidedly un-pretty to behold but does raise the stakes, so to speak.
The joking and biting occasionally give way to Sally's pining for Danny (Gianpaolo Venuta), who seems to slowly be sensing her presence near the end of next Monday's second episode. All in all it's a pretty deft mix of violence, pathos and ethos via a vampire, a werewolf and a ghost as roomies. Beware, though, of a potential
Saturday Night Live
sketch. If
Being Human
catches on, it's certainly ripe for that.
GRADE:
B-minus