Life in Pieces amuses outside the traditional CBS sitcom format
09/17/15 12:38 PM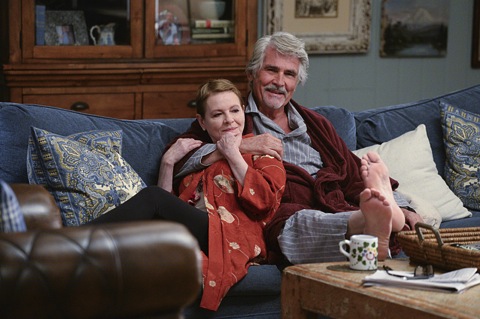 James Brolin and Dianne Wiest are the patriarchs of Life in Pieces.
CBS photo
Premiering:
Monday, Sept. 21st at 7:30 p.m. (central) on CBS
Starring:
Dianne Wiest, James Brolin, Colin Hanks, Zoe Lister-Jones, Angelique Cabral, Thomas Sadoski, Betsy Brandt, Ban Bakkedahl, Niall Cunningham, Holly J. Barrett, Giselle Eisenberg
Produced by:
Justin Adler, Aaron Kaplan, Jason Winer, Jeff Morton
By ED BARK
@unclebarkycom on Twitter
Resemblances to
Modern Family
are purely intentional in CBS'
Life in Pieces
, which begins episodes with the printed promise of "One big family. Four short stories. Every week."
CBS has even gone the extra step of making
Life in Pieces
a single-cam comedy without any audience guffaws or laugh track sweeteners. That's not at all the Eye network's DNA, but one can't mimic a five-time Emmy champ without giving it the ol' Full Monty.
Only the opening episode has been made available for review. That's enough to form a first but hardly lasting impression. So far, pretty good in this case, with the second mini-tale playing strongest while the final one has its moments -- including family patriarch John Short (James Brolin) in a coffin during the course of celebrating his 70th birthday with his own
faux
funeral.
Brolin and Dianne Wiest, who plays Joan Short, are the well-seasoned pros in a show that also includes capable junior partners Colin Hanks (
Fargo
), Betsy Brandt (
Parenthood
), Thomas Sadoski (
The Newsroom
), Zoe Lister Jones (
New Girl
) and Dan Bakkedahl (
Veep
).
Hanks and Lister Jones are Greg Short and his wife, Jen, who begin the second story with her delivery of their first child. Jen's vajayjay (thanks for coining that term,
Grey's Anatomy
) is left decidedly worse for wear, so "don't look down there" for a while, a doctor orders. Greg is told to soothe the area with a plastic glove filled with frozen water.
Laughs ensue -- yes, they really do -- after Jen can't resist taking a peek and ending up horrified. But all's well when this little gem ends with Jen cooing, "Yeah. Mommy likes that."
The premiere episode begins with the Shorts' only unmarried offspring, Matt (Sadoski), having a promising first date with Colleen (Angelique Cabral). Jordan Peele of Comedy Central's
Key & Peele
has a cameo in this shortest and least amusing of the four vignettes.
Story No. 3, subtitled "College Tour," finds Heather Short (Brandt) and her husband, Tim (Bakkedahl), escorting their only son on a campus visit. He's mortified and embarrassed, of course, particularly when mom insists he take the sandwich she made for him. The parents then repair to a hotel with their two pre-teen daughters in a segment that's fairly predictable but still clicks.
For closers, Brolin's John Short tries to bask in his kids' and grandkids' eulogies while his wife festers. After the festivities, he discovers that laying in the casket "feels really good on my back." But uh-oh. Cue some climactic broad humor.
Life in Pieces
isn't always a stitch but is nicely sewn together. CBS' biggest obstacle may be its complete failure to date with un-juiced comedies. All of its latter day hits --
Everybody Loves Raymond, Two and a Half Men
and
The Big Bang Theory
among them -- have utilized the so-called traditional "live before a studio audience" format, to which the network has stubbornly clung.
So will the generally older CBS audience buy into this crazy-quilt aberration?
Life in Pieces
offers some very good reasons to walk on the wild side and let the laughs come without any in-show inducements. Whether that's still asking too much is one of the new season's more intriguing open questions.
GRADE:
B+
Email comments or questions to:
unclebarky@verizon.net